Machine Vision in Factory Automation: AIA Members Showcase Recent Solutions for Manufacturers
POSTED 03/20/2018
 | By: Winn Hardin, Contributing Editor - AIA
From orientation and assembly to identification, inspection, and packaging, almost every function of the manufacturing process requires visualization. Human inspectors can't keep up with today's production line speeds, but automated machine vision can.
As the following snapshots reveal, machine vision applications are helping manufacturers achieve the speed and precision they need to cut costs, improve production, and gain a competitive edge. Here's a quick look at how five AIA members are improving factory automation in a variety of industries.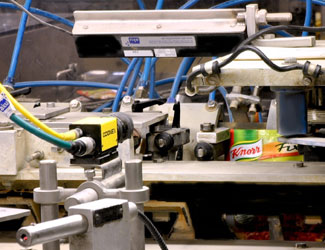 Figure 1: Capable of detecting contrast between containers and welded seams, Cognex's In-Sight Micro cameras and accompanying software quickly identify material overlaps and defective welds in food packaging. The company's PatMax pattern recognition technology assesses the angles of welded seams against the outer edges of bags.
Cognex Delivers Fast, Safe Food Packaging
Food manufacturer Knorr produces millions of soup mixes, seasonings, and condiments annually at its Heilbronn, Germany, packaging plant, which maintains a stringent 0% error rate on the seals of its sachets. Because normal wear and tear on production machines makes it impossible to produce purely defect-free products, faulty items must be excluded by 100% inline inspection.
Until recently, Knorr was manually carrying out these inspections. To provide for greater efficiency and reliability, the plant deployed a Cognex solution consisting of In-Sight Micro cameras, In-Sight explorer visualization software, and VisionView operator platforms. (See Figure 1.)
Capable of detecting contrast between containers and welded seams, the Cognex cameras quickly identify material overlaps and defective welds. Using Cognex's PatMax pattern recognition technology, the system also assesses the angles of welded seams against the outer edges of bags.
Given the smart cameras' compact size of 30 mm x 30 mm x 60 mm, the solution can be deployed almost anywhere in Knorr's production lines. With password-protected controls for parameter selection, employees can also regulate the system, monitor operations, and quickly respond to abnormalities.
While Knorr staff at first doubted the system's inspection speeds, their skepticism quickly turned to enthusiasm. By analyzing only the images relevant to each inspection, Cognex's platform has achieved an evaluation rate of 840 items per minute.
LEONI Streamlines Home Appliance Inspection
Keeping to the kitchen, LEONI Engineering Products & Services (LEPS) recently helped an oven manufacturer comply with new regulations governing how much heat can radiate from oven doors. The new regulation required the use of a new type of glass, as well as the application of an insulating film.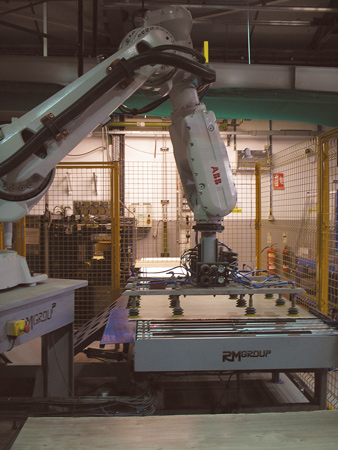 Figure 2: In a tile stacking application, when the MVTec system determines that a new product has been imaged, it instructs the stacking robot to begin a new stack on a different pallet.
To curb costs, the manufacturer decided to apply the film to only one side of each window panel, but they needed a way to ensure proper orientation of both components. In less than two months, LEPS created a turnkey inspection solution that integrates machine vision, controls, sensors, and assembly. Under this system, workers lay film-covered glass into the door frame, and a Cognex camera locates an identifier on one of the film's corners. Once film and door are properly aligned, the workers' pneumatic screw gun activates, allowing them to complete the assembly.
Because some doors have two layers of glass — and because the camera can't see the bottom layer — the system can also verify proper placement using sensors that perform an electrical resistance check of the transparent metallic coating.
The system has delivered accurate, reliable results since its installation, allowing the manufacturer to control costs and stay flexible in the face of ever-evolving standards and regulations.
Matrox Wheel Mounting System Cuts Costs, Reduces Errors
Fast, accurate, and cost-effective assembly and inspection was the goal for a recent installation of Matrox's Iris GTR smart cameras on an automotive production line. Manual wheel mounting is extremely expensive, typically requiring several workers and significant time per vehicle. To help automotive manufacturers cut costs and production times, Germany's IBG Automation developed a vision-guided robot system that automatically mounts wheels onto car bodies as they progress along an assembly line.
This system positions two robots on either side of a car body to screw on bolts and rims. Each robot is equipped with a Matrox Iris GTR smart camera, which locates the rim's center point and calculates its position, bolt rotation angle, and distance from the camera. Before the coordinates are passed to the robot, the camera also checks whether the analyzed design matches the rim to be mounted, preventing incorrect installations.
Also crucial to the automated assembly process to is the Matrox Design Assistant, an integrated development environment (IDE) that lets operators create machine vision applications with flowcharts, rather than code.
Overall, the Matrox-driven automated wheel assembly process has an average cycle time of just 54 seconds. It is currently deployed on multiple production lines, including in the wheel supply stations at Volkswagen's Emden, Germany, factory. Here, the Matrox system detects the rotation of the wheel's bolt circle with an availability of 99.9%.
MVTec Enables Automated Tile Stacking Not every problem can be solved with a smart camera, however. As UK-based manufacturer Amtico International has shown, some complex applications require PC host systems using powerful image processing software.
Amtico produces luxury vinyl flooring in a variety of designs to simulate wood and stone. During its production process, layers of flooring are unrolled, mounted, heated, and drawn between pressurized rollers before embossment. The composite sheets are then cut into slabs, which must be stacked onto wooden pallets by type.
Originally, Amtico employees performed the arduous task of stacking the heavy, roughly square meter slabs. To automate the process, the company enlisted MVTec Software GmbH to create a robotic control system that could distinguish between slabs of different designs.
Now, MVTec's PC-based solution — powered by the company's HALCON software — determines whether a change in tile design has occurred based on three parameters: size, color, and shade. Size is measured indirectly by analyzing light reflected from the conveyor's rollers. Color is determined by the relative percentages of red, green, and blue in a section of the slab. Finally, that same section is analyzed for brightness to determine shade. When the system detects a change in design, it instructs the stacking robot to begin a new stack on a different pallet. (See Figure 2.)
Given the success of the palletization process, MVTec has proposed two additional automation procedures to Amtico. The first would manage the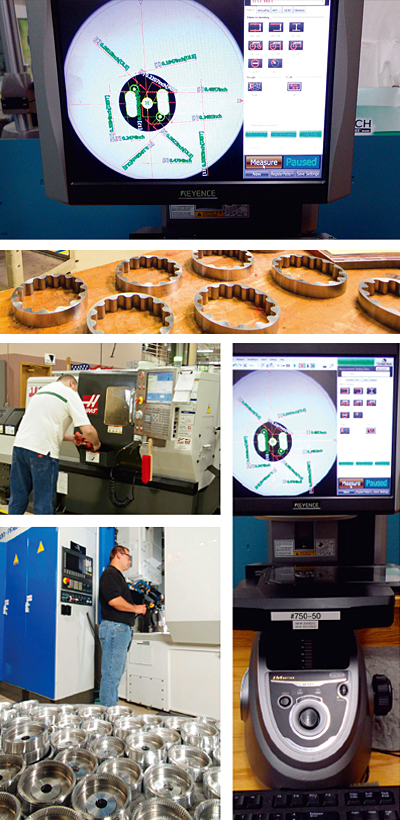 Figure 3: The Keyence IM-6700 Image Dimension Measurement System measures up to 99 part features simultaneously for a gear manufacturer on a single, contact-free measurement stage. Programming the system was easy to learn, requiring only half a day of training.
seam-cutting process that removes staggered layers of extra material before palleted slabs are cut into floorboard-sized strips. Given different material types and roll widths, the mounting process often produces uneven edges, which must be cut away to produce strips that will sit flush with one another during installation.
The second procedure, already under development, would deploy an infrared (IR) camera to continually capture moving rolls of tile. Because the recently laminated material is still hot, the taped seam would appear as a bright band in IR, sharply contrasted against the rest of the slab, and the uneven section could be automatically excised from the roll. Given its potential for material savings, this solution is estimated to have a payback period of just a few days.
Keyence Provides Gear Manufacturer Rapid, Cost-Effective Imaging
When pinpoint accuracy is at stake, manufacturers need an inspection process that leaves nothing to question. Illinois-based Forest City Gear manufactures gears for the aerospace, medical, transportation, and other industries that require precision components. These products include helical, spline, and worm gears, some with tolerances of ten millionths of an inch.
Forest City traditionally focused on low-volume work, but a contract with a robotics manufacturer increased the company's workload from tens of thousands to hundreds of thousands of parts per year. Having already invested millions in measurement and analysis equipment, Forest City turned to Keyence for a cost-effective solution to check specific part features. (See Figure 3.)
Keyence came through with the IM-6700 Image Dimension Measurement System, which measures up to 99 part features simultaneously on a single, contact-free measurement stage. The system features telecentric lenses with high depths of field, which are unaffected by height differences and allow for 2D measurements of parts with uneven surfaces.
The IM-6700 also features a precision stage that moves on cross-roller bearings, with movement tracked in micron increments. Combined with the system's low-distortion lenses, this stage allows parts to be measured accurately within 2 µm, regardless of placement or size.
"It's especially popular with the people in the turning department," says Forest City Quality Inspector Amy Sovina. "They're able to get accurate dimensional checks very quickly, and it's reduced a lot of the hands-on work with height gages and micrometers. The more they use it, the more confident they are with the results."
The modern manufacturing environment relies heavily on automation to improve productivity and ensure product quality, all while battling pressures to keep costs low. As these five AIA members' innovative solutions demonstrate, machine vision continues to help manufacturers tackle both long-standing challenges and new, often complex, applications in automated inspection and assembly.