Machine Vision Helps Tire Industry Bounce Back
POSTED 10/22/2013
 | By: Winn Hardin, Contributing Editor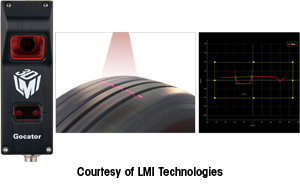 Where the rubber meets the road, machine vision is there to help. Car tires can suffer a variety of defects, from bulges—structural weaknesses stemming from gaps in the layered sheets of rubber in the tire—to depressions, areas of extra hardness and density on the sidewall, the result of too much overlap in the sheets.
Vancouver, Canada-based LMI Technologies has long provided solutions to help identify such defects during the manufacturing process. "LMI has been in the tire-inspection business for nearly 35 years," says Mike Snow, Business Development Manager at LMI Technologies.
Back then, heavy hitters in the rubber and tire industry like Firestone and Goodyear were the first to use single-point measurement systems to locate bulges and depressions in their tires. But of course, the technology has evolved quite a bit since the 1970s and now involves a range of different laser and camera systems.
"Today, everyone is going to line lasers to speed up the inspection," Snow says. With a single-point system, measurements are taken in two or three separate tracks around the tire. Cycle time is increased as the tire must spin two to three times to complete the measurement and grade the tire. "A line laser allows you to do all of this in one revolution of the tire, with better resolution and much higher density of information than with a single-point inspection system."
And that's not the only thing that's changed in the past 35 years. Manufacturers today want to inspect more than just the finished tire, notes Snow. They want to take a step back and look at all of the materials that go into the tire throughout the manufacturing process. "Tire manufacturers want to measure the extruded sheets of reinforced rubber, the width and thickness of all the rubber components. By moving our 3D products upstream, LMI Technologies has found a lot success in delivering measurement and control solutions that fit these manufacturers' needs."
Machine vision can contribute in important ways during this process, even given the unique set of challenges found with the rubber used in the tires.
"What makes tire inspection particularly arduous is the flat black surface," says Bradley Weber, Director of Application Engineering at Datalogic Machine Vision Business Unit, based in Bologna, Italy. Because the surface containing the crack is flat black, and the rubber underneath is flat black, the crack itself is difficult to distinguish. Despite the challenges, machine vision technology offers a variety of solutions. Manufacturers can readily identify cracks using structured lighting, a solution in which laser line displacement indicates where the cracks are located, or low-angle lighting, which utilizes shadows to identify cracks.
Embedded computing aids in inspection
As a market leader in tire traceability, Datalogic is expanding its expertise to tire-inspection applications. The company is providing solutions for detecting the various markings found on the rubber of a tire: colored circles, triangles, and so on that offer information about the type of tread.
But Datalogic brings more to the party than that. Their embedded computing approach—connecting either low- or high-resolution cameras to their vision processors using the same software they would use with a smart camera—offers considerable power and networkability, leading to improved throughput via a very simple user interface.
Weber describes this as one of the company's differentiating factors. "You can take a high-resolution 'dumb' camera, connect it to the embedded vision processor, and still program it as if it were a smart camera, with an easy-to-use drag-and-drop interface." This software enables engineers to create user interfaces easily, without having to write lines of code.
Key to this graphical user interface is its ability to be programmed in a many local languages. Tire manufacturing is a global industry with players on virtually every continent. Creating interfaces in local languages allows for seamless integration throughout the entire manufacturing process, from the top down. "Breaking down language barriers means integrators can deploy the solution, and local employees on the production line can operate with ease and efficiency," Weber says.
Embedded computing is becoming ever more common in tire inspection, and manufacturers are finding ways to get on board.
John Phillips, Senior Marketing Manager with Ontario, Canada-based Pleora Technologies, a supplier of video interfaces for system manufacturers and camera companies, points to a number of customers who are using the company's "external frame grabbers" to retrofit either analog or traditional Camera Link cameras to treat them as GigE-type products to enable embedded computing.
"We see a lot of that in line-scan apps, which of course are used quite frequently for inspection, including rubber inspection," he says.
Beyond the rubber of the tire
Machine vision has found considerable success in tire manufacturing, and yet this is only one of the rubber products to which the technology has been applied. For example, the automotive industry is one of the largest adopters of machine vision, inspecting smaller parts such as gaskets and seals.
Datalogic's solutions for rubber inspection reach beyond the tire manufacturing industry. "We leverage the same technology in the pharmaceutical industry to deliver cutting-edge solutions for inspecting rubber stoppers in medicine vials," says Weber.
Embedded Vision
This content is part of the Embedded Vision curated collection. To learn more about Embedded Vision,
click here
.