Machine Vision Helps Law Enforcement Do More With Less
POSTED 11/11/2014
 | By: Winn Hardin, Contributing Editor
It's the same mantra that runs industry. Law enforcement, particularly traffic control, is telling the machine vision industry it needs to be able to monitor more lanes, more cars, and more trucks moving at higher speeds with fewer cameras and lower infrastructure costs.
A number of machine vision companies are providing components and systems to do just that, from smart cameras that offer either super-high-resolution or high-speed acquisition to wireless video gateways and complete systems that overcome some of the privacy and connectivity concerns that have slowed the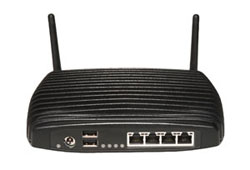 adoption of automated traffic systems in years past.
Highways to Roads, Resolution Matters
Imaging Solutions Group (ISG; Fairport, New York) is one of the largest manufacturers of traffic-enforcement cameras in the U.S. Specializing in custom smart-camera platforms, ISG recently introduced high-resolution models of its LightWise series of smart cameras.
Traditionally, ISG has sold high-frame-rate LightWise cameras for speed-enforcement applications. With 1-2 megapixel (MP) resolutions, the LightWise Allegro cameras come with memory buffers that allow it to capture and store without losing pictures at up to 340 fps. According to ISG co-founder Kerry Van Iseghem, some transportation applications don't require constant video streams at speeds of up to 340 fps. Rather, the application needs short exposure times with sufficient resolution to clearly capture images of license plates.
ISG recently introduced LightWise IQ 16- and 29-MP versions of its LightWise series. These cameras offer short exposure times, too, but at much slower frame rates. The LightWise IQ 16-MP cameras are finding use on multi-lane highways (up to eight lanes) capable of capturing high-resolution images of license plates from multiple vehicles in a single frame. In addition to on-board memory, the high-resolution LightWise cameras include an on-board CPU for preprocessing the image to extract just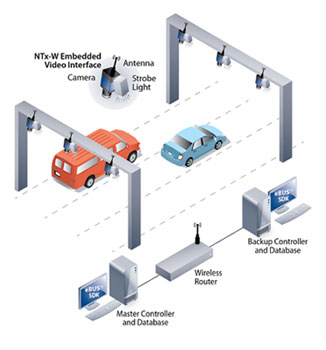 the license-plate information for transmission across a gigabit Ethernet network, as well as appending each image with time, GPS information, and other sensor data. "The larger 29-MP camera is often mounted on towers to overlook ports, automatically reading every identification number on cargo containers," Van Iseghem says. "When people think about security at ports today, it brings up thoughts of terrorism, but the more common threat is from counterfeit products. Hundreds of millions of counterfeit running shoes, for example, try to enter the U.S. every year, costing shoe manufacturers billions in lost revenue."
Wireless, Image Compression Tackle Traffic Enforcement
Pleora Technologies Inc. (Kanata, Ontario, Canada) has a new transcoding video gateway appliance designed with intelligent transportation system (ITS) applications in mind. The gateway accepts GigE Vision or USB3 Vision feeds from cameras used in traffic and railway monitoring. Cameras multicast an uncompressed image stream to systems that use algorithms to automatically read license plates and other identification numbers. At the same time, the data is also multicast to the gateway, which transcodes it using H.264 compression algorithms, and serves that video to live operators monitoring general traffic patterns, accidents, and other real-time events.
"Automated free-flow tolling applications require uncompressed video for license-plate recognition and billing functions," explains John Phillips, senior manager, product marketing at Pleora Technologies. "At the same time, live operators are also analyzing video to monitor traffic flow, or to alert authorities if there are any issues. These operators may be in a centralized operations center located many miles away, which is why the video needs to be compressed."
Full, uncompressed video from dozens or hundreds of cameras isn't practical to send that far from multiple locations, Phillips adds. "So the idea is to compress the video with H.264 and send it across the VPN or wide-area network," he says. "Traditionally, you'd put two cameras up: one high-resolution for license-plate reading and one CCTV-resolution for general traffic management. With our gateway, the one high-resolution camera can do both tasks, reducing costs. The same is true for container crane operation in a port. The crane operator needs uncompressed real-time video for guiding the unloading of containers, but the security office doesn't. Plus, recording uncompressed video over days, weeks, or months, as ports must do, would require massive amounts of storage. This transcoding gateway alleviates these problems as well."
Another cost-saving device from Pleora for ITS applications is its iPORT NTx-W wireless embedded video interface. "While 802.11n doesn't have the same bandwidth as a GigE cable, wireless is attracting interest for tolling applications that require snapshots rather than streaming high-speed video," Phillips says. Using wireless spectrum management to avoid interference from overlapping channels, with the 5-GHz wireless interface tolling system operators can easily deploy cameras without having to add wiring to the gantry."
Companies such as ISG and Pleora generally work through OEMs that provide government agencies with turnkey solutions. "It's a very hard market to penetrate," says ISG's Van Iseghem. "It's like the military. It takes a lot of personal contacts to win those contracts."
One mainstream vision company that has been able to move closer to the customer is Wiesbaden, Germany's, Vitronic. Vitronic recently announced one of the largest video-based traffic enforcement
systems in the Middle East. "We have chosen Vitronic as the strategic partner in implementing the most advanced and comprehensive automated enforcement system in the world," says Brigadier General Hussain Al Harthi, head of the traffic and patrols directorate at Abu Dhabi police. "It includes a variety of unique features such as tailgating detection systems, average speed enforcement, and anti-vandalism systems."
"Besides these features, the Vitronic systems will also help to enforce traffic rules for motorists driving on hard shoulders, time-dependent lane and vehicle-class specific bans, as well as vehicles that impede traffic flow (minimum speed enforcement)," says Youssef El Hansali, CEO of Vitronic Machine Vision Middle East. "As far as we know, this is one of the biggest single traffic-enforcement projects worldwide. It is also a preview into the future of traffic enforcement, where you no longer have a simple stationary speed camera but a smart and flexible enforcement network that is connected to an operating center and allows the police to react to all major traffic hazards."
To enable the Abu Dhabi traffic police to efficiently handle the large quantity of cases generated by a system of this magnitude, Vitronic will supply enforcement management software suites, namely PoliScanconnect and PoliScanoffice pro. With PoliScanconnect, the police can transfer all case data online and at the same time monitor the status and settings of connected devices in real time. PoliScanoffice pro will become a central tool within the Abu Dhabi violation processing center as it supports all steps within the case-verification process.
Whether it's counting cars, cargo containers, or working pixels in a flat-panel display, the same machine vision technology that helps industry stay competitive is helping governments around the world to safeguard their citizenry.
Embedded Vision
This content is part of the Embedded Vision curated collection. To learn more about Embedded Vision,
click here
.