Machine Vision Helps Food Processors Cut Overhead Costs
POSTED 10/09/2012
 | By: Winn Hardin, Contributing Editor
Food is grown. Food is harvested. It's sorted, packaged, and shipped. While a few machine vision systems have overcome the difficulties of working in outdoor conditions, within this supply chain, machine vision technology generally is used during the sorting and packaging steps, making these tasks the "low-hanging fruit" of the food processing machine vision market.
Improving Quality, Reducing Costs
"Most crops nowadays use vision systems for sorting in some respect," states Roland Scheffer, R&D Manager at Ellips (Eindhoven, The Netherlands), a Dutch company manufacturing machines for grading and sorting fruit and vegetables. Ellips is in the process of installing a vision system at a factory in the U.S. that sorts cherries. The site currently has 2,400 people sorting the fruit. "If you can reduce that workforce by even half, it's a lot of money saved," he says, noting that the expense of manual labor is one reason for automating the process.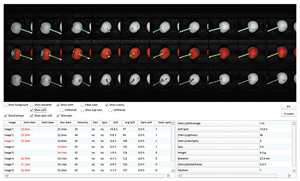 Ellips uses multiple high-resolution Point Grey (Richmond, British Columbia, Canada) FireWire cameras with different filters to inspect 30 cherries per second across 10 lanes, equaling a total of 300 cherries per second. The cherries are classified, directed into different lanes with air jets, and sorted further before arriving at the packing area.
Scheffer says that it's difficult to give percentage accuracies of the sorting. However, the U.S. factory uses mechanical sizing systems today, which have an accuracy of 40 to 50 percent. "Our optical system is at least twice as good for sizing the product," states Scheffer. "It provides somewhere between 80 to 90 percent accuracy." Sorting for color was even more problematic because that step was done manually by large numbers of workers until the company switched to the Ellips sorters with Point Grey machine vision hardware.
Imaging Solutions Group (Fairport, New York), manufacturer of turnkey custom camera and imaging systems that include migrating existing multi-component (camera, PC, electronics) solutions into a fully integrated machine vision camera solution, recently helped a blueberry processor with a similar color- and size-sorting application.
"This system used a custom set of algorithms running on a Windows- or Linux-based PC," explains Kerry Van Iseghem, co-founder of ISG. "The application used our standard product LightWise LW-5-S-1394b-C camera with a 5 megapixel Aptina color sensor hooked up to a PC via an inexpensive 1394b PCI card. In this case, we ran the application on the PC, and the PC triggered the pneumatic air jets to reject defective product. However, we are currently working to convince the customer to migrate to an ISG smart camera to capture images and process them and communicate with external PLCs to trigger the jets to do the sorting. This will eliminate the PC and lower the overall system cost and power of the entire system. But this will depend upon the volumes of sorters this customer will commit to ship in the future. A custom smart camera for this type of application needs around 200 to 250 units per year to justify the development effort and costs."
Another rice-sorting machine example helps to illustrate the potential cost savings that a large food processor can attain by moving from a PC-host solution to a custom smart camera solution. In this application, ISG moved the manufacturer from a line-scan/PC-host solution to an ISG custom line scan camera. Each machine uses eight cameras to do the waterfall sort, using air jets to reject non-white rice.
The machine builder typically sells 50 sorting machines per year, requiring 400 machine vision camera solutions. ISG estimates that each year, the machine builder was spending more than $1.2 million on machine vision system-related costs. Based on the higher camera volumes, ISG was able to develop a custom solution that nearly halved the cost to the machine builder while providing a more rugged, robust solution with lower operational and maintenance costs.
"At only 80 cameras per year, it makes sense for the customer, but not necessarily for ISG because of the development costs," adds Van Iseghem. "But at 200 cameras per year, or 25 sorters, it's worthwhile for ISG too."
Protecting 30 Minutes of Profit
Central Europe is one of the most expensive places on Earth to process and package food for a variety of reasons, according to Reto Huber, Engineering Manager at AOS Technologies AG (Baden Daettwil, Switzerland), manufacturer of high-speed cameras. "A process has to run about 23.5 hours per day to meet their costs, which means they're making their profit in the last 30 minutes of the day. Companies doing food processing or packaging really have to make sure their processes run smoothly and efficiently. Otherwise, they lose money."
Unfortunately, troubleshooting a bottling line, running at up to 800 bottles per minute, is a challenge for engineers and maintenance professionals who don't have a Matrix-like ability to slow down time. In response, AOS Technologies has developed PROMON SCOPE, a high-speed digital recording system that can run at speeds up to 2000fps.
"It's not the highest resolution or fastest camera we supply," explains Huber. "We designed this system to be extremely easy to use for maintenance departments. Just push the red button and record the event. The playback starts automatically. This also helps us to avoid conflicts with IT departments that are concerned about adding PC-based camera systems to their network. Proctor Gamble, Coca Cola, Carlsberg, all the big bottling companies have purchased this system for troubleshooting their ferrule bottling lines."
While food quality is a major concern, new food safety regulation such as the U.S. FDA's Food Safety Modernization Act signed into law on Jan. 4, 2011, could greatly expand demand for machine vision systems. According to the FDA, 48 million people get sick from foodborne illness each year. Of those, 128,000 are hospitalized, and 3,000 die each year. New product tracking requirements included in the Act's Inspection & Compliance section suggest many food processors will be required to track all products from origination to supermarket, similar to the pharmaceutical industry. Based on the low-unit costs of individual food packaging and high volumes, it seems reasonable to assume that only machine vision technology will be able to provide cost-effective 100% product tracing to meet new federal guidelines.