Machine Vision Harvests Opportunities in Food Inspection
POSTED 10/11/2016
 | By: Winn Hardin, Contributing Editor
Like taste buds of the human tongue, machine vision's use in food inspection can detect and process complexities on multiple fronts. Farmers rely on multispectral imaging and sensing to analyze plant health. Since the U.S. Food Modernization Act took effect in 2011, food producers have adopted machine vision to address the law's product tracking and tracing requirements.
Consumers also are influencing the business case for vision-enabled inspections that validate the food's appearance, quality, and even taste. From the field to the grocery store, machine vision spots the flaws that keep unsafe, unappealing food off the supermarket shelves.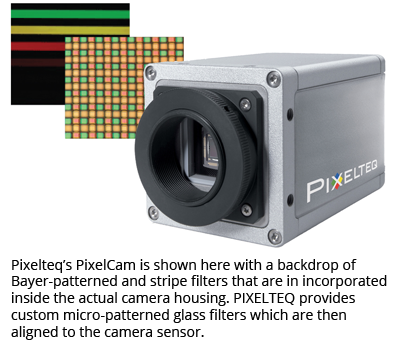 Multiple Uses for Multispectral
When Pixelteq (Largo, Florida) spun off from Ocean Optics (Dunedin, Florida) five years ago, the former recognized a growing desire from its customers to combine imaging and spectroscopy for food inspection. "We initially saw customers adopting imaging for size measurements rather than for color measurements," says Marco Snikkers, vice president of sales and marketing, Pixelteq, which provides OEM multispectral imaging and sensing products.
On the spectrometry side, however, "you can only measure one product of food," Snikkers says. For example, if anomalies existed in an apple, a spectrometer would only be able to inspect one side of the fruit.
Bringing the best of both worlds together, Pixelteq created a snapshot camera that produces a 2D image of an object through multiple spectral bands. The PixelCam™ series features 4 to 9 spectral bands on a chip in a Bayer pattern in which individual pixels get individual filters. The sensors extract high-contrast spectral information at specific visible and infrared wavelengths.
Because food is a resource with many natural variations, multispectral imaging is ideal for detecting these disparities that RGB or monochrome cameras cannot. By combining both visible and shortwave infrared (SWIR), "you have a tremendous large wavelength range in which you can really fingerprint the type of absorption bands you are looking for in food," according to Snikkers. "Once you've decided on what you what to monitor or control, multispectral is very dedicated. You are able to select the wavelengths on the chip and the OEM only gets the information that is relevant to them."
Food producers are adopting multispectral imaging across the entire supply chain. Particularly as camera sizes continue to shrink, more unmanned aerial vehicles (UAVs) are equipped with multispectral imaging for precision agriculture to review crop stress or lack of water or nutrients.
Multispectral imaging also is enabling the food industry to grade the internal quality of fruits by measuring parameters such as acidity and starch levels. Snikkers points to the example of Korea, where every apple sold needs to have a Brix value, which determines the percentage of sucrose in a plant. "If you can't prove what sugar level the apple contains, you can't sell it in Korea," Snikkers says. "That's the type of quality they expect in grocery stores."
Similarly, Snikkers notes, "any orange juice manufacturer who wants to ensure the juice tastes the same way every time needs to find a constant quality within a certain bandwidth. Because it's all about taste, you need to be able to measure the sugar level inside the oranges."
Such high-quality sorting has moved from a nice-to-have option to a requirement given that need to meet strict governmental regulations on tracking and tracing, as well as increasing consumer expectations over how their food is sourced and inspected.
Says Snikkers: "Food manufacturers are upgrading existing sorting machines with spectrometers, and the next step is integrating the spectrometers directly into the camera to make inspection easier, faster, and more affordable."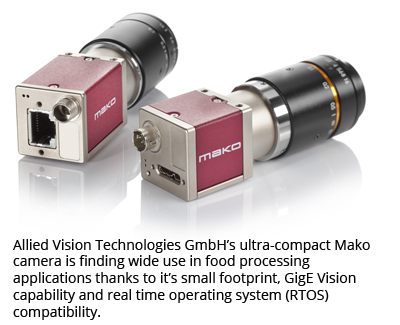 In addition to precision agriculture and food-sorting applications, multispectral imaging is finding a foothold in product packaging. "Manufacturers are using more clear films as they present things so the consumer can see what they're buying," says Mike Troiano, senior director, worldwide sales, for Allied Vision Technologies, Inc. (Exton, Pennsylvania). "This has presented some challenges outside the visible spectrum but also has created opportunities in both SWIR and longwave infrared (LWIR)."
Some applications also rely on thermal cameras to ensure enough temperature is used to properly close packages with heat shrink. A decade ago, however, food manufacturers were reluctant to invest in nonvisible imaging.
"Thermal cameras were too much money, and SWIR cameras were too low resolution," Troiano says. "But today, we've seen steps to grade things during and after the packaging process to make sure the product goes out the way it needs to."
What's more, Troiano adds, the more valuable the product — for example, avocados, of which 2 billion pounds were sold in the U.S. in 2015 — the more money food producers are willing to put into inspecting it.
A Cut Above the Rest
Meat cutting represents another food application where machine vision continues to thrive. Processing facilities are looking for high-speed CMOS imagers compatible with real-time operating systems (RTOS), according to Allied Vision's Troiano.
They're also handling a lot of different light sources. "Some people are putting down pattern light, while others are using triangulation and laser light to make cutting decisions," Troiano says. "But ultimately they're trying to optimize the cuts on beef, chicken, and pork with the throughput."
Meat processors are accelerating their machine vision adoption rates for a few key reasons. "Camera costs have significantly reduced from 10 to 15 years ago, and the choice of CMOS imagers is much more infinite," Troiano says. Other influencers include the RTOS upgrade cycle and discontinuation of old sensors.
As these companies' camera volumes ramp up, they have a more difficult time up keeping hardware and therefore rely more on camera specialists to keep a standardize product shipping to them rather than building their own.
Furthermore, as part of their compliance with federal regulations, the meat-handling industry wants a stable driver package that's usable for a long time. "They keep deploying the same software over and over again and aren't moving to new software packages," says Troiano. "And as a supplier you have to be willing to stay in that time sold with them even as the technology and industry changes."
For meat-cutting applications, Allied Vision has seen a lot of interest in its Mako series of small GigE cameras. "Many customers are running that with our Vimba software driver package, which is RTOS compatible and will soon be compatible with QNX," Troiano says. "Board-level cameras aren't a 100% necessity because everything is put in a housing for caustic washdown."
Americans' dining habits are influencing meat cutting and processing trends. With 1 in 4 people eating some type of fast food every day in the United States, it's no surprise that machine builders are making specific equipment — whether it's to slice chicken nuggets or grade and cut pork four slabs of bacon — in order to capitalize on the quick-service restaurant market.
Last Stop: Customer Satisfaction
Looking forward, food inspection won't stop simply when a foodstuff ships. Featuring up to 8 color bands in a 9x9 mm array format, the PixelSensor™ multispectral sensor from Pixelteq could enable quick on-site inspections.
"In distribution centers where food is stored for a certain amount of time, being able to do a quality check with a handheld imaging camera or sensor is of tremendous value in delivering the quality their customers expect," Pixelteq's Snikkers says. The same goes for grocers "looking for a handy tool to get a quality number of the food products on display."
It could turn out that shoppers have final say in food quality, particularly as their expectations grow over how their food is inspected for certain pesticides or illnesses. "As the sensors become smaller and smaller, we firmly believe the spectrometer will end up in a smartphone so people will be able to instantly get a quality measure of the food they are consuming," Snikkers concludes.