Machine Vision Goes Full Steam into Mainstream Automotive Manufacturing
POSTED 01/20/2014
 | By: Winn Hardin, Contributing Editor
In the 1800s, the automobile manufacturing industry led the world into the future with mass production lines. During the last century, the automotive industry continued to lead the manufacturing sector in the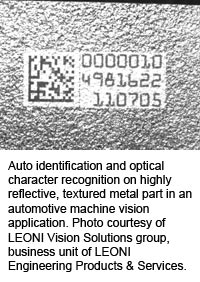 adoption of new manufacturing processes and technologies, including machine vision.
However, until recent years, and despite being an early adopter of machine vision, most managers in automotive manufacturing knew little about industrial imaging systems for assembly and quality control. Machine vision knowledge, oversight, and adoption were relegated to a few engineers and PhDs among technical staffs numbering in the tens of thousands.
"Today, the higher I go up the organizational charge at automotive companies, I see more and more upper-level management fully aware of what integrating machine vision brings to the table," explains Nicholas Tebeau, Manger of LEONI Vision Solutions group, a machine vision integrator and business unit of LEONI Engineering Products & Services (Lake Orion, MichiganI). "Vision is becoming more main stream. In the past, half my presentation was educating automotive customers on what machine vision is and what it can do. Now, when I give a presentation, I get educated questions. Smarter questions. They don't look at machine vision as a niche form of automation, but a larger aspect of how they can improve quality throughout their systems."
Slow and Steady Wins the Race
The automobile industry is no longer the sole driver of new machine vision technology and solutions. Today, as machine vision gains visibility, that spot is shared with many other industries, including the electronics, pharmaceutical, food processing, and packaging segments.
At the same time, the automobile industry has gone from father of the second Industrial Revolution to the conservative uncle ¬of a new broad-based technological revolution; no longer on the bleeding edge of technology, but still a staunch proponent of proven systems that bring value. According to LEONI's Tebeau, growing machine vision awareness within the management ranks of the U.S. automotive industry doesn't necessarily mean the volume demand for machine vision systems is "blowing up." What it does mean, however, is that the automotive industry remains a robust customer base for machine vision, as greenfield deployments are joined by a growing number of replacement vision systems that bring new functionality and capacity to automotive production.
A recent palletizing/depalletizing vision-guided robotics system is one example Tebeau offered of a single VGR replacing several process steps as part of heat-treating engine cylinder heads. The cylinder heads would arrive in crates separated by wooden slats. Workers would unload the crates, placing the cylinders in metal baskets for the heat treatment process, and then return later to unload the baskets and repeat the cycle. While neither the crates nor baskets were designed with automation in mind, LEONI created a multi-camera vision-guided robotics system using Basler ACE acA2500-14GM industrial cameras, Schott ML-H0514MP and ML-H0814MP lenses, Midwest Optical color Smart Vision ODL300-470-W blue linear LED lights, and ODR130-470 ring lights to automate the entire process using a single FANUC robot. This solution added capacity while freeing workers from lifting the heavy cylinders.
Automotive R & D Looks to High-Speed Cameras

High-speed cameras such as those produced by
Adimec
(Stoneham, Massachusetts), Redlake and
Mikrotron
(Munich, Germany) have long been used for impact safety tests and occuant safety studies. Today, automotive R & D centers are jumping on the high-speed bandwagon, capturing hundredsor thousands of frames per second to study everything from metal alloy stress to droplet distribution during auto body painting.
Mikrotron's North American Head of Business, Steve Ferrell, supplies the automotive industry with both high-speed Cube Cameras, with up to 16 gigabytes of onboard memory and max frame rates of thousands of frames per second, and traditional high-speed machine vision cameras, with GigE and CoaXPress output.
"The last big round of purchases for self-contained cameras with onboard storage, like our Cube 6 and Cube 7 cameras, was several years ago during the mainstream addition of curtain, side-impact airbags," Ferrell says. "But we're seeing a lot more demand for high-speed machine vision cameras involved in all sorts of R&D."
More recently, LEONI was called to replace several aging machine vision systems while adding capacity. For example, an autoID system for verifying VIN numbers on engine heads also allowed the customer to monitor the health of pin-stamp dies before wear made the codes unreadable. Another smart camera-based system regularly failed to verify the presence of brake pads and other components on axel assemblies, slowing down production and causing workers to regularly put the smart camera in "bypass" mode. By adding more cameras and custom mechanical fixtures, LEONI was able to achieve close to 100 percent inspection accuracy, boosting the line's throughput.

Emerging Markets Speed Ahead
The move toward multiple camera solutions also helped other machine vision suppliers win contracts in the automotive industry. Adept Technology Inc. (Pleasanton, California) — a supplier of robot, mobile robot, and machine vision solutions — fielded a dual-camera inspection and assembly system for engine fuel injectors, with one camera providing robotic guidance and the other fine tuning the final assembly.
Datalogic's machine vision business unit (previously PPT Vision) continues to see strong demand for its MX series of embedded vision systems, which are designed to simplify the development of multiple cameras. "From a legacy perspective, automotive and electronics are where we grew up," explains Stephanie Vinger, Vice President of Sales at Datalogic Machine Vision Business Unit, (Minneapolis, Minnesota). "Today, more than 50 percent of our applications are in electronics and automotive. That can surprise some people that Datalogic has been a supplier of machine vision systems to the automotive industry for many years, but that is the case [following Datalogic's acquisition of PPT Vision]."
Although the U.S. automotive manufacturing industry may not be the sole driving force behind the machine vision industry's strong growth in recent years, automotive producers in emerging markets offer significant upside. According to a recent report from IBISWorld, "The majority of the rise in [automotive parts and accessories manufacturing] over the past five years is due to the explosion of the automotive sector in China… Some companies in these [developed markets] were able to hedge against the downturn by expanding into new locations such as China, India, Mexico, Brazil, and Russia."
Datalogic's Vinger agrees. "We are seeing much faster growth outside of the U.S. in the automotive industry," she says.