Machine Vision Diagnoses Healthy Opportunities in Medical Imaging
POSTED 03/23/2016
 | By: Winn Hardin, Contributing Editor
Cost-effective cameras, optics, and software are manna to a medical imaging sector eager for custom solutions that give a competitive edge without the custom price. Add in the exponential explosion on developed populaces from BRIC countries, and the bywords from the medical imaging industry to the machine vision market are "flexibility" and "work smarter, not harder."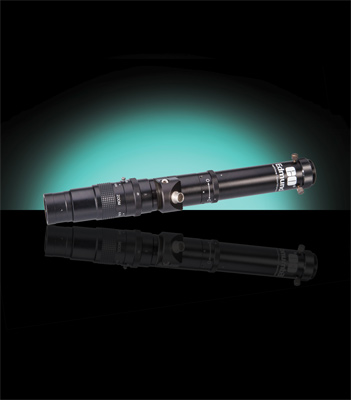 Enhanced Production Flexibility
"People are saying they need more custom solutions," says Stephan Briggs, biomedical engineer at Edmund Optics (Barrington, New Jersey). Whereas the solution once might have been skewed toward high-standard, high-quality lenses, "by customizing our off-the-shelf optics, we can get customers to 98% or 99% of the quality they need at one-half or three-quarters the cost," he says.
Illustrating his point, Briggs adds that the "glass envelope" is being pushed farther to create more relay lenses and complex optical engines. That's why Edmund has recently brought full manufacturing capability to its U.S. manufacturing operations, allowing the company to quickly respond to custom requests with optimized off-the-shelf solutions. "When customers say they want a specific 2-to-1 relay lens or a specific objective at 3.7x magnification on a 1.1-inch sensor, they want a custom solution. You need to be flexible and able to respond quickly," Briggs says. "And we've really built ourselves up in the past five years to do that."
Edmund has redundancies to match the manufacturing equipment at its larger factories. Says Briggs: "What that does is allow us not only to respond to things more quickly by co-locating production with our center of engineering talent, it also allows us to do R&D development on the manufacturing side to understand what our limitations are on coatings in relation to spherical radius tolerances, for example."
Once the R&D work is complete, the company can scale it up for production at its larger facilities in Singapore and Japan. In some cases, particularly in microscopy, Edmund can provide a tunable prototype assembly to clients for system evaluation and then follow that up with an optimized, integrated solution for volume production. The redundant facilities enable Edmund to make the glass and also apply a range of coating within 10 to 14 days, an improvement from the 10 to 14 weeks required in the past, Briggs says.
Accommodating Global Medical Markets
While Edmund is bringing capabilities back to the U.S. where many companies do their advanced R&D, engineering for many entry-level medical diagnostic systems is moving closer to emerging markets. "Many big worldwide players are moving their design and development operations to India, Brazil, or China," says Marcel Dijkema, strategic product manager at Adimec (Eindhoven, The Netherlands), a major supplier of image-intensifier x-ray camera assemblies for portable CR x-ray systems. "So where these image-intensifier camera-based systems were in the past manufactured in Europe and the U.S., the new developments are moving toward India."
Another common factor for emerging markets is the need for telemedicine to connect remote rural areas with doctors in urban areas. In particular, the Internet of Things, cloud-based computing, and security concerns are key drivers for medical diagnostic system developers, says Dijkema.
He cites the example of microscopes used in cancer pathology. "In the past, the problem was digitizing those pieces of equipment in order to deliver high-resolution images and manage the flood of data between separate locations. That was a bottleneck but now we're getting used to dealing with big data streams," Dijkema says, adding that Adimec is positioning itself for a time when cloud computing makes it easier to share data and accelerate diagnoses.
Lumenera Corporation (Ottawa, Ontario, Canada) is helping to make digital image diagnosis easier and more reliable, along with improving automated medical imaging and drug discovery, by making its Infinity line of microscope cameras faster and more sensitive.
For example, Lumenera has incorporated Sony's new ICX825 CCD sensor into its Infinity 3S-1UR research-grade microscopy camera. The sensor produces a higher dynamic range and sensitivity over its predecessor, the ICX285 sensor, says Eric Ramsden, director of product management at Lumenera. The CCD offers excellent color reproduction, low noise, and linearity, all of which are necessary for diagnostics and research, Ramsden says. Future cameras will include the latest Pregius global shutter CCD sensors with read noise as low as 2 electrons. The first cameras to use Pregius sensors are expected later this year.
Software is the final piece of the package for connecting the latest cameras to microscopy software and then picture archiving and communication systems (PACS) to form the backbone of telemedicine systems. Lumenera sees an advantage in offering its Infinity Analyze microscopy analytical software package and access to its API to support interop with major microscopy control and analysis software programs. "A customer might have a microscope from one manufacturer and software from another," Ramsden says. "The Lumenera camera needs to work with that diverse equipment and software. Interoperability is critical to provide flexible configurations and simplify the installation process."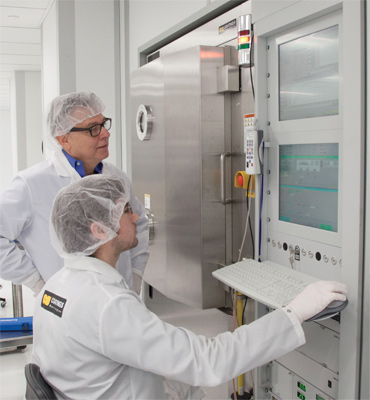 Machine Vision Moves Medicine Forward
While volume sales will come from traditional x-ray diagnostic and microscope-based tissue analysis systems, machine vision companies are helping medical imaging companies push the boundaries of what is possible with an eye to saving lives and money.
For example, Adimec is involved with full field optical coherence tomography (FFOCT) system for evaluating cancer tissue during surgery. Using Adimec's 2MP 2Million electrons full well, which can operate at a speed of more than 700 frames per second over CoaXPress and a microscope assembly by LLtech (France), "…Instead of slicing the tissue into thin pieces under a microscope," Dijkema says, "you can now slice the tissue optically so you don't need to destroy the tissue while observing cellular level resolution for review by the pathologist."
Dermatology and ophthalmology are hot markets for medical imaging. "For ophthalmology, a big recent development is the advancement of adaptive optics and how they've come down in cost so significantly," explains Edmund's Briggs.
Adaptive optics allow medical systems to 'see' through what has been opaque or diffusing tissues such as the liquid in the center of the eye. Using adaptive optics, "…those obstacles are gone so people can start to design new retinal OCT systems or new cameras to get past all the layering issues and all the aberrations that you typically see due to the dozens of layers in the eye ball." Briggs says.
Within dermatology, the laser treatments are a driving force, including the use of new excitation wavelengths that require new optical solutions. "The ability to make coatings in the UV and the IR really is allowing more power to be delivered to certain areas of the epidermis or dermal layers of the skin," Briggs says. "That allows dermatology companies or doctors to come out with new forms of treatment or diagnostic techniques."
Recently, Edmund formed a relationship with a company that produces a metallic actuator-based adaptive optic. Briggs explains that this relationship will likely bring costs down "because you don't need a wave front sensor to relay back to your MEMS device." The optics is fast enough to keep up with camera frames rates. "Maybe not the high-end USB 3.0 of 200 frames per second, but still talking dozens of frames per second," he says.
"To be able to have the glass and to have the coatings and be able to package them all together, you ultimately kill three birds with one stone," Briggs says. "It's certainly a vertical platform for us."
Better, cheaper, faster. They are not just the holy trinity for the industrial world. Today, with an aging global population, these are the guiding principles of medical imaging too. And as with so many industries, machine vision technology is going to help another key industry – medicine and life sciences in this case – to achieve the highest of goals: To save human lives.