Machine Vision Adds Capacity, Safety to Road 'Well-Traveled'
POSTED 10/23/2012
 | By: Winn Hardin, Contributing Editor
Developing countries struggle with budgets for infrastructure improvements, forcing them to find new ways to squeeze more capacity out of existing bridges and roads. In major European cities, the problem has become so intense that drivers pay for driving access to certain parts of congested metropolitan areas.
In emerging markets such as Brazil, China, and parts of the Middle East, where major roadways and transportation systems are being built for the first time in certain regions, the issue is about planning for the future while enforcing safe driving laws that have been absent or ignored in the past.
In both cases, machine vision technology is providing the answer. As vision technology prices continue to drop in the face of growing markets and more powerful, cheaper silicon components, machine vision is shifting from the traffic monitoring technology of last resort to a cost-effective solution for many problems.
Look Ma, No Plazas
Today, most traffic monitoring applications fall into two categories: tolling and enforcement. "At VITRONIC (Wiesbaden, Germany), we have two divisions for traffic solutions: one deals with tolling and surveillance, while the other focuses on red light and speed enforcement," explains Sales Engineer, Martin Schumacher.
Traditional roadside CCTV cameras only provided surveillance capability, allowing transportation safety organizations to dispatch emergency vehicles in the event of an accident or change estimated travel times based on traffic volume. When placed at toll plazas, CCTVs were essentially safety systems rather than revenue generators. But by adding machine vision technology, transportation departments can automate toll systems without requiring drivers to stop at toll plazas, for example, significantly increasing traffic flow volumes, improving toll enforcement, and increasing revenues.
"Using a 3D solution, such as LIDAR with scanning lasers, our toll systems can tell the difference between a car and truck, even count the number of axels of a truck for automated billing," says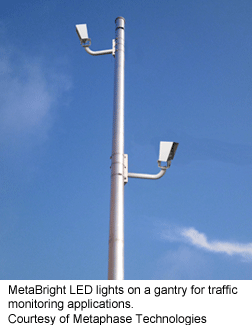 VITRONIC's Schumacher.
For cities like Brisbane, building new tolling plazas to help pay for road improvements isn't a viable solution because of the negative impact on traffic flow. In these cases, companies like Vitronic offer "free flow" tolling systems that capture and categorize every passing vehicle, acquire an image of the vehicle and the license plate, read the license plate using optical character recognition (OCR) software, and forward the classification and unique identifier to transportation centers for later billing.
Look Into the Light
Ambient light has been a challenge for machine vision cameras and systems, which had their genesis in the more controlled environments of the industrial production floor. "The most common solution is to use infrared (IR) light and use a silicon sensor without the typical NIR filter-coating applied across the top. Since the IR light isn't visible to the driver, the light doesn't distract. For instance, in some states where a ticket for running a RED traffic light is as high as $300, the state requires that a red light monitoring system also capture a picture of the driver," explains Oliver Szeto, a LED lighting expert and President of Metaphase Technologies Inc. (Bensalem, Pennsylvania). "Unfortunately, glass windshields don't transmit infrared light very well. In the U.S., there are similar issues with license plate reading.
Some state license plates use a holographic laminated coating over the license plate as a security feature and a holographic coating that doesn't reflect infrared light very well, resulting in low contrast images of license plates. Kevin High, Metaphase Technologies Project Manager in Pennsylvania adds "the laminate coating enhances the letters if you use a blue light. Every state, and even city, has different rules and requirements. In these cases, we may use a blue LED light with associated bandpass filter if it is in the front of the vehicle, or white LED light if it's behind the vehicle. White LED light in front of a vehicle can be a distraction. However, some red light enforcement systems use strobe white lights to capture the car and/or driver as well as the license plate."
Oliver Szeto mentioned, "Typical strobed light pulse of 100usec to 1 msec duration is required to capture a crisp, non-blurred image of a fast moving vehicle. "
Apparently, run a red traffic light and a 300 microsecond white light pulse is the least of your worries.
Metaphases' latest generation of LED lights, including the MetaBright LRS (license reading system), makes it easier to design and install traffic monitoring applications due to the constant current source and control electronics being embedded into the light housing itself and being fully programmable across an Ethernet connection. "From any controller that has Ethernet interface, the user can control all the light functions, including DC/ strobe mode, , strobe pulse width, intensity, internal/external triggering, trigger delay…whatever is necessary," explains Mark Kolvites, Technical Sales Manager at Metaphase. "We have the same capability with our collimated line lights used for looking under cars at national borders using a linear array camera."
A Failure to Communicate

To acquire the best image, traffic monitoring system integrators have to carefully match the camera and sensor response to the best lighting solution. Image quality has been a boon to machine vision camera manufacturers as the industry made inroads against lower-quality analog CCTV cameras. However, Camera Link®, FireWire, and USB cables cannot run from a 30-foot gantry down to a PC in an environmentally controlled enclosure on the side of the road.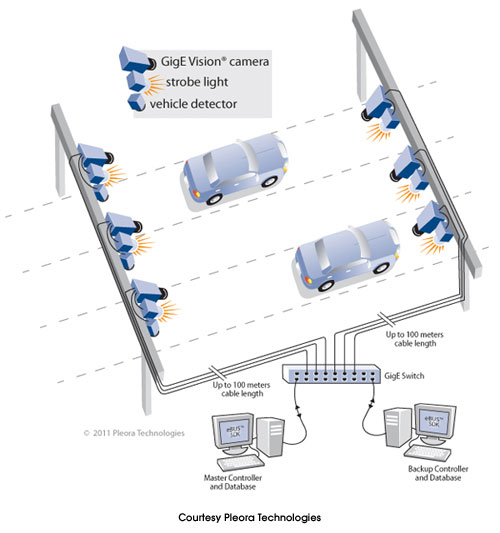 To eliminate the need for placing PCs on the gantries, where maintenance would be a nightmare and adversely affect revenue collection, traffic applications often use data interface conversion units such as those from Pleora Technologies Inc. (Kanata, Ontario, Canada).
"In China and Japan, we've seen a lot of demand for our Camera Link® to GigE Vision® conversion box," explains John Phillips, Pleora's Senior Manager of Marketing. "The toll applications in these countries are done at the speed of traffic without plazas, which means very tight control of the camera and light trigger. Gigabit Ethernet gives them the cable distance they need with burst bandwidths up to 1 Gb/s. With our solution, the integrator can use any camera they like and still have the cable distances and bandwidth they need. You can put multiple cameras on a single cable and send a images to multiple PCs so that records and revenue aren't lost in the event a PC goes down. Today, we're seeing camera manufacturers integrate our technology directly into their camera."
Pleora will demonstrate a new GigE Vision® wireless in-camera interface this fall in Stuttgart. "Using commercial-grade 802.11n wireless routers with encryption and security to keep data secure, we can offer up to 150 Mb/s," Phillips says. "The newest standard, 802.11ac, which should come out next year, will give us up to 500 Mb/s per camera. This can easily handle a VGA camera output at 30 fps or even megapixel resolution images at a lower rate."
Today, machine vision enforcement has become the standard for most plaza-based toll collection, but according to many vendors, free-flowing toll enforcement and red light enforcement are the fastest growing traffic applications. "It's very hard to get machine vision-specific market information from the larger Intelligent Transportation Systems market, but with governments everywhere cash-strapped to pay for improvements, we're definitely seeing a growth in machine vision related sales," concludes Phillips.
Embedded Vision
This content is part of the Embedded Vision curated collection. To learn more about Embedded Vision,
click here
.