M2M and Big Data Combine To Improve Machine Performance
POSTED 08/12/2015
 | By: Kristin Lewotsky, Contributing Editor
It's said that we live in the age of information but really, we live in the age of communications. These days, your sports watch, your refrigerator and even your dog can send data to the network. That's not news to the industrial automation sector, which has featured connectivity for years in the form of machine-to-machine (M2M) communications. Today, all the talk is about the industrial Internet of Things (IIoT), with even some longtime M2M suppliers rebranding themselves as IIoT companies. The IIoT holds great promise for the future but the reality is that many end-users don't want that level of connectivity. More to the point, at the current time, they may not necessarily be able to extract benefit. In many cases, M2M is a good compromise.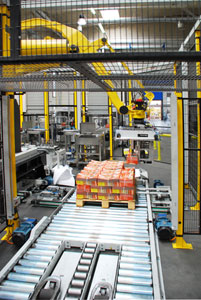 The Real Status of Networking
These types of articles typically start with the definition of M2M and the IIoT. The problem is that there is no consensus. One useful way of discriminating between the two is to consider M2M a connection between many devices to a central hub compared to the IIoT, in which many devices communicate with one another. M2M tends to be closed and proprietary: an intranet. The IIoT tends to be open.
The plant environment is changing. There was a time the operator loaded material and punched a button, possibly slapping the e-stop in the case of a significant problem. Today, operators are held responsible for the OEE of their machine, OEMs are held accountable for availability. Accomplishing that particular set of goals comes down to having the right data and best leveraging it.
From the machine and plant-wide standpoint, the organization needs a central data repository to consolidate functional and operational data for later analysis. Most organizations have experience with business analytics for general planning. Today, that model is accompanied by the use of equipment data to better track what is happening and how it can be improved.
It starts with connectivity, and in the case of M2M, that frequently involves fieldbus. Industrial Ethernet has made inroads in industrial automation but only to a limited degree, says Mark Watson, automation analyst at IHS. Although first mover sectors like pharmaceutical and semiconductor processing adopt the new technologies quickly, manufacturers in the other areas have held back, concerned about cost, security, and simply adopting a technology unnecessarily.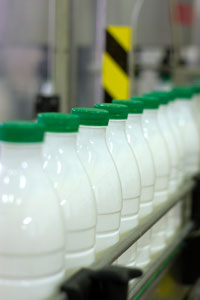 "The trend to Ethernet is probably gaining 1% per year at the expense of fieldbus so it is conservative area," says Watson. "Companies are very concerned with security and if a system is working fine then what is the incentive to upgrade and make a change?" According to current estimates, fieldbus technology accounts for roughly 2/3 of new connections in the industrial space, with Ethernet accounting for the rest. In terms of transport medium, the majority is wired, with wireless nodes making up a few percent. "It is a gradual transition," he adds. "You're probably looking at 15 to 20 years before we would see new Ethernet nodes accounting for the majority of all connections in a given year."
Those numbers would indicate that companies are more focused on M2M at the current time. By capturing temperature and current draw data for a servo axis for example, an end user might be able to detect bearing ware well ahead of failure. That allows replacement during scheduled maintenance versus an unplanned downtime. By integrating their process with condition monitoring and shop floor-top floor communications, enterprises can better manage the system and company performance as a whole.
Approaching data strategically
Just capturing data isn't enough. If you can't convert it into business insights and use it to make better decisions, you've wasted your money. Meanwhile, even small organizations are busy accruing terabytes of data, yet all too often they use only a small fraction.
In an attempt to better leverage their investment and gain a competitive advantage, organizations have established a post known as chief data officer (CDO). The role of the CDO is to bring a strategic approach to capturing and analyzing data. They review the data already in place for the organization, seeking ways to leverage it in order to deliver actionable insights. It's easy to dismiss these sorts of activities as the province of transaction-intensive enterprises such as those in the retail and financial sectors, but they have their place in manufacturing, as well. Particularly for businesses running large facilities around the globe, the ability to monitor equipment performance via M2M to optimize productivity, maintenance and planning can be valuable.
For years, enterprises have applied business analytics to their operational, production and customer data to improve long-term planning and forecasting. Today, enterprises up and down the food chain are working with big data techniques to improve the efficiency of their operations, increase revenues by introducing new functionalities and capabilities, or better comply with regulatory demands.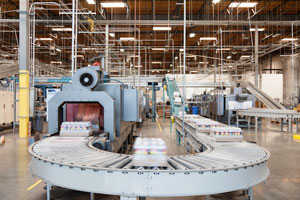 Big Data To the Rescue
In the consumer-based markets most commonly leveraging big data, much is made of using the technique to develop new business models and revenue streams. In the case of M2M and the industrial market, for example, that could take the form of an OEM or integrator analyzing the data generated by a highly networked machine to provide remote maintenance. Smart components are designed to simplify maintenance but they still require some effort from the asset owners. OEMs can take that over rather than the end-user calling for help when a problem arises.
They start with a platform designed for M2M communications. They develop an application capable of filtering the flood of data for anomalous readings, like increases in temperature and current draw. They contact the end-user or send in their own local technicians to address any problem, meeting an agreed upon service level agreement such as five nines of availability. It simplifies life for the end user while automated data capture and analysis makes it easy for OEMs to keep up.
In terms of networking, every enabled component, there are more still designed to be standalone. "There are still companies out there using standalone devices and replacing like with like and that is only changing slowly," says Watson. "Now is the time to make a careful review and consider whether the approach is right for your circumstances." Companies who are not making that move will to lose out.
Acknowledgments
For useful background information, thanks go to Sam Lucero, senior principal analyst, M2M at IHS; Chris Muench, CEO of C-Labs (Redmond, Washington); and Mike Wagner, business manager for the packaging industry segment, Rockwell Automation (Milwaukee, Wisconsin)