Low-Barriers to Entry Help Pre-engineered Robotic Machine Tending Solve the Labor Shortage Gap
POSTED 02/19/2020
 | By: Winn Hardin, Contributing Editor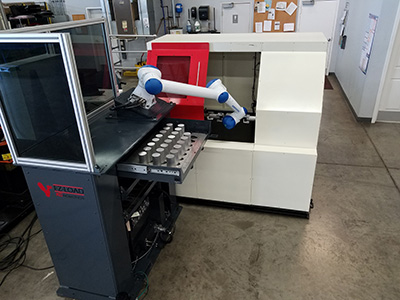 The KC Robotics EZ-Load line of pre-engineered machine tending robotics systems are designed for small- and medium-sized manufacturers looking to gain productivity.
Just a few years ago, manufacturers were talking about labor savings as a driver for adopting automation. Now, it's labor scarcity. Low unemployment is forcing machining companies around the country to consider automation or run the risk of losing contracts and future growth because they aren't able to keep up with demand.
Adopting robotic solutions is an obvious solution, but many companies face the usual obstacles of the expense of automation and training operators, as well as finding the space required to house the robots. But today's pre-engineered robot machine tending solutions utilize innovative ways to overcome the biggest challenges to adopting an automated solution: They are affordable, easy to use, as well as flexible.
According to Paul Carrier, chief operating officer at RIA-certified integrator KC Robotics, Inc., supplier of pre-engineered EZ-Load robotic tending solution (see Figure 1), "Reliable labor is one of the major, if not the driving force, behind all of the interest in pre-engineered machine tending solutions."
Help Wanted: Better Jobs
"Everybody is having trouble finding workers," says Bob, Kaska, president of Chicago Electric, supplier of the popular PickBot for high-precision machine tending solutions. "If you're in a more remote area, it's a big challenge. They're saying, 'Amazon is opening a distribution center down the road and they are going to take all our people. We're going to lose all these people in the next two years, and we can't find young people who want to come in and stand there all day doing this tedious work.'"
According to the U.S. Bureau of Labor Statistics (BLS), nearly 75% of machinists in the U.S. today are over age 45, while only 2% are younger than 35. As a result of pending retirements, the BLS predicts that the U.S. will need to add roughly 29,000 new machinists by 2024 to meet demand.
While there's a scarcity in headcount, there's also scarcity in the jobs that people are willing to do. Today more than ever, the emerging workforce wants to be challenged; they don't want to be performing the same menial tasks every day, explains Steve Alexander, vice president operations at RIA-certified integrator Acieta LLC, supplier of the FastLOAD DR2000 industrial robot tending and FastLOAD CR2000 collaborative robot tending solutions. (Figure 2)
"Robotics can fill this gap by taking on the lower-skill positions. Now instead of being a machine operator, an individual can become a cell operator and be more engaged. Engaged employees are more productive employees," says Alexander. "There's more of a focus now than there has ever been on the operators when it comes to reducing repetitive motion injuries and making it a safer workplace in general. The goal is to move them into better jobs."
Pre-engineered Solutions Tear Down Barriers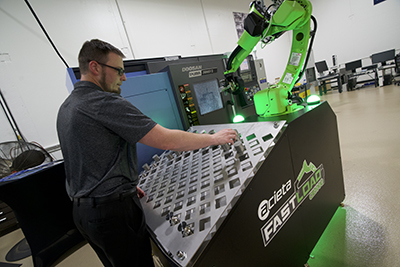 With a collaborative machine-loading cell, FastLOAD CR2000 by Acieta can help you address key business challenges fast. FastLOAD CR2000 is an excellent option for companies looking to maximize efficiency with automation and can integrate with solutions that include the FANUC collaborative robot.
While it's been well documented that automation improves a company's bottom line by adding capacity, allowing the company to be more productive, adding headcount, and improving overall job satisfaction in the bargain, several challenges have kept machine shops from adopting robotic tending wholesale.
In addition to the capital cost of implementing a traditional industrial robotic tending solution, early adopters of robotic machine tending solutions often had to reconfigure their shop floors to make room for the robot and the safety fencing necessary to keep workers safe, adding more costs and excessive downtimes. Today, with the availability of pre-engineered robotic machine tending solutions, technology is helping to overcome the financial barriers and many of the space and time hurdles too. (See figure 3)
Advances in lower-payload industrial robots and new classes of collaborative robots — combined with machine vision, area safety scanners, and intuitive human-machine interfaces (HMIs) — are making all the difference.
For example, like many pre-engineered solution suppliers, KC Robotics offers machine tending solutions based on industrial robots and force/torque-limited cobots. The industrial robot solutions provide higher payload and speed capabilities and usually a lower price tag over a force/torque-limited cobot solution. These work cells operate in a collaborative space using speed and separation monitoring rather than physical barriers to allow the robots to safely operate around human workers without taking up as much floor space as traditional robot work cells.
"For our speed and separation solutions, we use sensors like an [Keyence] area safety scanner to determine how close a person is to the robot envelope," explains KC Robotics' Carrier. "The robot is allowed to run at different speeds all the way up to a full stop when the person gets too close. As the person walks away, the robot resumes operation automatically.
"Space has always been an issue for high-mix/low-volume shops," continues Carrier. "We build our robot controller into the base of the robot." KC Robotics solutions usually revolve around loading and unloading turning centers. The EZ-Load solution comes with an intuitive HMI that speeds product training and changeover. It also offers quick, low-cost installation, reducing downtime during commissioning.
Robot Tending vs. Machine Tending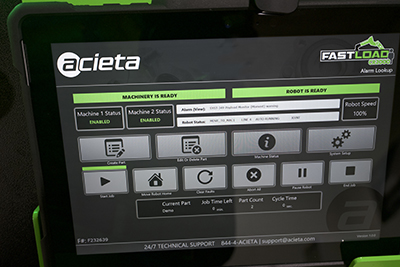 Human-machine interfaces (HMIs) can simplify what an operator sees and make it easier for the operator to use the system, an important feature for machining shops.
Acieta also offers pre-engineered robot machine tending solutions based on industrial and cobot varieties. The FastLOAD DR2000, the second generation of Lean Machine, Acieta's initial foray into pre-engineered robot machine tending, uses a Fanuc M-20iA traditional robot mounted onto a base that contains part drawers. The newest entry from Acieta, the FastLOAD CR2000, uses a Fanuc CR-15iA collaborative 6-axis robot with interchangeable grid plates to hold parts.
With its higher capacity and faster operation, the DR2000 uses area-scanning technology to monitor nearby workers and ensure safe operation, while the CR2000 work cell, which starts at $89,950, uses force feedback sensors to protect nearby workers or equipment. "For us to maintain the guidelines of the RIA with safety, even though we use an area scanner, the zone we would have to scan is actually fairly large. That's one of the reasons we decided to look at collaborative robots. We were able to eliminate the fencing and the area scanner. The unit itself is all the floor space you need. Most job shops don't have a lot of extra space. That was one of our driving forces for going to the collaborative," says Alexander.
Area safety scanners and cobots help mitigate another challenge to automating machine shops: fear of the unknown. "Some operators are unsure of robots and potentially that's because a typical robot is behind fencing and you can't touch it," says Alexander. "On the CR2000, the collaborative robot is right in front of you. The operator has complete control over it. You can actually walk up to the robot, push on it, and stop it. The robot will wait for your command to start back up. You can even grab the robot and move it around. It takes that fear factor out of it and gives the operator the feel that they do have control over that robot."
According to Alexander, both the DR2000 and CR2000 solutions can tend to multiple machines thanks to the aforementioned safety systems and special parts holding drawers and grids that allow operators to work in close proximity to the robots while they perform their tasks.
Robots That Change Themselves
One of the most important requirements for a pre-engineered robot machine tending solution for shops with high-mix/low-volume production is flexibility.
New, intuitive HMIs are one way that pre-engineered solutions help machine shops to meet their unique needs, simplifying new part training and changeover complexity. "HMIs are the main interaction point between the operator and the robot," notes Acieta's Alexander. "HMIs are typically secondary screens and differ from a teach pendant. Although the teach pendant that comes with the robot is very powerful and holds a lot of capabilities when it comes to programming and utilizing the robot, typically once a system is installed and in production, the operator no longer needs most of the capabilities of the teach pendant. This is where a well-developed HMI can offer a less complex and easier interaction with the robot. On the HMI screen, we can add only the essentials needed for everyday operation and part changeover, removing the look of a complex and overwhelming teach pendant. This allows for lower-skilled operators to be able to control and run the robot."
Smart programming can simplify and speed new part training and changeover, but Alexander points to several other important technological advances that also make pre-engineered solutions more flexible than custom solutions. For example, 3D printers can quickly generate chuck jaws and fixtures plates for new parts, while tool changers allow the robot to perform multiple processes within a single cell.
Robots can even change out machine vision solutions that allow the robot to calculate part positions and offsets for complex machining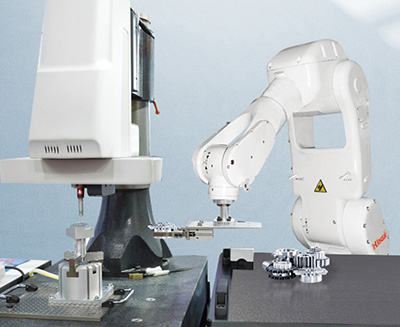 The PickBot from Chicago Electric features Solomon random bin-picking technology plus a second camera to help refine the position of the part in the gripper for precision machining.
tasks. For example, Chicago Electric's PickBot regularly uses a 3D vision system mounted directly to the robot for part picking from unstructured bins, as well as a second stationary machine vision camera for accurate part location for medical parts and similar precision machining applications.
Evaluating Pre-engineered Partners
As automation reshapes every manufacturing industry, more integrators are offering robotic solutions, but which ones are the most trustworthy? KC Robotics' Carrier suggests that customers look at solution providers with an open eye: How long have they been around? Are they RIA certified? Are they certified partners with major robot OEMs, or are they just purchasing and putting out a robot solution that may or may not work? "Talk to the sales representatives from the robot OEMs and ask their opinion," Carrier says. "And be sure to take a careful look at the quality of the system. Will it last in a manufacturing environment for 5, 10, 15, 20 years? Finally, look at the operator interface and changeover procedures. Do you need a pendant to program, and how does that work?"
Finding the right pre-engineered robotic solutions cannot only bridge the labor gap that lies before the machining and metal-forming industries, but these solutions can also help new users to feel comfortable about adopting automation technology in general. "When you design a standard product versus a complete custom solution, typically a lot of the complexity can be designed out of it," explains Acieta's Alexander. "This is most evident with the controls and HMIs used for interacting with the robot.
"These types of pre-engineered [systems] bring the overall costs down, including the initial investment," continues Alexander. It makes it a lot more palatable for [smaller] companies. [Finally], short lead times are probably another contributing factor for pre-engineered systems like ours. The speed of implementation and installation and getting up and running is a big selling point."