Lights, Cameras, Robots, Action: Advances in Robotic Vision
POSTED 05/21/2007
 | By: Bennett Brumson, Contributing Editor
Next month's International Robots & Vision Show and Conference is the perfect venue to explore the advances and changes in robotics, vision, and motion control…the keys to global success. With some 170 exhibitors demonstrating real-world products, plus continuously running new technology and product presentations, and an Emerging Robotics Pavilion, this is more than a trade show. The Robots & Vision Show is hands-on technology transfer for the latest products. The top-notch conference sessions and tutorials, with sharply reduced fees, provide those coming to the Show an opportunity to stay for the training. A full day of training at the Conference is less than the cost of a single session held in year's past.
Industrial robots combined with a vision system are capable of performing an astounding array of tasks. Recent advances in vision's capability and the promise of further progress in vision's development paint a rosy future for robotics.
'Recent changes in robotic vision systems come from the ease of use because vision has been embedded into the robot,' says Karl Sachs, President of Robot and Vision Manufacturing, LLC, Rochester Hills, Michigan. Embedding vision systems into the robot and the dramatic drop in prices have made vision more affordable, which has opened the doors for more users and applications.'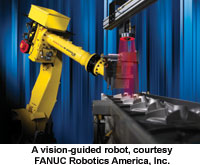 Better, Stronger, Faster
Advances in robotic vision are important factors in helping manufactures become or remain globally competitive. Edward Roney, Vision Product Development Manager at FANUC Robotics America, Inc., Rochester Hills, Michigan (IRVS Booth 1411), explains advances in vision.
'FANUC sees three significant advancements that are encouraging greater adoption of vision-guided robots: improved awareness, lower costs and high reliability. Many of the tools and capabilities available today in an application-specific robot guidance package have been in play for many years,' Roney says. 'The awareness of machine vision as a reliable tool with robotics has greatly accelerated. Capabilities that have been known and used in some niche applications and industries are now being applied to a much broader base of companies.'
Roney's outlook on the advances in robotic vision is shared by Bryan Boatner, Product Marketing Manager at Cognex Corp. (IRVS Booth 615), Natick, Massachusetts. Boatner says, 'Advances in vision systems have made them easier and more accurate to deploy in software and communication. Non-linear calibration of vision sensors enables applications to overcome any inconsistencies that result from lens or perspective distortion.'
Boatner goes on to add, 'Enhancements in vision has led to more accurate part-finding algorithms on vision sensors that accurately and repeatably find objects, even if variations in lighting exist or if the presence of machine oil, paint, cleaning solvents or other substances obscure a part or change its appearance.'
Boatner sees a bright future for robotic vision systems. 'In the next five years, I think you are going to see a similar increase in the adoption rate of three-dimensional (3D) vision-guided robots as there has been in the past five years with two-dimensional (2D) vision applications. More 3D tools will become available as standard tool sets from both robot and vision manufacturers.'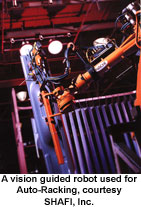 Robotic vision's increase in use comes after several years of technological improvements. These improvements are welcomed by Adil Shafi, President of SHAFI, Inc. (IRVS Booth 1805), Brighton, Michigan.
'I have seen a lot of dramatic innovation and a lot of successes in robotic vision in the past few years. Since 2000, there has been a dramatic shift in three-dimensional vision applications and a growing level of market acceptance of vision as viable technology,' Shafi says. He explains that innovations in 3D vision have led to widespread deployment of auto-racking systems. Auto-racking is robotic pick or place of stamped metal parts to and from storage racks.
'Better tools are making auto-racking more accurate, so most major automotive manufacturers use this technology,' Shafi says. 'Improvements in vision have also led to improvements in three-dimensional dispensing of sealants and 3D inspection techniques,' Shafi adds.
Like Bryan Boatner of Cognex, Shafi foresees more robotic vision in the future. 'In the next few years, I see dramatic improvements and more widespread use of bin picking, more vision servoing, and improvements in the ability of vision systems to follow an object in three-dimensional space in a more predicable manner.'
Visual servoing is the use of one or more cameras and a computer vision system to control the position of the robot's end-effector relative to a moving work-piece. Shafi adds that vision will be used for assembly applications and see more use in food and furniture applications.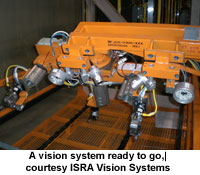 Kevin Taylor, Vice President of ISRA Vision Systems, Lansing, Michigan (IRVS Booth 621), also sees improvements in vision's hardware and software. 'Over the past few years, vision systems have been getting better because of faster computers, and software is getting easier to use. Sensor technology is getting more robust. New products and sensors make tasks that were previously impossible, now possible,' Taylor says. 'Vision is able to recognize things that could not be recognized in the past, and vision is able to do form matching as well as being able to find edges and curves on parts,' says Taylor.
Taylor sees continuous improvements in all of these areas. 'As vision systems get easier to integrate, the software will be simpler, more user-friendly, and get faster. In the future, there will be real-time seam-tracking, with the vision system looking at the seam and adjusting the robot as it moves,' Taylor predicts. Real-time seam-tracking requires very high speed communication between the vision system and the robot.
'We've had customers using real-time seam-tracking for welding for several years. The cameras are expensive due to filtering and shielding from the harsh arc welding environment,' states Chris Anderson, Thermal Technology Leader at Motoman Inc., West Carrollton, Ohio. 'Laser cameras can be used for seam-finding operations at half the cost. Searching is done prior to the arc turning on so it does not require filtering. The search time is just over a second, which is half the time for traditional robot search methods,' he continues.
'The most recent advance in welding vision involves using the laser camera to perform post-weld inspection. The same camera that is used to measure seam geometry can be used to scan a weld bead and provide measurements on bead height, convexity, leg size, and undercut,' Anderson continues. 'Some automotive manufacturers have implemented arc monitors to record weld parameters and verify process control; however, it is possible to make a poor weld with good parameters. Automated weld inspection is the next step towards Six-Sigma quality goals with parts that have safety critical welds,' he explains.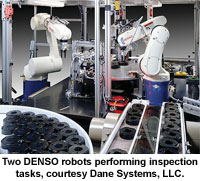 More Power, Less Cost
FANUC Robotics America, Inc.'s Ed Roney says the drop in cost of vision systems has made them more accessible to many more manufacturers. 'The cost of vision has reduced significantly, where vision is a quarter of the cost it was ten years ago.' Roney adds that higher levels of integration of vision into the robot controller have significantly added vision's appeal to robot users.
The decrease in the cost of vision systems is also important to Thomas Rohlwing, Vice President of Sales and Marketing at Dane Systems, LLC (IRVS Integrator Pavilion Booth 2014), Stevensville, Michigan. 'Implementing vision used to be cost prohibitive to a lot of companies. Now vision is more of an economic solution which has opened the door to our customers/end-users, who have variation in their product,' Rohlwing says. 'End-users need to have a cost-effective ability to run multiple part configurations on their equipment.'
Wish Lists
What do end-users want in a vision system? Karl Sachs of Robot and Vision Manufacturing says his customers want a system that is easy to use. 'End-users want ease of operation and they do not want to spend a lot of time teaching the system to do its tasks.'
Sachs went on to say that embedding the vision into the robot, where the actual image and operator menu appear on the operator pendant, makes for easier and faster integration.
'If vision systems are embedded in the robot, simple pick and place applications can be integrated by a robot-savvy user. Or, integrators can install the vision system twice as fast,' Sachs says. 'The fear factor of a complex vision system is taken away from the end-user.' Sachs notes that by embedding vision systems into robots, 'Multiple robots can be tied together so if the first robot misses picking up a part, the next one down the line will pick it up.'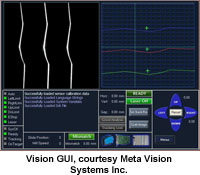 A small package is also what end-users are looking to see in vision systems. Pierre Huot, President of Meta Vision Systems, Inc., Montreal, Quebec, Canada says, 'End-users would like compactness of the actual sensor itself. Since most cameras are attached to the end-of-arm-tool, users want the camera as small as possible so it can get into tight spaces.' Huot went on to say that not all robots can support high-speed, real-time, three-dimensional position information and end-users want robots to have real-time position data.
According to Garry Sperrick, Sales Manager at Progressive Machine and Design, LLC, Victor, New York, wireless networking is what his customers want in a vision system.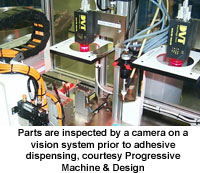 'End-users would like to have networking and wireless communication between the robot and the vision system, rather than Ethernet or canned communication. In addition, if the vision system lacks a monitor, operators might not know what the vision system is doing,' Sperrick says. 'If the system has a remote display, understanding an error message would be easier.' Sperrick says a small display like those on cell phones would ease operation of vision systems.
Wireless systems are also on the wish list of end-users of systems made by Motoman. Greg Garmann, Software and Controls Technology Leader at Motoman, says, 'The trend will continue with increasing processing speeds of vision systems as well as better and faster interfacing of cameras. I see wireless cameras simplifying the connections by relieving the need to be hard-wired to a communication port on the robot,' Garmann adds. 'Wireless cameras will help in reducing wire stress and failures in communication between the robot and the vision system.'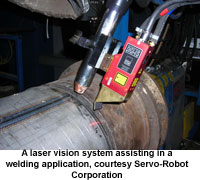 Jeffery Noruk, President of Servo-Robot Corp. (IRVS Booth 1743), Mequon, Wisconsin, states that end-users need more ease of use. 'Vision users want more of what is currently in systems now, such as a simpler plug-and-play interface. End-users want to reduce programming time and have more robust systems.'
Noruk explains that his customers do not want vision systems to be on the edge of success and failure based on the ambient environment. 'Servo-Robot switched to hybrid sensors, where more than one sensor is being used to check and double-check itself. The vision system does not make a decision based on just one sensor, rather it looks at results from multiple sensors, to better handle varying lighting conditions.'
See You at the Show
Robot manufactures, integrators and users have a chance to exchange ideas and to network at the International Robot and Vision Show in Rosemont (Chicago), Illinois, June 12-14, 2007. In addition to many informative workshops and tutorials, several exhibitors will present some unique demonstrations at the Hands-On Highway. The Hands-On Highway will offer show attendees the opportunity to explore robotics and machine vision with self-guided demos. Through a series of participatory exhibits, visitors are educated on the benefits of robotics in interesting and entertaining ways. The ins and outs of vision and motion control will be highlighted to help manufacturers use robots to compete in the age of globalization.
Editor's Notes:
Booth numbers referenced within this article are provided for exhibitors participating at the International Robots & Vision Show (IRVS), June 12-14, 2007, at the Donald E. Stephens Convention Center, Rosemont (Chicago), IL.
This article has been reviewed by members of the RIA Editorial Advisory Group.
For more information, you may contact any of the experts listed in this article or visit Robotics OnlineTech Papers.

Bryan Boatner, Product Marketing Manager, Cognex Corporation, 508-650-3140, [email protected]
Tom Rohlwing, Vice President of Sales, Dane Systems, LLC, 269-465-3263, [email protected]
Edward Roney, Vision Product Development Manager, FANUC Robotics America, Inc., 248-377-7570, [email protected]
Kevin Taylor, Vice President, ISRA Vision Systems, 517-887-8878, [email protected]
Pierre Huot, President, Meta Vision Systems Inc , 514-333-0140, [email protected]
Chris Anderson, Thermal Technology Leader, Motoman Inc., 937-847-3216, [email protected]
Greg Garmann, Software and Controls Technology Leader, Motoman Inc., 937-847-6200, [email protected]
Garry Sperrick, Sales Manager, Progressive Machine & Design, LLC, 585-924-5250, [email protected]
Karl Sachs, President Robot & Vision Manufacturing, LLC 586-826-9595, [email protected]
Jeffery Noruk, President, Servo-Robot Corporation, 262-238-4625, [email protected]
Adil Shafi, President, SHAFI, Inc., 248-446-8200, [email protected]