Lean Automotive Supplier Uses Robots, Flex Machines to Increase Productivity
POSTED 07/29/2005
 | By: Mary Kay Morel, Staff Writer/Editor
Aztec Manufacturing Corporation (Romulus, Michigan) is a tier-one full-service supplier of mid- and high-volume precision-machined castings and forgings to the automotive industry. A minority-owned small business, Aztec currently employs 95 people in its 73,000 square foot facility. The company had sales of approximately $30 million in 2004 and projects $34 million in sales for 2005. Ford Motor Company is its largest customer. In keeping with its lean manufacturing initiatives that help the company stay cost-competitive, Aztec has successfully implemented several robotic work cells into its manufacturing process since 2001.
''Aztec Manufacturing Corporation is committed to growing its business through investments in factory automation, which include the use of robotics in our machining and assembly operations,'' said Greg Lopez, the company's president.
Automation has helped Aztec increase productivity and maximize throughput, improve part quality for the end-customer, and provide 100% part inspection for quality assurance. Robotic work cells perform some of the more ergonomically difficult tasks, primarily material handling and machine loading/unloading.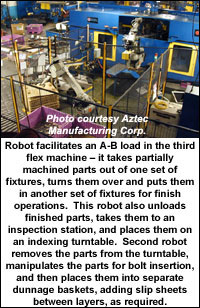 In 2002, Aztec implemented the first of three double-column, turret-type flex machines in the world. Built by Ann Arbor Machine Company (Chelsea, Michigan), and loaded/unloaded by Motoman robots, these highly flexible custom machine tools perform multiple CNC operations – drilling, tapping, milling and boring – all on the same machine. Each flex machine can have as many as eleven axes.
Unlike a typical CNC machine where the part is in a fixture and tools come in from the column, the tools that do the cutting in these flex machines rotate on the four-sided center turret. The fixtures that hold the parts are on columns that travel in three, four or five axes.
The robots load/unload two parts at a time into/from these flex machines. These can be identical parts or sets of RH and LH parts, depending on the operation. Each flex machine has two ends, so the robot loads/unloads the first end and then the other using a dual gripper. For some jobs, the robot facilitates A-B loading. It takes a set of partially machined parts out of one set of fixtures, turns them over and puts them into another set of fixtures for additional operations.
These AAM flex machines save floorspace and eliminate the need to transfer parts between multiple machines for CNC operations. This simplifies work flow and greatly enhances productivity.
In the first AAM flex machine cell, a Motoman UP50-35 robot picks parts from a power and free palletized infeed conveyor and loads/unloads an eleven-axis flex machine. After machining, the robot returns the parts to the conveyor, where an operator adds studs and feeds raw parts back onto the input indexing conveyor.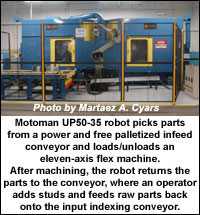 A Motoman UP130 robot picks up two identical front track-bar mounting brackets used in Ford vehicles and loads/unloads the second AAM flex machine. The robot first removes two parts from one end of the machine, rotates the gripper and loads two raw parts. It then repeats the process at the other end. The UP130 robot unloads track-bar mounting brackets two at a time from either end and drops the pairs ''randomly'' onto dunnage, since there is no need to pack them in layers. The robot was actually programmed to drop the parts off so that they are evenly distributed around the dunnage.
''We don't do a lot of robot programming ourselves – mostly we just tweak the programs or touch up program points, as needed. We had a Motoman application technician come in to program the random packout operation,'' Terry Sims, Aztec's engineering manager, said.
The third AAM flex cell uses another Motoman UP130 robot to facilitate A-B load of a set of raw RH and LH rear disc-brake adaptor parts for another Ford vehicle. The robot takes the finished parts to an automated probe inspection station that checks for the presence of threads in the four M8 holes in each LH and RH part. If the parts are acceptable, the robot places them on an indexing turntable. If the parts fail, the robot drops them off at a reject chute.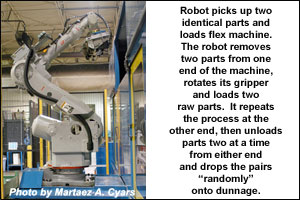 The turntable indexes parts through a partition fence to a Motoman UP50-35 robot that picks up a set of RH and LH parts and presents them to a bolt-running machine that shoots four bolts into each RH and LH brake-adaptor assembly. The UP50-35 robot then packs out the parts into separate dunnage containers for RH and LH parts located on an outfeed conveyor, and also places a stiff cardboard sheet between layers. When the two dunnage containers are full, they shuttle out on the conveyor and two empty dunnage containers shuttle in.
The company also uses robots for other machine-loading and material-handling applications. Another UP130 robot picks parts off of a walking beam conveyor and loads them into/from a CNC machine. This robot also packs out parts into dunnage and places thick cardboard sheets between layers.
Aztec's first robot, a Motoman UP20, installed in May 2001, previously performed material handling for a part that is no longer in production. This robot is currently being redeployed to unload a conveyor coming from a dial index machine and a pair of horizontal machining centers (HMCs).
As a just-in-time supplier, delivering quality parts on time is extremely important for Aztec. As production volumes increased, Aztec implemented robotic work cells to improve productivity. ''Operations in most of our work cells were never performed manually, so there is no comparison information between manual versus robotic production,'' Sims said.
''Robots make the people we have more productive. We run three shifts of production a day, five days a week. Absenteeism is never a problem with the robots, because they are always there. The robots perform machine loading/unloading operations that would be ergonomically hard on a human operator,'' Sims said.
Production equipment reliability is a must. ''Service and support were also keys for us when we were deciding to implement robotic automation. We haven't had any trouble with the Motoman robots. If we need a spare part or help with something, all we do is call their customer service hotline.'' Sims said. Motoman's Detroit facility is located in nearby Wixom, Michigan, and that physical proximity is also convenient if programming support or other assistance is needed.
Robotic automation has improved manufacturing processes and helped the company grow and prosper despite difficult times for the automotive industry. As a small business, Aztec Manufacturing has used the resources of the Michigan Manufacturing Technology Center (MMTC) to help with its lean manufacturing initiatives.
The company's founder and CEO, Frank Lopez, is politically active in promoting the interests of small businesses and worker development, and was recognized as ''Advocate of the Year'' in June 2005 by the Small Business Association of Michigan (SBAM).