It's Show Time: A 2007 International Robots & Vision Show Preview
POSTED 06/01/2007
 | By: Bennett Brumson, Contributing Editor
The International Robots and Vision Show (IRVS) is coming to Chicago (Rosemont), Illinois, on June 12-14. As the premier robotics trade show, it is the place for those in the robotics market to see and be seen by end-users, manufacturers and the general public.
''This is a technology show that the Robotic Industries Association (RIA) believes is key to global success for companies. The latest robot technology will be demonstrated to potential users, who will be shown the capabilities and benefits of using robotics,'' says Donald Vincent, Executive Vice President of RIA. ''Visitors will see robotic systems in individual booths and see a focus on a variety of applications, particularly vision guided robots.'' The Robots & Vision Show is also a conference, giving RIA members a chance to network and learn about applications, safety and new equipment. Highlights will include the presentation of the prestigious Joseph F. Engelberger Awards and several unique displays of robotic technology.
Hands-On Highway
A new feature of the Show is the Hands-On Highway, a series of demonstrations showing the power and flexibility of robotics. ''Hands-on'' is to be taken literally, as these demonstrations are intended to have attendees participate in a self-guided presentation of how easily robotic technology can be implemented. In the allotted four minutes for each demonstration, visitors can explore the benefits of deploying robotics, vision and motion control while having a bit of fun.
Motoman Inc., West Carrollton, Ohio, has one of the way stations on the Hands-On Highway. Roger Christian, Vice President of Marketing, explains Motoman's Hands-On Highway exhibit. ''Motoman will feature our dual-arm, 13-axis robot with MotoSight 2D integrated vision package. Using an HMI, participants interactively select the pick order of six distinct shapes that are randomly oriented on a table,'' Christian says. ''The robot then picks the individual shapes in the specified order using one arm, transfers them to the other arm, and inserts the shapes into a receptacle that matches the shape's pattern. Once all shapes have been inserted, the robot uses both arms to pick up the receiving tray and deposit the parts back onto a table in random fashion, then waits for the next participant's input. The idea behind this demonstration is to show how the dual-arm robot can have both arms work together on one task or can simultaneously complete different tasks with each arm.'' Christian adds that Motoman's dual-armed robots are targeted for the assembly and machine-loading markets.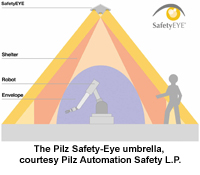 Pilz Automation Safety L.P., also is participating in the Hands-On Highway. Roberta Nelson Shea, General Manager at Pilz, says that the Canton, Michigan-based controls and safety equipment provider plans several demonstrations. ''Pilz will be showing PNOZmulti, our safety controller. The demonstration will help illustrate safety control circuitry,'' Nelson Shea says. ''Pilz will also have a have an exhibit on block switching, that is able to safely turn off groups of automation without affecting other groups of automation.'' Attendees will learn the difference between a traditional application and those using distributed block switching.
Nelson Shea went on to describe Pilz's third exhibit on the Hands-On Highway, Safety-Eye. ''Safety-Eye is a camera system designed to protect people from hazards associated with machinery. This system is a means to eliminate physical guards, saving floor space in robotic systems while still protecting people,'' Nelson Shea asserts.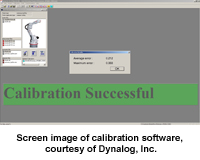 At a combined Hands-On Highway demonstration, Dynalog, Inc. of Bloomfield, Michigan and DELMIA Corp., Auburn Hills, Michigan will the demonstrate advantages of off-line programming (OLP) and robot calibration using DELMIA's and Dynalog's software. ''DELMIA will show how OLP works with our software,'' says John Giacomazza, Channel Manager at DELMIA. ''A robot will be performing a sealing application along a car door. Visitors will see a live demonstration of the robot sealing the door, after it is simulated using our software,'' Giacomazza says. ''We will do the OLP, validate the program, then show how it gets downloaded to the robot controller.''
According to Dynalog's Director of Business Development, Daniel Hasley, ''Dynalog and DELMIA are going to do a complete OLP and calibration of the robot, making it very accurate without having to manually touch up the program. The process goes from virtual simulation and OLP to a real robot.'' Hasley went on to talk about DELMIA and Dynalog's other exhibit. ''In our interactive demonstration, visitors can test their accuracy compared to the robot's. The visitor tries to accurately move a metal rod through a path without touching the sides. The robot then moves the rod, determining who is more accurate.''
Exhibits
While the Hands-On Highway is a new and unique addition, several companies will have exhibits that show cutting edge robotic technology and equipment. One exhibit, offered by ATI Industrial Automation, Apex, North Carolina, demonstrates their tool changing system. Charles Haines, Marketing Coordinator describes ATI's display. ''ATI will have a demonstration where a monitor plays a video that discusses our products. While the video is playing, a tool changer moves the monitor but it never loses connection because the monitor is connected to the robot through the tool changer.''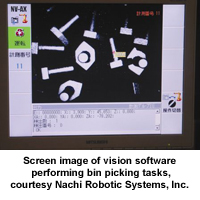 Likewise, Nachi Robotic Systems, Inc. will have robots performing tasks that showcase their equipment's capabilities. Karen Lewis, Marketing Specialist at Nachi gives an account of what the Novi, Michigan-based firm will feature in their booth. ''The highlight of Nachi's exhibit will be a heavy-payload robot presenting a car body in different positions, another robot will simulate spot welding on it, while a third robot will use a vision system with a sealant dispensing nozzle to simulate the application of sealant material to the car body,'' Lewis says. ''All three robots in this cell will work in unison.''
ABB, Inc., Auburn Hills, Michigan, will have a fully loaded exhibit, as explained by Steven West, Vision Technology Business Development Manger. ''ABB is going to have a learning center and a full agenda of 25-minute seminars ranging from vision-guided robotics to advanced technologies such as random bin picking,'' West says.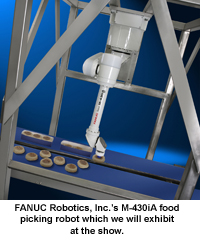 An exhibit covering a range of popular applications is what FANUC Robotics, Inc., Rochester Hills, Michigan, has in store for visitors to its booth. Cathy Powell, Senior Marketing Analyst says: ''FANUC Robotics will highlight Intelligent Robots with integrated vision and force sensing in a variety of applications including picking, assembly, arc welding, part feeding and bin picking.'' In the Hands-On Highway FANUC Robotics will demonstrate an advanced precision assembly operation. Attendees will learn how a robot can see the random location of a part using FANUC 3-D vision as well as feel how to insert the part with FANUC's force sensor.
Some exhibits will have a touch of fun while educating and fascinating attendees. Consider the exhibit that DENSO Robotics, Long Beach, California, plans. ''We will have a six axis robot and a teach pendant with a touch screen that displays trivia questions,'' says Brian Jones, Robotics Section Manager at DENSO. ''If the questions are answered correctly, the robot will grab a packet of mints. Demonstrating its articulation, the robot arm winds around the work cell before depositing the mints at the front of the cell.''
Conference Sessions and Tutorials
Other events at this year's International Robots & Vision Show include seminars divided into categories covering industrial robotics, machine vision, and those related to the International Symposium on Robotics. On the first day, Dr. William L. Whittaker, professor of robotics at Carnegie Mellon University will speak at the opening ceremony and give a keynote presentation entitled ''Robots at Work.'' On Wednesday evening, June 13, the Engelberger awards will be conferred in four categories, industry leadership, technology, education, and applications. The Robots and Vision User Recognition award will also be presented. To round out the exhibitions, pavilions will focus on emerging robotics and motion control.
Debuting Products
The Show presents robot manufacturers and makers of peripheral equipment an opportunity to introduce new products that might be of interest to end-users. One such product is a vision-based Auto-Racking system offered by ABB says Steve West. ''ABB will present an Auto-Racking system, using vision guidance. A vision system is used for robotic pick and place of stamped metal parts to and from storage racks in automotive plants.'' West adds ''ABB will also have the most recent release of Pick-Master, our vision guidance software solution for high speed picking for packaging and other applications.''
DELMIA is also debuting a software upgrade at the 2007 Robots & Vision Show. DELMIA's John Giacomazza reports that his company is going to highlight their V-5 software package. ''DELMIA's V-5 is replacing the previous generation of our computer-aided design (CAD) software. V-5 software is integrated into the same user interface as Catia design software,'' Giacomazza says. While V-5 is not brand new Giacomazza says, it is not yet the mainstream CAD software which is something that DELMIA hopes to change at the IRVS.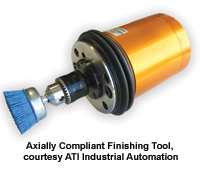 New hardware will also be making its first appearance at the Show. ATI plans on presenting its newest robotic tool. Again, Charles Haines: ''ATI will be displaying our new finishing tool that allows robotic work cells to have compliance with grinding, polishing or buffing media. Our tool allows robots to perform its material removal operation but still have the necessary compliance to make proper contact with the part.'' Haines adds ''This allows robots to polish, buff and grind as necessary, where normally manufacturers would need to have a manual operation.''
Motoman will have its virtual robot education system on display at the Show. Roger Christian sketches out Motoman's new training tool. ''Motoman's Simple Education System (SES) is a virtual three-dimensional robot on a computer that can be taken anywhere.'' Christian describes what SES can do. ''Hands-on training of operators can be done without tying up a real robot that is needed in production. With an actual production-version teach pendant, operators learn to program a virtual robot on a computer screen.'' Christian went on to say that SES is a good way to train people remotely. ''Often, if people cannot travel to our training facilities, we can take the training system to them without the expense of transporting a robot. It also allows us to provide the training in a classroom environment.''
Robots & Vision Show I/O
What do RIA members hope to get out of participating in this year's International Robots & Vision Show? Dan Hasley of Dynalog sums up reasons to exhibit at the event. ''Dynalog is finding a lot of interest from smaller manufacturers who use 10 to 50 robots. These end-users are saying that they like robotic technology and want to invest in it.'' Hasley adds that the IRVS is an ideal way for robot vendors to show their wares to small companies which are considering investing in robotics. ''Dynalog is hoping to find new customers that we have never thought of before. Hopefully they will be walking the Show floor and be interested in our technology.''
Editor's Note:
This article has been reviewed by members of the RIA Editorial Advisory Group.
For more information, you may contact any of the experts listed in this article or visit Robotics Online, Technical Papers.
Donald A. Vincent, Executive Vice President, Robotic Industries Association, 734-994-6088, dvincent@robotics.org
Steve West, Vision Technology Business Development Manager, ABB, Inc., 248-393-7120, steve.west@us.abb.com
Charles Haines, Marketing Coordinator, ATI Industrial Automation, 919-772-0115, chaines@ati-ia.com
John Giacomazza, Channel Manager, DELMIA Corp, 248-205-5125, john_giacomazza@delmia.com
Brian Jones, Robotics Section Manager, DENSO Robotics, 888-476-2689, brian_jones@denso-diam.com
Dan Hasley, Business Development Director, Dynalog, Inc., 248-203-9602, dan_hasley@dynalog-us.com
Cathy Powell, Senior Marketing Analyst, FANUC Robotics, Inc., 248-377-7000, Cathy.Powell@fanucrobotics.com
Roger Christian, Vice President Sales & Marketing, Motoman Inc., 937-847 3262, roger.christian@motoman.com
Karen Lewis, Marketing Specialist, Nachi Robotic Systems, Inc., 248-305-6545, klewis@nachirobotics.com
Roberta Nelson Shea, General Manager, Pilz Automation Safety L.P., 734-392-0208, R.NelsonShea@PilzUSA.com