Is the Wood Industry Ready for Robotics?
POSTED 11/14/2007
 | By: Bennett Brumson, Contributing Editor
When thinking of the role of robotics in manufacturing, working with wood-based products is probably not the first thing that comes to mind. However, as robots become less expensive and more powerful, end-users, system integrators and robot manufacturers are taking a closer look at deploying robots in the wood industry.
Wood Works

The jobs that robots are called on to perform in the wood industry include painting, handling, grading, and repairing of wooden parts and products. Eldon Owen, General Manager at the Willamette Valley Co., Eugene, Oregon, spells out some of the tasks his company has integrated for end-users in the wood industry. ''Willamette Valley has integrated robots for painting oriented strand board (OSB). Before robots were used for this application, most systems for painting OSB were antiquated, but now robotics gives end-users a high degree of efficiency.''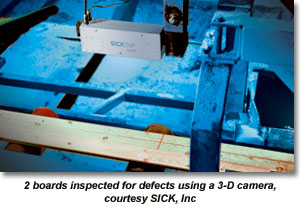 Owen says that robots also grade and repair wood veneer. ''Veneer is cut to size, then is scanned by a computer at high speeds to identify defects to be repaired.'' Owen adds that depending on the number of defects to be repaired, a panel's grade can be upgraded to increase its value. ''Veneer that comes in as a grade 'C' can be repaired robotically to become an 'A'. These systems are new and have been in use for only three or four years.''
Ron Potter, Senior Director of Distribution and Emerging Robot Markets at Motoman Inc., West Carrollton, Ohio, lays out several tasks that robots are called on to perform in the wood industry. ''Robots are picking up parts for kitchen cabinets and office furniture from stacks on conveyors and loading them into CNC machines. In this type of application, the robot is equipped with a double-sided vacuum gripper so it can unload individual finished panels, rotate the tooling to load a new panel quickly, and then transfer finished panels to different stacks, depending on what is to be done with them.''
Potter recalls a wooden furniture manufacturing work cell. ''Motoman integrated a furniture-distressing work cell. The robot uses multi-function end-of-arm tools to simulate age and wear such as worm holes, dents and other distress marks on dining room chairs. Tools rotate into position. An air-cylinder driven tool punches marks into the wood. An air file is used to smooth some edges. A small hatchet-like tool is used to create nicks, and a metal 'rock' makes other stress marks on the wood.''
When done manually, distressing wooden furniture is very labor-intensive. ''The robot gives the distressed wood a consistent, high quality look, and is much more reliable than when done using a manual operation,'' claims Potter.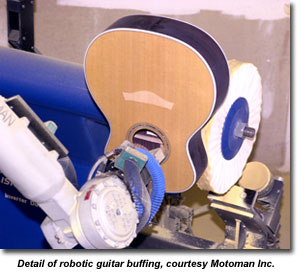 Polishing and buffing of wood products is another application Motoman has integrated for wood products. ''A major guitar manufacturer had Motoman integrate a work cell to polish and buff guitar bodies. In that application, the robot picks up the guitar body and presents it to sanding and buffing wheels.'' Potter adds that a small but growing application in the wood industry has robots dispensing glue to adhere layers of laminates together.
Likewise, Virgil Wilson, Senior Engineer for Material Removal at FANUC Robotics America, Inc., Rochester Hills, Michigan says, ''Robots in the wood industry are sanding, routering, drilling, loading/unloading, palletizing, assembling, polishing and painting.'' Among the wood products robots are performing these tasks on include furniture such as chairs, tables and cabinets, as well as flooring, paneling and musical instruments.
Material handling of wood products is another important job that robotics accomplish for end-users. Troy Palmer, System Coordinator at Custom Machines Inc., Adrian, Michigan says, ''Robotics in the wood industry are primarily used for material handling. The construction industry is using robotics for palletizing as well as material removal, packaging and inspection. In inspection and material removal applications, machine vision is incorporated into the robot due to concerns about quality control.''
Brian McMorris of SICK, Inc., has seen robots used in the manufacturing of plywood. McMorris says, ''Robots are wrapping both lumber and plywood, stacking them onto carts or pallets. In the secondary operations of wood product processing for cabinets, windows and doors manufacturing, robotics are taking pre-cut parts and assembling them or presenting them to joining machines.''
McMorris concludes by stating, ''Robots are utilized for machine tending applications where they present wood components to assembly equipment. And the construction industry uses robots for assembling trusses.''
Against the Grain
Wood, unlike plastics, metals or other materials that robots are called upon to deal with, has natural irregularities that pose special challenges in robot-based manufacturing processes. Knots and other inconsistencies are characteristic of wood and must be managed properly, otherwise the product could be rendered to scrap. To successfully control for the natural variation found in wood, robotic work cells often turn to vision systems.
Adil Shafi, President of SHAFI, Inc., Brighton, Michigan, addresses these challenges. ''The key is to be able to have vision system recognize characteristics in the wood. That recognition comes from controlling the vision system's lighting to deal with a specific feature on a plank.''
In addition, Shafi explains that issues other than lighting include dealing with feature-free objects, sawdust and camera layouts. ''End-users should not expect a knot to be in a specific place every time. To accommodate that, we recommend the use of alternate lighting methods, such as diffused front lighting and employing laser techniques,'' Shafi advises.
In a similar vein, Eldon Owen of Willamette Valley counsels integrators to be partnered with a company who has experience with the wood products industry. Also, more sophisticated vision systems help. ''Laser vision systems have been developed to scan, identify defects and grade the wood. These are not off-the-shelf cameras doing the scanning because the wood is not a consistent material,'' Owen notes.
When performing material removal functions of wood products, robots often are equipped with force sensing devices to ensure that the proper amount of wood is removed. Keith Torp, Sales Manager at FANUC, speaks of the role that force control plays in woodworking work cells. ''Force control, coupled with high speed processing capabilities and servo motor response, allows for repeatability by the robot to follow contours on the surface with great accuracy.''
Brian McMorris of SICK adds that vision systems are fundamental in dealing with irregular grain on wood products. ''Vision is used to detect grain and flaws in the wood. Also, vision is used to present wood parts to a robot, which cuts out imperfections such as knots.''
Would You Use Robotics for Wood?
End-users ask why they should invest in robotics to help manufacture wood products when people have been performing these tasks. Tedium suffered by those in the woodworking industry is one reason that robots are used.
Brian McMorris talks about robotics as a cure for monotony of woodworking jobs. ''Tedious tasks are hard to do over a long period of time without a drop in the level of effectiveness. When people visually inspect something over a long period of time, no matter how well they are trained or how good their intentions, they get tired.''
McMorris says this is both dangerous as well as inefficient. ''Workers in wood production plants do not discriminate as well as they did earlier in a shift.'' The inherent danger of working in a woodworking plant is another reason for managers to consider investing in robotics, says McMorris. ''Lumber mills are dangerous, and unsafe tasks are best done by machines. Mill managers can apply a robot to replace people in hazardous applications.''
Eldon Owen says the payoff for robotics in the wood industry can be quantified in painting applications. ''Robots are efficient when applying paint to wood products. A typical OSB manufacturing plant that paints its products uses 100,000 gallons of paint a year, so saving 10 to 15% annually is substantial.''
Reducing environmental clean-up costs of wasted paint is another important justification for investing in robotics. Owen says, ''Robotics eliminates personnel in the nasty environment found in old conventional wood painting systems.''
Virgil Wilson of FANUC agrees with Owen's assessment saying, ''Robotics are justified by the woodworking industry through labor savings, reducing the costs related to injury and quality control.'' Wilson's colleague, Keith Torp, adds, ''In the painting process, robots provide material savings and a consistently uniform film build.''
Growing with Wood
Wood is one of the first materials humans used for tools and as a building material. Yet, wood has a bright future within the realm of modern industrial robotics.
Adil Shafi predicts that improvements in vision systems will lead to an increase use of robotics by the wood industry. ''I see more bin-picking of wood products and robots sorting wood planks that go into veneer manufacturing. Both require a lot of labor and cause bottlenecks in processing planks for furniture. I think that bin-picking wood parts is an important area, especially when dealing with layers of products such as wooden planks.''
Ron Potter thinks woodworking applications have a promising future within robotics. ''Wood applications are one of our target markets. As wood mill operators realize that workers are getting harder to find, robotics in the wood industry will experience big growth in the next few years.''
Eldon Owen's appraisal is similar to Potter's. Owen says, ''Managers of woodworking plants are having difficulty finding the people they need, especially young people in small towns. I have seen 50 robots put into the wood industry in the last three years.''
Owen sees a continued upswing of robotics in woodworking applications. ''The wood industry has a lot of potential for robotics. This process will be evolutionary, but I am starting to see openings for robotics in an industry that was relatively closed.''
Owen concludes by saying, ''I see a market for robotics in the wood industry, but it is a difficult market for many integrators. Integrators need to have an intense knowledge of the woodworking process, how it handles and grades timber, as well as how production plants are designed. The biggest uphill battle is for integrators to understand the wood products industry.''
Editor's Note:
This article has been reviewed by members of the RIA Editorial Advisory Group.
For more information, you may contact any of the experts listed in this article or visit Robotics Online, Tech Papers.
Troy Palmer, System Coordinator, Custom Machines, Inc., 517-265-5759, [email protected]
Keith Torp, Sales Manager, FANUC Robotics America, Inc., 248-377-7000, [email protected]
Virgil Wilson, Senior Engineer for Material Removal, FANUC Robotics America, Inc., 248-276-4240, [email protected]
Ron Potter, Senior Director of Distribution and Emerging Robot Markets, Motoman Inc., 937-847-6200, [email protected]
Adil Shafi, President, SHAFI, Inc., 248-446-8200, [email protected]
Brian McMorris, Robotics Market Development Manager, SICK, Inc., 800-325-7425, [email protected]
Eldon Owen, General Manager, Willamette Valley Company, 541-484-2368 x4400, [email protected]