IO-Link: Reducing Costs and Increasing Efficiencies
POSTED 07/30/2020
 | By: Emmet Cole, Contributing Editor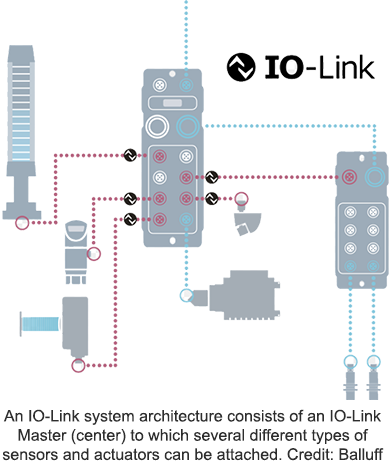 In 2009, a new, low cost universal I/O communications networking standard dubbed 'IO-Link' was released. Promising simplified connections between fieldbuses or industrial Ethernet networks and sensors and actuators on the factory floor, IO-Link has since found uses in a wide range of industries, including factory and process automation, production and packaging machinery and material handling. IO-Link now boasts sixteen million nodes, growing at around 30 per cent each year, according to the IO-Link consortium, which oversees the open standard.
IO-Link does much more than simplify connections, however. It enables Industry 4.0-type automation through improved machine-to-machine communication. And it provides fast and comprehensive data collection that can be used for diagnostics and predictive analytics. IO-Link supports numerous data types, including measurement data, device configuration instructions and information about operating condition parameters such as temperature.
IO-Link is bi-directional, digital and point-to-point. Data is provided on a serial communication channel that includes the sensor data, but also can provide much more information on the same wire. An 'IO-Link system' consists of an IO-Link master and one or more sensors or actuators. IO-Link systems can even be used with devices like grippers to improve fine control and provide extra diagnostics.
In essence, IO-Link provides key features of fieldbus and Ethernet-based sensors, such as programmability and diagnostics, but at much lower costs and without all the added complexity of having to wire a board into your PLC to achieve similar functionality.
The end result for manufacturers is improved insight into machine performance, remote monitoring capabilities and speedy detection of process inefficiencies –all of which combine to support flexible, intelligent automation systems.
Drivers
Simple wiring, easy installation and diagnostics features make IO-Link "the USB interface for industrial automation," says Christian Fell, chief operating officer at POSITAL - FRABA Inc.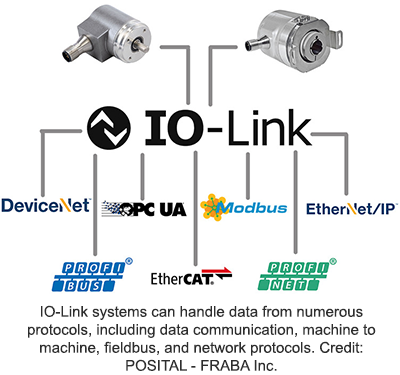 "Intelligent sensors, providing diagnostic information, flexibility by configuration and simplified wiring have been a trend for many years. With IoT becoming an integral part of the automation and motion control industry the demand for more smart sensors is rising and IO-Link supports this trend."
Typical customers for IO-Link are looking for cost savings, adds Fell, but they also want to upgrade from simple digital and analog interfaces, collecting and unifying additional data along the way.
The condition monitoring, predictive maintenance and traceability features of IO-Link are the main factors driving adoption, says Shishir Rege, technical sales specialist at Balluff Inc. "IO-Link makes it much easier and faster to configure condition monitoring features. IO-Link allows sensors and devices to communicate extensive information about their health, enabling predictive analytics. And IO-Link enables a lot of traceability and asset utilisation applications, which are proving popular, particularly on packaging lines that are running small batch production."
Over recent years, Rege has seen IO-Link systems being put to use in the motion control industry as a replacement for analog vibration sensors, which provide single-axis monitoring capabilities, making it very expensive to achieve the multi-axis monitoring you'll probably need to get to the source of potential problems. "With IO-Link however, you can use a single condition monitoring sensor with a MEMS technology that allows you to monitor not only multi-axis vibration but temperature, humidity and other parameters too," he says.
IO-Link enables systems with greater simplicity, less hardware and reduced costs, Rege adds, while at the same time providing greatly enhanced data collection and improved analytics.
Use cases
There are three main reasons to adopt IO-Link technology, says Yves de la Broise, senior software engineer at IntervalZero: when you need diagnostics all the way down to the sensor, when you want to reprogram a machine for different tasks and when you want to calibrate your machines for high-precision applications.
"A good example is a high-speed, high-precision laser machine that needs calibration for precise part machining. The machine also needs to be able to detect any errors that occur when a potentially dangerous laser is in operation. In this scenario, you can use IO-Link to detect the temperature inside the machine and calibrate actuators accordingly," explains de la Broise.
IO-Link is often used with large scale material handling systems, like the ones found in automated warehouses and airport terminals, says POSITAL-FRABA's Fell. In the past, these systems often used fieldbuses like DeviceNet even on conveyor encoders, combined with a multitude of other sensors and actuators often using different interfaces and gateways. "These systems are now upgraded to Ethernet based protocols and sensor/actuator integration can efficiently be done using IO-Link," he says.
Guide rails on a conveyor can also make use of IO-Link systems. Ensuring that the guide rail is adjusted to the proper spacing can be tricky, especially when people use hand cranks to crank the guide rail in and out, says Balluff's Rege. "There is no way to know if it has been done the right way, before you start production," he says.
An IO-Link system allows you to set limits directly on the sensors through the controller without having to use manual toggle switches, allowing the entire production batch to be controlled through the PLC or the controller. "That's a very big advantage as we are removing the potential for human error from the equation," explains Rege.
Meanwhile, RFID over IO-Link enables applications for access control, traceability, and asset utilization in multiple industries including pharma and food & beverage, and across many applications including CNC machining and press forming.
"There is no limit to the number of applications for this technology and I believe that we are just scraping the surface of its potential. IO-Link is capable of a lot more and we see more things coming every day," says Rege, adding that IO-Link is not merely a cost-saving technology, but one that can help futureproof your systems for Industry 4.0 applications too.