Integrated Motors: Define, Design, Apply
POSTED 07/27/2017
 | By: Ray Chalmers, Contributing Editor
Integrated and gear motors the infrastructure of the automation boom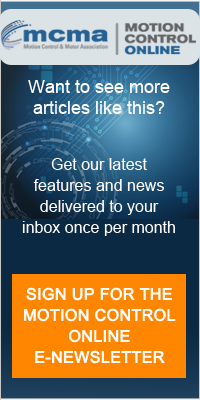 Motors make things go. Add in a current market with computing and information processing power continuing to strengthen and technology costs lowering, and it's all kinds of motors, including a growing class of integrated and gear motors, that make up the infrastructure of the current automation boom.
Automation technology providers are calling the current market the right space at the right time as more companies want to automate their processes where labor costs are rising and technology costs are falling. "In 2016, the motion-control market rebounded considerably over 2015, which was a down year. The manufacturing sector expanded for most of the year, and demand rose for each product category," said Alex Shikany, MCMA Director of Market Analysis. Growth rates were positive in each product category MCMA tracks. The top three largest segments in this market, Motors (9.6% to $1.2b), Electronic Drives (10.5% to $603.1m), and Actuators & Mechanical Systems (19.5% to $572.1m) increased on a year-over-year basis, helping drive the overall growth. The smaller AC Motors segment grew the fastest at 24.3% to $34.3m.
Define and Describe
Recent MCMA-sponsored research defines motors into general motion control (GMC) and computer numerical control (CNC) classes to better track applications and growth. GMC motors are defined as motors and drives used in conjunction with a general motion controller independent of the final application, such as those used in packaging machinery, food-processing lines, semiconductor manufacturing, printing equipment, and so on. CNC motors and drives, by comparison, program in G code for movements in machine tools that deliver discrete parts, including turning centers, machining centers, multi-axis multi-tasking machines, transfer lines, and others.
GMC motors account for 56.5% of the global market, according to the report ("Motion Controls: A Global Market Update," sponsored by the Association for Advancing Automation in 2014). CNC motors account for 43.5%. Machine tools, in both metal-cutting and metal-forming categories, accounted for nearly 45% of market revenues. Add on the GMC-dominant categories of packaging and labeling equipment, semiconductor machinery, robotics, rubber and plastics equipment, and material-handling applications, and these six categories alone account for more than 70% of the motors market.
So What Do Integrated Motors Integrate?
Ken Wyman, vice president of marketing at Allied Motion Technologies, took time to talk following his presentation at AUTOMATE 2017, "What Motor Technology is Right for Your Automation System?" Defining an integrated motor is like beauty being in the eye of the beholder, he says. Integrating the electronics of the drive with the motor can be one description; gearheads fitted to motors of various types are another description used in the market.
The concept is not that old, he continues. Since 1995, Animatics (now Moog Animatics) has focused its control, amplifier, and encoder technologies on the SmartMotor product line, calling it "the quintessential form of integrated motion control."
Integrated motors continue to develop due to how they consolidate things mechanically and electronically. One benefit, for example, is reducing the level of wiring between controllers and motors. "Integrated motors may simplify things mechanically, but there are downsides to watch for," Wyman advises. "Harsh or high-temperature industrial environments may present heat-management issues that may cause integrated motors to reach upper performance limits sooner. The integrated drive may not power the motor to its highest performance level."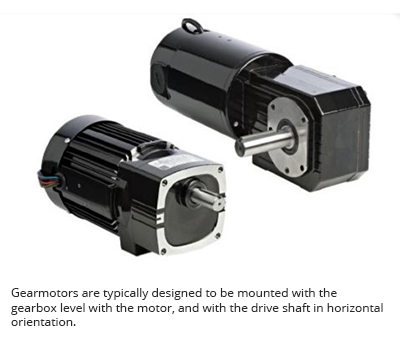 The Evolving Gearmotor
Integrating a gearhead with a motor is an evolving motor application. Originally, when the AC motor was a simple rotating device, the gearhead was mainly used to change the motor speed and as a torque amplifier. With the introduction of motors incorporating speed-control functions, the primary role of the gearhead was to amplify torque.
But with the development and wide acceptance of stepping motors to meet requirements for controlling speed and position, gearheads found new purposes, including improvement in permissible inertia and reduction of motor vibration. Furthermore, the accurate positioning capability of motors has created a demand for high-precision, backlash-free gearheads, unlike conventional gearheads for AC motors.
Bodine Electric's tech paper advises that it takes more than determining the right speed and torque to design the best gearmotor for a given application. Considerations include:
Mounting Orientation. Gearmotors are typically designed to be mounted with the gearbox level with the motor, and with the drive shaft in horizontal orientation. If an oil-lubricated gearmotor is mounted in a position other than horizontal, the chance of leakage increases in both static and dynamic conditions as shaft seals wear. Grease-lubricated products are less prone to leakage, but gear life can be compromised.
Gearhead Efficiency. The worm gears found in most right-angle gearboxes are less efficient and generate more heat than spur or helical gear assemblies used in parallel-shaft gearboxes. Therefore, right-angle gearmotors often require a larger motor to match the output torque of a parallel-shaft gearmotor with the same gear ratio.
Noise and Shock Load. Noise from a gearbox is effected by the number of gear stages, load, and armature/rotor input speed. Some smaller parallel-shaft and planetary gearboxes use a nylon-type first-stage gear to reduce noise and vibration. Worm gears are generally quieter than spur/helical gear reducers because they operate on a sliding action. Because worm and gear teeth are under crushing rather than cantilever loads and more teeth are usually in contact, worm gears have higher resistance to shock loads than spur or helical gearing.
Other Wear and Tear. Gearmotor life is effected by many factors. Obvious ones are operating speed, load, duty cycle, and ambient temperature. The higher any of these operating conditions are, the sooner gearhead components will wear out. But design details inside a gearbox also determine gearmotor life. For example: the sliding action of worm gears is more difficult to lubricate and is less efficient than the rolling action of spur and helical gearing. Therefore, metallic worm and gear teeth will wear faster than metallic spur and helical gear teeth. Non-metallic gears will wear slower than metallic gears if no severe or shock loads are applied. Oil-lubricated gears will last longer than grease-lubricated gears because oil provides more consistent lubrication to gear teeth under load conditions.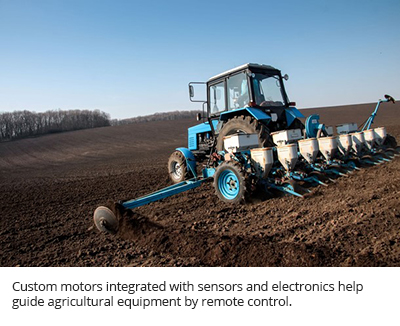 Sizing and Customization
Also speaking at AUTOMATE 2017 was George Matsuno, North American technical support manager at Oriental Motor USA. He outlined a number of conversion tools his company makes available to engineers online to help size motors for a number of applications, including index tables, belt conveyors, ball/lead screws, door/gate, and rotary devices. Clicking on index tables, for example, leads the user to forms for supplying dimensions for table shape, drive shaft, load diameter, friction coefficient, transmission choices (gears or belts), etc. Add operating conditions such as positioning accuracy and safety factors, and conversion tools help calculate the size, power, speed, torque, and moment of inertia properties of the right motor.
"There is a growing demand for custom motor designs and configurations as well." says Wyman. "We pride ourselves on customizations for a number of applications based on standard technologies." he says. He relates the example of a customized torque motor with an integrated drive, encoder, and specialized electronics that is fitted onto the steering shaft of agricultural equipment, enabling it to be GPS-guided. The system can be retrofitted into older equipment, which was a huge boon for smaller farmers wanting to get more out of their current systems. This development offered smaller farmers advanced accuracy, consistency, and control at a fraction of what it would cost them to purchase an entirely new tractor with those features pre-installed.
Training and certification can also be key differentiators in employing the latest thinking on motors, drives, and motion control issues. Certification through the Motion Control and Motor Association benefits everyone – system integrators, technology suppliers, and end users working with motion control, motors and automation technologies.