Indispensable Dispensing: Sealing and Dispensing Robotics
POSTED 07/10/2006
 | By: Bennett Brumson, Contributing Editor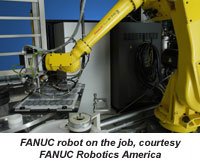 Many sealing and dispensing applications use robots due to the precision required and the potentially hazardous materials often used. From depositing sealant into car bodies to applying precise amounts of adhesives onto tiny electronics, sealing and dispensing robots provide process-critical flexible automation that also reduces production costs, increases quality, and improves safety.
''Robotic application is the most consistent method to dispense material. Robotics not only provides high quality, but lowers costs through material usage reduction,'' says Raymond Guzowski, Principal Engineer for Dispensing Applications at FANUC Robotics America, Inc., Rochester Hills, Michigan. FANUC is a supplier of industrial robots and robotic systems. Robotic dispensing and sealing systems make way for applying costly material correctly the first time, every time.
Seal It
There are a myriad of reasons that manufacturers consider when deciding which equipment to invest in for sealing and dispensing operations. Dispensing a quality bead of material is the primary justification when deciding where to invest capital equipment.
Randy Schuetz of Motoman Inc., sums up the justifications for deploying robotics for sealing and dispensing tasks. Schuetz is Motoman's coating technology leader. Motoman is a robot manufacturer and systems integrator headquartered in West Carrollton, Ohio.
''There are quality concerns of repeatability of dispensing a bead or film, worker safety, and cost reduction,'' Schuetz says. ''End-users have a need for accuracy, to get material in a precise location that a human operator cannot do. Robots will produce a consistent bead with extreme accuracy time after time. Robot software adjusts the flow of dispensed material automatically to accommodate curves or complex contours. Dispensing is a messy application and often is not a good place for people to work due possible hazardous materials involved.''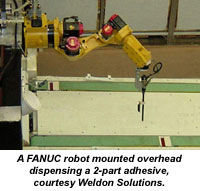 Charles Gales, Manager of Automation Sales at Weldon Solutions, has a similar view on reasons to invest in robotics for sealing and dispensing jobs. Weldon integrates robotic systems in York, Pennsylvania. ''The justifications for investing in robotics for sealing and dispensing are similar to other applications. There are issues of material savings and labor availability. Weldon did a project that was justified on reduced material usage and improved placement of the material, resulting in a higher quality product,'' Gales says.
FANUC Robotics' Guzowski maintains that there are several reasons to invest in robotics for sealing and dispensing applications. ''Material and labor savings are the driving forces for applications such as dispensing Liquid Applied Sound Deadener (LASD) and seam sealing. Implementing robotics not only has the direct benefit of labor savings, but can eliminate secondary processes,'' Guzowski says.
Robotically dispensing LASD is the preferred means to install material in automotive bodies to reduce road noise without significantly increasing the vehicle's mass. The secondary process Guzowski refers to is the delivery and inventory of manually installed sound deadeners such as preformed melt pads. ''Robotic dispensing allows enhanced capability for our customers to improve the performance of their end product in terms of as noise and vibration,'' Guzowski says.
Guzowski mentions an additional reason for investing robotic dispensing. ''Another driver for investing in dispensing robotics is marketing based. New applications such as sprayable truck bed-liners can offer competitive benefits for our customers by allowing them to offer unique products in the marketplace,'' Guzowski says.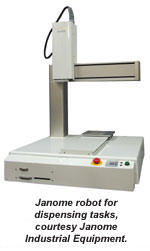 Quality, consistency as well as increased throughput were on the mind of Daniel Dibbern, Sales Coordinator at Janome Industrial Equipment, Elk Grove, Illinois, a robot manufacturer and systems integrator. ''Quality is the priority for accurate dispensing on parts every time,'' Dibbern says. ''When dispensing is done manually, each part is different. You will not have the consistency and throughput of robotic dispensing.''
Likewise, throughput, quality and consistency are justifications for end-users of EFD, Inc's equipment. EFD is a manufacturer of dispensing robots and precision fluid dispensing equipment in East Providence, Rhode Island. EFD's Northwest Regional Manager, Terry Dunbar, sums up why his customers invest in dispensing robotics. ''If a customer has several operators performing receptive dispensing tasks, there is not a lot of value-added to that process. EFD has an opportunity to ensure that our customer's dispensing process is constant with the highest quality deposit possible.''
Dunbar continues with his justifications for investing in EFD's equipment by saying ''If three operators are putting down a bead, there are three different ways that it is being applied. There is no consistency of the deposit because humans are not designed to move at a constant velocity,'' Dunbar says. Dunbar adds that manual dispensing inevitably leads to beads having wide and thin areas as well as to piling in corners.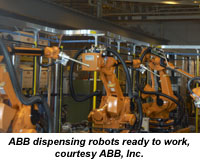 Coupled with assured quality, when a consistent amount of material is dispensed on each part, comes cost savings, due to the elimination of wasted adhesives. Lynn Swanson, President of PRI Robotics, an integrator of robotic systems in Minneapolis Minnesota, addresses this. ''The largest justification for investing in robotics is using less product because the system can control the amount much better than a person. Adhesives can be very expensive and controlling the bead size with robotics produces huge savings.'' Swanson went on to say, ''Additional justifications are improved employee safety from harsh environments and ergonomic benefits from elimination of carpal tunnel syndrome.''
Investing in dispensing robotics has payoffs that endure for years. Tsunou Chang, Manager of Adhesive and Sealant Technology at ABB Inc., a manufacturer of robots and a systems integrator in Auburn Hills, Michigan, declares, ''Dispensing robotics have lower costs than if the process is done manually. The return on investment is generally one or two years.'' Chang adds, ''Despite the initial cost, operating costs of robotics are a lot lower than manual systems. Robotics guarantee better quality than manual dispensing.''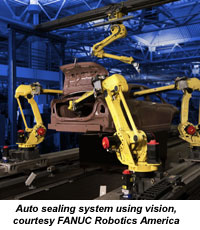 Dispense Control
The roles of software and vision systems within sealing and dispensing work cells are vital. Software is primarily used to maintain precise control over the depositing of material onto parts.
Randy Schuetz speaks of Motoman's software function within dispensing and sealing systems. ''The more software is integrated into the controller, the shorter the communication link between the robot and the applicator,'' Schuetz says. ''Motoman's equipment controls the dispensing flow and the mixture of the components through software.''
Tsunou Chang says ABB's dispensing software makes the variables of adhesives perform more consistently. ''ABB's software for controlling dispensing is a closed-loop system. The software makes for a very accurate bead profile although the adhesive's property can change from batch to batch, even as the temperature of the plant changes.'' Chang adds, ''Software makes sure that the sealant will always be properly applied because feedback is measured in milliseconds.''
PRI's Lynn Swanson says that software performs several undertakings in robotic sealing and dispensing. ''PRI has software features such as a collision detection to protect dispensing equipment, fixtures, parts and the robot. We integrate line-tacking software when our parts are presented to the robot on a moving line,'' Swanson says. ''Touch- sensing software is used to help the robot find the workpiece.''
Swanson went further by saying ''Offline programming software utilizes the features of the part's model for computer-aided-design-to-path technology. Software can also be used for simulation, reach analysis and cycle time evaluation.''
For Janome's Daniel Dibbern, software has important jobs to fulfill in sealing and dispensing work cells. ''Janome has engineered a layered dispense path for use on the production floor. This is done rather than program in many points in the robot, so that a dispense line drawn by engineers is converted to a file that is uploaded to the robot.''
Dibbern says software is used to supervise the dispensing process. ''Robotic software files can monitor production and track throughput. This can be done remotely, anywhere in the world.''
Similarly, FANUC Robotics has software that assists its robots and controllers to successfully dispense materials consistently. Raymond Guzowski relates the capability of FANUC Robotics' software in sealing and dispensing work cells. ''FANUC Robotics has developed software packages to address issues in robotic sealing and dispensing. These issues include the robot motion required to manipulate various sealants and adhesives on complex parts, the variation in parts, the type of material dispensed and its properties.''
FANUC Robotics' software can manage different materials being dispensed such as polyvinyl chloride, urethane, polyurea, epoxy, silicone, and wax. Attributes like viscosity and stability, as well as flow, pressure, repeatability of metering equipment, and repeatability of applicators are variables taken into account by FANUC Robotics' software package.
Vision for ''Inspects & Checks''
Vision is another important element in sealing and dispensing work cells. ''Vision is becoming more prominent as robots get 'smarter','' says Dibbern of Janome. ''Vision gives flexibility to the robot by allowing precise part placement. The robot takes a picture of the part, does any necessary offsets, and adjusts its program to dispense on the correct path.''
Dibbern also says that vision can be used for post-dispensing inspection. ''Vision is used for inspection to confirm that the material was dispensed properly, looking to find flaws such as bubbles in sealants and adhesives.'' Dibbern concludes by saying that vision systems can inspect faster than a human operator.
Raymond Guzowski of FANUC Robotics says that vision systems are an integral component of sealing and dispensing work cells. ''Vision has been used in sealing and dispensing applications for twenty years. Eighty percent of the paint shop sealing systems FANUC Robotics has installed use vision for car body location,'' Guzowski says.
Guzowski cites car roof ditch sealing as an example of how precise part location is determined using vision in sealing and dispensing work cells. ''Vision locates an area of a car, adjusts the robot's path for where it is located in three-dimensional space and measures the seams to be sealed. The vision system defines the path to match the location and shape of the path with the location and shape of the seam.'' Guzowski adds that vision is becoming standard equipment, so all new FANUC Robotics robots have ports for connecting a USB camera.
Like Janome, FANUC Robotics' vision systems are also utilized for inspection tasks.
''Vision is also used to inspect the seam while the sealant is being applied. Vision is looking at the bead to make sure there are no gaps and that the right amount is applied in the proper place,'' says Guzowski.
Randy Schuetz of Motoman has a similar view of the role of vision in dispensing and sealing robotics. ''Vision is used for doing robot offsets, where it checks various points on parts. If vision finds points that need offsets or a change in the robot program, the robot makes those adjustments automatically,'' Schuetz says. ''As in welding, laser-guided vision is used for seam-tracking and for identifying and locating the seam on which the robot needs to dispense material. Schuetz adds that vision systems in sealing work cells performing real-time seam-tracking provide significant benefits in terms of accuracy and reduce cycle time..
Trimming back the need for fixtures is the benefit of vision systems for Weldon's Charles Gales. ''In sealing cells, vision is great for reducing the complexity of fixtures that are needed and helps with cycle times. With vision, integrators do not need to worry about lining up parts to the final thousandths of an inch in fixtures,'' Gales says. ''Vision enables robots to identify where the part is and its orientation. The part could be in general location rather than a specific location.'' Vision saves money, time and effort in working the part.
Gales also believes that vision systems in sealing work cells help smooth transitions from one type of part to another due to the ability