Increasing Efficiency Using Machine Tending Solutions
POSTED 07/25/2022
 | By: Emmet Cole, A3 Contributing Editor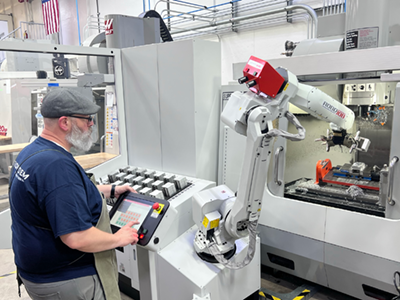 Performed manually, the job of machine tending –the process of loading and unloading parts or materials into a machine- is repetitive, often unergonomic work. As a result, companies are finding it extremely difficult to hire and retain general operatives to perform these tasks, Moreover, skilled machinists don't want to spend their days focusing on mundane tending tasks when they could spend their time on the more creative elements of their work.
Add a demographic crisis to the mix with manufacturing workers retiring at a faster rate than new entrants are entering, and it's a recipe for a labor crisis across the entire manufacturing sector.
Labor Shortages Driving Adoption
According to a new study by Deloitte and The Manufacturing Institute, the manufacturing skills gap in the U.S. alone could result in 2.1 million unfilled jobs by 2030. The cost to the economy of those missing jobs could potentially reach USD 1 trillion in 2030: All of which makes automation extremely attractive to machine shops of all sizes.
Bob Rochelle, Senior Account Manager – South Region, at Güdel Inc., a leading maker of linear motion modules, robot track motion units, gantry robots and components, heard a lot about the labor crisis from attendees at his 'Getting Started With Robotics' workshops held at Automate 2022 in June.
"Every single person told me that they had open job opportunities but couldn't fill them. Or when they eventually fill the position, somebody shows up to start training, then they go for lunch, get a hot dog and a beer and don't show up again," says Rochelle.
Güdel's track systems for robots can increase productivity by enabling machine tending robots to work on multiple machines. Consider a CNC machine that's operating on an 8 - 10 minutes cycle time, suggests Rochelle: "You can get a robot to load the CNC machine and then sit there for 8-10 minutes. Or you can put it on a track, expand the reach of the robot, move it to another machine and have it load and unload and then move it to another machine and do the same and then go back to the first machine after 8-10 minutes take the part out, put a new one in and start the process all over again."
Labor shortages in machine tending were a problem before COVID-19 hit, but the pandemic "threw gasoline on the issue" and now it's an even bigger problem, says Craig Zoberis, President at Fusion/RoboJob-USA, a company that specializes in purpose-built, automated machine tending systems and out-of-the-box machine tending solutions.
However, automation offers a way to both attract new talent and retain existing machinists.
"The work of a machinist is very creative. There are lots of different ways to make a part and there are challenges with materials and making the processes as efficient as possible. This part of the job is what machinists are in love with. If you can remove the dull routine work of machine tending via automation and let machinists focus on that creative work, we're going to be able to fill the skills gap," says Zoberis.
Usability Unleashed
One of the most important advancements in machine tending automation over the past decade is the rise of intuitive programming interfaces that eliminate the extensive background training and know-how required to operate older systems, explains Tim Paton, Operations Manager for General Industry, at ABB Robotics.
"ABB and some other machine tending automation manufacturers are focused on ease of use. ABB's FlexLoader Vision software, for example, provides a quick and easy way to deploy the system and it guides users throughout the entire process. With 30 minutes training under your belt, you can easily set up a pick and place application in just five minutes," explains Paton.
User-friendly interfaces enable the type of quick deployment that is central to the success of the RoboJob machine tending system, says Fusion/RoboJob-USA's Zoberis.
"Usability is the key to the future. Machinists don't want to be robot programmers. They want the easiest solution for doing machine tending. The RoboJob system requires just four steps –and about five minutes- to set up a part. And there is no programming involved."
First, users set up the parts on a peg board, then tell the software what size the part is (raw and finished) and the type of material. The software tells users where to place the pins and parts. Then, using the software's graphical interface, end users simply drag & drop the steps required to automate the process.
"There was a time not so long ago when small to medium size machine shops didn't think they could embrace automation because it was too overwhelmingly complicated and expensive. Systems like RoboJob change all that."
Initial set up and deployment of the RoboJob system, including training, takes a week, says Zoberis: "When we get an order we deliver on a Monday. By Wednesday we are training end users. By Thursday they are running production. And by Friday we're out of their hair. It's an instant productivity boost."
Inspiring Simplicity
People considering introducing machine tending automation should start simple and select an integrator with experience in machine tending, says Güdel's Rochelle.
"If you take on an application that requires four vision cameras and three robots and extra software, you have a bigger chance of getting a headache than if you get a simple application under your belt and feel good."
Look at "small, quick wins" before introducing additional complexity, advises Fusion/RoboJob-USA's Zoberis. This means picking the right equipment, but to ensure smooth deployments, companies should also find an in-house champion for the technology.
"A champion will help make sure that the product gets launched properly. They don't have to be technical. They just have to be able to learn this equipment and its processes and how it is going to adapt to the machine shop's processes."