In Track and Sort, Machine Vision IS the Trend
POSTED 02/06/2013
 | By: Winn Hardin, Contributing Editor
Walking around the adjacent Automate and ProMat in Chicago a couple of weeks ago, it was nearly impossible not to see the growing use of machine vision technologies in product tracking, sorting and logistics. Even across the aisle from Automate, among ProMat's 50-foot-tall giant lift conveyors and roaming autonomous warehouse trucks, industrial cameras sprouted like violets in an Illinois spring.

Until recently, the material-handling industry turned to a different form of optoelectronics to assist with automatically tracking and sorting products: the laser-scanning barcode reader. Laser scanners were fast, pretty reliable, had the greatest depth of field to accommodate large boxes and were the most cost-effective solution on the market. The only constant, however, is change. And today, as companies look to improve read-rate accuracy while collecting more data than can be embedded in a 1D barcode, camera-based solutions are quickly gaining market share as commerce becomes 'smarter'.

The dollars—and sense—behind faster, better readers

Most autoID tracking and sorting applications take one of three forms: presentation mode, in which the machine-readable code is manually "presented" to a reader that is either handheld or fixed and semi-automatic; and fully automated, in which the product moves along a conveyor, chute or table, passing through the reader's field of view.

They say imitation is the sincerest form of flattery. But in the business world, imitation is often complemented by acquisition. Italian autoID expert Datalogic made its name in the laser barcode-scanning industrial solution space, but in recent years, the company has added several lines of camera-based autoID technology. When asked about the growth of camera-based solutions compared to laser barcode-scanning, Gian Paolo Fedrigo, CEO of Datalogic Industrial Automation (Minneapolis, Minnesota) explained that "technology is about trends, products are about solutions. In this case, machine vision is the primary technological trend going against traditional laser scanners. But that's where Datalogic is strongest because we offer a complete range of solutions to cover all of industry's autoID tracking, sorting and logistics requirements. As shown in our live demo, our offering includes laser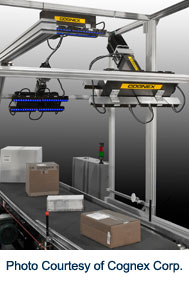 based bar code scanners, innovative 2D image based readers such as our Matrix 450™, with the largest reading area in its category, and also linear long range imagers, which address emerging requirements in the Parcel, Courier and Retail Distribution markets."
It's generally accepted that camera-based autoID solutions offer better read rates than laser scanners because a camera-based solution can read a partially damaged barcode while the laser scanner might only scan the damaged portion, resulting in a failed read. In a recent ROI analysis, Cognex Corp. (Natick, Massachusetts) determined that improving read rates by 1 percent on a conveyor running at 400 feet per minute could save a distribution center more than $160,000 per year in labor and rework costs. At this year's ProMat, Cognex demonstrated DataMan 503 series logistic barcode readers that use lower-cost area array sensors instead of linear array sensors for high-throughput, large depth of field, fully automated sorting applications.
"The DataMan 503 is a new product that we introduced at the show," says Matt Engle, strategic market development manager at Cognex. "That's our high-end DataMan product. The primary differentiator between the 500 series and 300 series is speed and resolution, or belt coverage in logistic terms. Now, with the 500 and 300 series, we can cost-effectively solve virtually any application in logistics."
Best Target Is No Target
Read speeds are also important, although less so for the vast majority of autoID applications because both laser scanner and camera-based autoID solutions "read" codes in fractions of a second. For the very fastest autoID applications, lasers still dominate. Datalogic's ASTRA, which uses multiple diode lasers rather than a spinning mirror to scan a barcode area, reportedly offers faster read speeds than virtually any image based solution.
However, read speeds are critical in "presentation" or 'hands-free' autoID applications in which fixed autoID solutions can work twice as fast as hand-held scanners. For example, machine vision turnkey system manufacturer, Vitronic Machine Vision LTD. (Louisville, Kentucky) recently conducted a ROI analysis of fixed autoID camera-based readers versus handheld laser scanners.
Vitronic estimates that a company with inbound or outbound distribution that processes 10,000 packages per day can cut handling time per package from six seconds to three seconds by eliminating the need to pick up, carefully aim and set down a handheld barcode laser scanner. The data collected is instantaneous and allows the customer more flexibility by reading 2 Dimensional, color and damaged barcodes to improve the accuracy and efficiency of the overall operation. Over the course of a single year, this can save the facility more than $36,000.
"Customers in the warehousing and logistics space really do want a single vendor that can provide all the solutions they need," says Jay Stone, Vice President Sales & Marketing at Vitronic Machine Vision LTD. "Vitronic has been successful in logistics because we can offer manual presentation solutions, fixed semi-automatic or fully automatic solutions through VICAMsnap! and the VICAMssi2 for high throughput fully automated tunnel installations, including 3D laser dimensioning for volume measurements, which can also identify non-cuboidal and damaged containers. That's what our customers at the high volume, overnight carriers, parcel services and eCommerce companies want. Also, a full service provider is critical to the big OEM because hardware must be interfaced to their front- and back-office applications to track items from order picking and fulfillment all the way to customer delivery. Off the shelf products like the VICAMsnap! can serve dual purposes for manual applications by providing barcode decoding and image for smaller companies with relatively low-throughput sorting, inventory, and receiving applications. They will still benefit from automating their sorting and inventory management."
Today, the material handling and logistics industries are mounting the maturity curve when it comes to initial adoption of camera-based autoID solutions. Camera-based solutions not only offer the benefits of digital data for supply chain management, but the industry has only partly realized equipment savings based on the continuous improvement in electronics and sensors, which are at least partially supported by massive consumer markets in cell phones, computers and digital cameras. The upshot: While the bottom line may be relatively stable for laser scanners, machine vision is just beginning to benefit from the potential in both capability and the economies of scale.
Embedded Vision
This content is part of the Embedded Vision curated collection. To learn more about Embedded Vision,
click here
.