Image-based AutoID Redefines "Fast Read" for Manufacturing, Logistics
POSTED 09/20/2012
 | By: Winn Hardin, Contributing Editor
The battle lines were drawn years ago when it came to the war of the barcode readers. Laser scanners had first-mover advantage and were traditionally cheaper and faster at reading 1D barcodes.
But then the war spread beyond reading parallel lines. Barcodes were not able to contain large amounts of data, resulting in new 2D data matrix and "QR" codes. Image-based autoID readers could do both 1D and 2D barcodes, but 1D barcodes still dominated most manufacturing industries from automotive to pharmaceuticals, as well as the logistics and postal industries. The result? Laser scanners stayed at the top of the preferred autoID solution list.
Today, major suppliers of image-based autoID systems say the battle is shifting again as maturing electronic technologies have reduced the cost of image-based autoID solutions to near parity with laser scanners, while new algorithms boost image-based autoID read speeds by a factor of 10. Combined with ongoing education about the many operational and lifetime cost benefits of image-based autoID readers and the realization that in general read rates are more important than read speeds, vision insiders say manufacturers are moving away in numbers from laser scanners toward more capable image-based autoID systems.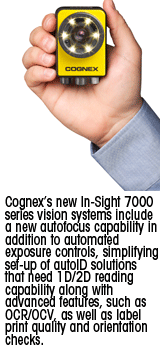 A Better Way to Read Codes
"The story for imaging systems over laser scanners is pretty clear," explains John Keating, Manager of Product Marketing for the ID Products Business Unit at Cognex Corp. (Natick, Massachusetts). "They're more robust because they're solid state and don't use have moving parts. Image-based autoID systems have an image so that you can see what reader sees, which makes it a lot easier to troubleshoot why a code was not read. Image systems can also read distorted and partially damaged codes better than laser scanners, and 2D codes, which lasers can't read. And, most importantly, image-based ID readers achieve read rates above 99% in challenging applications."
Manufacturers traditionally have eschewed image-based systems for laser systems for two reasons: cost to buy the system and laser's faster read speeds. However, as sensor and microprocessor costs continue to drop each year while adding capability, customers in industries such as automotive, pharmaceutical, defense and aerospace, and logistics have learned that saving a couple of hundred dollars on a new laser scanner doesn't make sense when it can cost you thousands of dollars in annual operational costs.
"When we introduced the Dataman 300 this year, one of the biggest surprises for me was how quickly customers are buying the system for 1D code reading," says Keating. "It's not just at the large companies in logistics, but companies in automotive and pharmaceutical packaging. A customer recently said it best when he said, 'I'm just tired of supporting $500 laser scanners. Either they break, or someone knocks it or something else happens and we have to go to the site and fix it.'"
According to Keating, the laser-vs.-image AutoID contest isn't about autoID acquisition costs anymore – it's about line operation costs. "Lasers don't give the 99.x% read rate that people want, and companies do not want to pay the extra labor to fix bad barcodes and resend articles back through automated sorters. When there is a problem with a labeler, image-based systems allow them to see what the problem is and quickly fix it from remote locations thanks to built-in Ethernet; you can't do that with laser scanners. And there aren't any moving parts in the imager, so it lasts longer than the laser scanner."
A Need for Speed
As stated, laser scanners traditionally have faster read speeds, while image-based autoID systems have higher read rates because they can read damaged or worn codes. However, a new algorithm for reading 1D barcodes could change the read-speed advantage of laser scanners.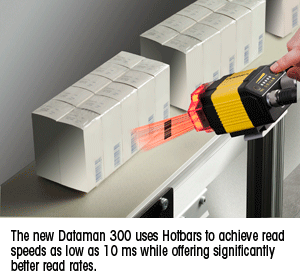 Recently, Cognex developed a new algorithm called Hotbars™ for reading 1D barcodes that is up to 10 times faster than conventional approaches. Image processing algorithms for barcode reading use two steps: the first step finds the barcode in the image, and the second step decodes the barcode. The first step, finding the barcodes, is the most time consuming, which has led suppliers to find ways to reduce the number of pixels that are processed to locate the barcode in the image regardless of location or orientation using a variety of methods, including bilinear and bicubic interpolation. Hotbars uses as its foundation a mathematical representation of the pixel grid on the sensor. Unlike traditional approaches, this allows Hotbar to analyze every pixel in the image to find the barcode in the image while being up to 10 times faster than traditional approaches, reducing the average 1D read speed from 110 ms to 10 ms with the same high read rates that users expect from image-based autoID systems.
Because so much of a vision system's functionality resides in software, Cognex will likely be able to offer Hotbar upgrades to existing as well as future customers – another advantage over laser-scanning 1D solutions. This ability to do more in software is also why image-based autoID solutions can easily add more advanced capabilities to compact, integrated smart camera vision systems such as the new In-Sight® 7000 series from Cognex. In addition to 1D and 2D barcode reading, vision systems can also read human readable text (OCR/OCV), check labels and other packaging for clarity and position, and automatically alert plant engineers when upstream printers have a problem, explains Deepak Kallakuri, Product Marketing Manager for the Cognex Vision Systems Business Unit.
For more advanced systems that also need to adapt over time, such as high-speed postal sorting and handwriting recognition, there is no contest between laser scanners and machine vision technology. Recently, Carlos Macia, Director of Engineering at AddressVision Inc. used EDT's PCIe4 DVa C-Link Camera Link frame grabber (EDT, Beaverton, Oregon) to develop a postal sorting solution for Australia's national system. In addition to finding and decoding 1D barcodes, the system also reads both printed and handwritten addresses. Next year, Macia expects the system will build on the core software to include parcel sorting.