Home, Home of the Range…Robotic Press Tending at Whirlpool Corporation
POSTED 04/17/2006
 | By: Mary Kay Morel, Staff Writer/Editor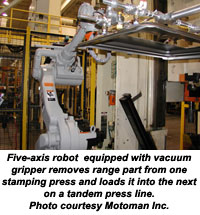 With annual sales of over $13 billion, some 68,000 employees, and nearly 50 manufacturing and technology research centers around the globe, Whirlpool Corporation is the world's leading manufacturer and marketer of major home appliances. The company markets Whirlpool, KitchenAid and other major brand names to consumers in more than 170 countries. Whirlpool Corporation's plant in Tulsa, Oklahoma., is dedicated exclusively to manufacturing freestanding gas and electric ranges. With range production requirements now 50 percent a day higher than they were ten years ago, press lines used to make the range cook tops, front frames and doors needed to increase efficiency to better support the production pace. Whirlpool recently implemented Motoman robotic press tending systems on three tandem lines with impressive results.
''These lines are no longer a bottleneck in our facility,'' according to Brian Shubitowski, a Whirlpool senior process engineer. ''With the robots handling the parts between the presses, we get 50 percent more production out of the same equipment. Nobody lost their jobs, and workers were all redeployed within the plant. Quality is better, and the operation is intrinsically safer,'' he continued.
Robots Tend to Business
The plant now has 21 robots serving the three press lines. ''Line 1 (Cook Tops) was installed in October 2004. Line 2 (Front Frames) was installed in May 2005 -- three weeks ahead of schedule, and Line 3 (Doors) was installed in June 2005 -- a month early,'' Shubitowski said.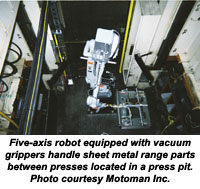 Line 1 uses eight Motoman five-axis robots to transfer parts between eight stamping presses, which are located in a press pit. Robots are mounted to existing I-beams that span the pit between presses. Each press features a 60 x 48-inch bolster, and sixteen-inch stroke. The first press on each line is coil fed automatically. Robots 1 through 7 unload parts from one press and load the next one. Robot 8 unloads a finished part onto a conveyor.
Line 2 is similar, but it only has six stamping presses served by seven robots – two six-axis Motoman robots and the balance consisting of five-axis robots, all equipped with the same vacuum grippers. The two six-axis robots mounted between Press 1 and Press 2 hand the part off to one another, flipping it over 180-degrees in the process. The first robot removes the frame part from Press 1 and reorients it 90-degrees so that the part is perpendicular to the floor. The second robot grasps the part from the opposite side, reorients it 90-degrees so that it is parallel to the floor, and then places it into Press 2. The first four five-axis robots each unload their upstream press and load their downstream press; the last robot on the line unloads the part from the upstream press onto a conveyor.
Line 3 has six presses, similar to Line 2. However, no part flipping is required, so six five-axis robots perform all of the press unloading and loading operations. Again, the sixth robot unloads parts from Press 6 onto a conveyor.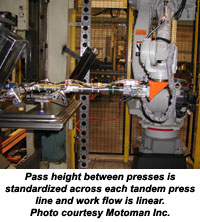 Pass line height for all three lines is 42'' ±0.5'' from the floor. All presses and press distances are the same from line to line, and the process flow is linear. Parts are oriented relatively parallel to the floor, and except for the one part flip required on Line 2, no side-to-side or front-to-back tilting is required. Dies have locating features that establish accurate part location. Parts are rotated 180-degrees as they are passed between presses, but can be loaded with a straight vertical motion without sticking or binding.
The five-axis Motoman robots feature an 80-kg (176.4-lb) payload with a 2,046 mm (80.6'') horizontal reach, 3194 mm (125.8'') vertical reach. The six-axis robots feature a 50-kg (110.3-lb) payload with a 2,046 mm (80.6'') horizontal reach, 3,547 mm (139.6'') vertical reach. Both robot models have a repeatability of ±0.07 mm (0.003'').
Controls
To save floorspace, the robot controllers are located in a mezzanine. Although the controller can control up to four robots simultaneously, Whirlpool chose to use one controller per robot for these applications, with one exception. The two six-axis robots in Line 2 are both controlled by one robot controller to facilitate the hand-off operation. Both of these robots are programmed using the same teach pendant. Built-in collision avoidance software prevents crashes. The robots do not have to wait for I/O signals from each other to enable the hand-off, so the process is faster and programming is also less complex.
An Allen-Bradley PLC is used for overall press line control. A PC/HMI operator interface is used for monitoring and control of the entire line. Local operator panels at each press consist of an Allen-Bradley Human-Machine Interface (HMI). Operators use these HMIs screens to quickly identify and clear errors, adjust press angles, and modify when the robot enters the press. The panel also provides information about the press, such as part presence, press mode, and safety equipment status.
Paradigm Shifts
''Before the robots, we had a person between each press – that's 21 people per shift (for the three lines). Now we need fewer people for all three press lines, per 10-hour shift. That's a huge difference,'' Shubitowski said. ''Payback on each of the three lines is less than two years,'' he added.
''The reason the robots were brought in was not to replace people. We needed to make more parts. With people, we could only make about 50 percent of what the robots will do,'' he continued. ''People were the constraint. People get tired, take breaks, and can mis-load a part.''
''We calculated that each operator did ten miles of walking a day to manually load the presses. That's a good workout,'' he continued. The parts are not heavy, but loading and unloading them all day can be tiring and monotonous. Workers tending the presses had to wear gloves and sleeves because of the sharp edges, and ear protection because of the noise.
''Having people working that close to the presses (loading/unloading them) also is inherently more dangerous. We have to rely on safety systems to keep people safe. With robots, the risk of anything happening is certainly a lot less,'' he said. Robot cell guarding for each line consists of eight-foot high woven wire perimeter safety fence, and operator access gates with positive break safety switches on either side of each press.
Productivity, Quality Increase
''With the robots, quality improved as well. Our quality rate is higher than ever before and we have fewer dented parts now than at any time in our history,'' Shubitowski added.
With robotic press tending, Line 1 (Cook Tops) is now running 7.3 percent faster than the targeted production rate, producing a stamped part every few seconds. The constraining factor on Line 1 was that the press daylight (distance between opposing die details when the press is fully open) is only about seven inches, whereas it is about thirteen inches on the other two lines,'' Shubitowski explained. Line 1 is slower than Lines 2 and 3, because the robots must wait until the press almost reaches the Top Dead Center (TDC) point (when the presses are fully opened) before it can enter. Lines 2 and 3 – (Front Frames and Doors) run 11.5 percent faster than Line 1 because the robot can enter the press sooner -- as it is opening and before it reaches TDC, which helps minimize cycle time.
When changeover is required, the operator selects the new part style on the PC/HMI used to control the entire line and operators manually change out the dies.
Stamped out of sheet metal blanks, parts have a maximum size of 30'' x 35'' and a maximum weight of five kg (eleven lbs). Parts are four basic combinations with variations. The Cook Top Line (Line 1) has fifteen variations. The same gripper design that uses oval cups is used for the Cook Tops and Doors (Lines 1 and 3). Because the parts are longer, a slightly different gripper design that incorporates a longer boom and round vacuum cups is used for Front Frames (Line 2).
''All of the parts are oily. Wider oval cups contact more surface area and therefore help stabilize the parts during robotic transfer,'' Shubitowski explained.
Integration, Programming and Reliability
Motoman integrated the system and also did all of the initial part programming. Software cloning features built into the controller facilitated robot program development. Since very little programming is required to modify existing programs to handle new variations, Whirlpool used training credits included with their systems to send two operators to basic programming class and 21 operators to robot maintenance classes at Motoman's Technical Education Center in West Carrollton, Ohio.
''Motoman did all of the part programming, so the ability to program was not as important to us. All we really need to be able to do is to modify the programs, if necessary, by changing the end points. That's why we decided to send more people to maintenance classes. If something should break, we have people that can fix it,'' Shubitowski said.
Although other Whirlpool plants use robotic automation, these were the first robot installations at Whirlpool's Tulsa plant. The company looked at several robot vendors, as well as dedicated transfer equipment when selecting automation for the plant, but ultimately chose robots which provide a more flexible manufacturing solution.