High-Speed Imaging Advances Mean Frame Grabbers Are Here to Stay
POSTED 10/07/2014
 | By: Winn Hardin, Contributing Editor
The year was 1999. Prince was partying, Y2K was boosting IT revenues, and FireWire spelled the end of frame grabbers. A few years later, Prince changed his name to a symbol no one can pronounce, Y2K was a fond memory, and FireWire was just another network interface card.
"Frame grabbers aren't dead for a number of reasons, and the main one is the continual need for higher-resolution cameras with faster frame rates that other [interface] technologies cannot support," says Keith Russell, president of Euresys Inc. (San Juan Capistrano, California). "When you're running a 25-megapixel [MP] camera today at 60 frames per second, GigE and USB 3.0 can't support that. The reality is that frame grabbers aren't going to go away. There's always going to be a continuous need for increasing yields at the factory, which means higher-resolution, faster cameras that will push the demand for bandwidth beyond what consumer interfaces can deliver."
According to Inder Kohli, product manager at Teledyne DALSA (St-Laurent, Quebec, Canada), one might expect that, given all the press surrounding GigE cameras, more GigE cameras are sold than cameras that require a frame grabber, but that may not be true. "Based on what Teledyne DALSA is seeing, demand remains strong for Camera Link," Kohli says. "The sweet spot for GigE is up to 120 megabytes [MB] per second. To go over that, you need a frame grabber."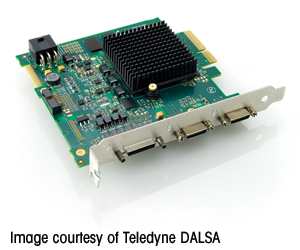 Teledyne DALSA's Xtium-CL not only can acquire images at 850/MB, but also can transfer decoded RGB images at rates beyond 1800/MB to the host memory. This is needed for high-resolution, high-frame-rate Bayer cameras which can transfer over longer cable lengths than traditionally possible. Cable length and data rate tell only part of the cost-benefit story if the application is using high-data-rate cameras and needs lower cost cabling -- for this, AIA's Camera Link HS offers an ideal solution. Teledyne DALSA's upcoming Camera Link HS frame grabber and camera products not only deliver data rates beyond 2GB/s but do so using a single cable. While the Camera Link HS copper solution delivers 15 meters, a fiber optic Camera Link HS solution will deliver distances well beyond 100 meters. This not only reduces costs but increases reliability by reducing the number of components in the system. Traditionally, longer cable lengths were achieved using active cables; the Xtium series achieves the same with off-the-shelf passive cables.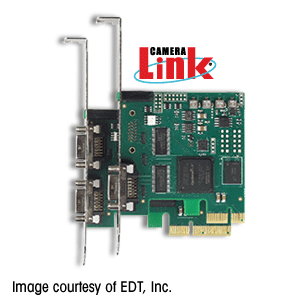 Camera Link's fastest standard can handle up to 850 MB/s, which has prompted Camera Link frame grabber specialists EDT, Inc. (Beaverton, Oregon) to move to Gen 2 PCI Express boards. "We've recently released the VisionLink F1 and F4 boards, " says EDT's field application engineer Cliff Hayes. "Both use Gen 2 PCI Express — either one or four lanes — which allowed us to make these Camera Link boards smaller and more cost-effective. The F1 is meant for one or two cameras at base mode with a total aggregate bandwidth of 400 MB.
"Camera Link packs the data at 3 bytes per clock cycle, or about 255 MB/s coming in," Hayes continues. "But when we send it into host memory, we do so on a 4-byte boundary, and that increases your bandwidth requirements. Therefore, the actual bandwidth requirements are closer to 340 MB for the upper end of base mode. If you go with two cameras, you have to be more careful with the math because you have to share that 400 MB. The F4 supports up to 1 GB/s across the PCI Express bus, but Camera Link only supports up to 850 MB/s, so we can support the whole range on that board. A four-lane PCI Express Gen 2 board has a theoretical limit approximately 2 GB/s."
Euresys's COAXLINK frame grabbers based on Gen 2 PCI Express may also be more reliable, according to Keith Russell. "Most CoaXPress vendors use Gen 1 X8 PCI Express, which gives you the same bandwidth as X4 Gen 2, but we feel Gen 2 is more cost-effective and more reliable," he says. "Soon, we'll be releasing a Gen 3 PCI Express COAXLINK CoaxPress board, which gives you 3.5 GB/s with high reliability. Most of the new motherboards coming out will have Gen 3 buses."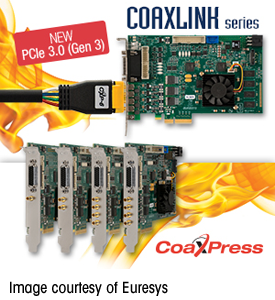 Currently, Euresys offers COAXLINK frame grabbers with total throughput of up to 25 Gb/s. According to Kohli, Teledyne DALSA also will be coming out with CoaxPress frame grabbers in the near future.
Frame Grabber Tools Aid Simulations, Design
Handling all that data puts pressure on every link in the data chain, including all parts of the PC and even cables between camera and frame grabber. In the past, many frame grabber manufacturers would add processors to their boards to help the PC process all the data. Today, with the advent of multicore processors, some of which even include GPU cores next to a CPU core to speed number crunching, frame grabber designers are using on-board chips in a variety of ways.
In system designs, Euresys uses on-board Field Programmable Gate Arrays (FPGAs) to handle data packaging. The FPGA also allows the company to implement features like its ECCO and ECCO+, which enables Camera Link boards to send data across longer Camera Link cables more than twice the length of the specification. Euresys's camera validation tool can also be used to check the camera's test patterns across Camera Link cables during the system design to make sure the cable is up to specification and able to handle all the data without noise-induced drops.
EDT has modified a Camera Link frame grabber board with an FPGA to act as a simulator, allowing customers to run real-world recorded data instead of test patterns to verify the function of complex system designs that push the limits of the specification. "We don't do processing on the board," Hayes notes. "Our products offer a freely available Application Programming Interface (API) including utility applications with source code for Windows, Linux, and MacOS that allows our OEM customers to get deep into the coding to optimize the performance of their system."
On-board processing still has its place, however. "Many of our customers want to use on-board processing to do data reduction — for example in the case of a color camera sending three times the data of a monochrome camera — or augmentation, using an infrared channel to augment the RGB image," Teledyne DALSA's Kohli says. "Having an on-board FPGA is a useful tool for reducing data you send to the central processing unit. OEMs are particularly concerned about optimizing their systems for size, weight, heat, processing capability, and even IP protection."
Frame grabber manufacturers have to support a growing number of high-speed transmission protocols while still supporting the large installed base of low-bandwidth analog cameras. "Analog used to be 90% of the installed base," says Russell. "Today that's down to 50% or below. USB 3.0 is biting into that, but analog still has some legs. That aside, frame grabbers tend to target high-end applications. Frame grabbers give you the flexibility to take an image from the camera and present it to the operator and processor any way you want. Yes, you could do it on the host, but it would take a lot more overhead, and high-end applications don't have the luxury of bogging down the processor. We're lucky to be able to take advantage of the multi-core high-speed processors from Intel and others, but when it comes to getting a lot of data from a camera into the PC, the frame grabber is the best way."