High Precision Thermoforming Packs a Perfect Fit
POSTED 07/21/2006
 | By: Nicky Borcea, President
The Evolution of Automotive Materials Handling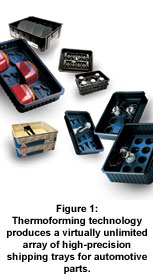 Today, shipping trays, or dunnage, for the automotive material-handling arena are custom made to fit specific part dimensions and to hold them in the proper orientation needed for assembly. Automotive manufacturers have traditionally used plastic composite dunnage produced by injection molding, due to the known accuracy of products produced by this process. However, in the past decade the move has been to use more thermoformed trays. The newest high-precision thermoformed products can hold extremely tight and complicated design tolerances.
Comparing Plastic Packaging Technologies
Plastic is a very versatile and economical material that is available in a huge range of types and blends to suit the needs of virtually any application. Injection molding and thermoforming are the two main methods for creating plastic packaging. While injection molding utilizes split dies and a flow of melted plastic into these dies, thermoforming creates the same plastic parts by preheating a flat sheet of plastic and then pressing it into a mold. The main benefit of injection molding is that once the dies are created and molds set up, it can create multiple parts very rapidly. The drawbacks are the extremely high cost of the dies, very long lead time and the cost of maintaining and cleaning the injection molding equipment itself. Thermoforming, takes much less time, with much lower cost for initial setup. Thermoforming can be done by vacuum pressure and /or direct mechanical force. The process offers close tolerances, tight specifications, and sharp detail. (Figure 1)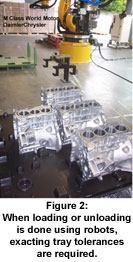 Thermoformed parts are comparable to injection-molded pieces in quality often with the ability for even sharper detail, while costing much less. For fast set-up and production of plastic parts, especially large parts in quantities from ten to 10,000, thermoforming is now commonly selected over injection molding; tooling costs are 90% lower. Time to market is greatly reduced.
In instances where loading and unloading of trays is done with robots or dedicated automation equipment, precision plastic trays are a must (Figure 2). Tolerances of + or – 0.005'' from part to part may be necessary for the automation to work properly. Formerly, in many cases the only way to obtain this type of high precision was using injection molding with tooling costs ranging from $30,000 to $60,000 and fourteen to sixteen weeks delivery.
The latest developments in high-precision thermoformed plastic technology has developed a line of standard sizes tooling capable of thermoforming high-precision trays used in the automation systems using materials like ABS, ABS/TPU (non shaving), Conductive, or HMWPE. And, the main cost is still only for the basic tool insert particular to the part specifications, whether standard or high-precision thermoforming technology is used. The resulting cost of all tooling is ten times lower than the tooling required for injection molding tooling and it can commonly be produced in three-four weeks. Also, lower prototyping costs, allow for more time on final design modifications if needed.
The following three applications offer validation of the strengths of this process in real-world use.
Automotive Application Examples
OEM Manufacturer
Siemens VDO Fuel Systems Division produces parts such as pumps for a wide range of automotive manufacturers, including GM, Chrysler and Mercedes Benz.
José Ochoa, Packaging Engineer for the company states that they currently have three production lines using high-precision thermoformed dunnage. The plant has been using this technology for three years.
The trays are made of ABS plastic and are designed specifically for each product. ''We can control how parts are fed from the lines and operators can easily handle the trays,'' Ochoa said. The closed loop turnaround system between the customer facilities and Siemens VDO facilities saves time and money.
Ochoa stated that the company does use other types of trays as well. They are replacing those with high-precision thermoformed trays as new applications arise or older trays need replacement because of the exacting tolerance of the design-to-product they receive. Each tray is customized to fit the product. ''Each product has to meet both my requirements and my customer's requirements. We need to take care of how to pack the tray and the weight for ergonomics, and for use on the assembly lines,'' Ochoa said. He added, ''These trays present parts in a way that looks more professional to our customers and costs us only a fraction of other technologies to get the same quality. It makes it easier on both ends.''
End User
The GM Powertrain Transmission Plant in Michigan took a hard look at thermoforming versus injection molding and had some doubts until they researched the precision thermoforming process. Phil Krasny, Forward Program Packaging Engineer, said that the ability to hold extremely close tolerances first attracted him. The amount of money saved on tooling dollars compared to straight injection molding clinched the deal.
GM sends a drawing with math and model data of each part to the thermoforming vendor. The vendor is appraised of how the part is to be held and if there are any robotic or ergonomic needs to be designed into the tray. The approved tray design is manufactured and sent to the OEM parts company where the parts are packed in the trays and sent to GM. After the parts are used for assembly, the trays return to the parts supplier to be refilled.
''We're using high-precision thermoforming process because even though the cost is pretty equal to standard thermoforming, standard thermoforming may not be able to hold the tight tolerances that we need,'' Krasny said. He explained that because parts might be assembled robotically, the distance between the parts must be in the correct spacing for the tool to access it easily. If an operator is manually doing the job, there must be both hand clearance and also finger clearance to get under the part for required ergonomics. Parts can be as small as a tiny valve that's an inch tall by a quarter inch in diameter to parts that are over twelve inches in diameter with weight exceeding fifteen pounds.
''To decide whether to use injection molding or high-precision thermoforming for trays, we analyze the cost difference between the processes for each new job and then we look at that total amount of savings to make our decision. Right now we've saved over $200,000 just in tooling dollars alone using precision thermoformed trays instead of injection molding,'' Krasny stated. ''For instance, we've got a project coming up for a new hybrid transmission. The part weighs 74 pounds. The tooling for precision thermoformed trays runs around $10,000. With injection molding the cost to set up would be from $50,000-$55,000.'' He added, ''These trays are very durable. They can be reused from three to ten years.
Automotive Consultant
Cesar De La Garza, Project Engineer , Ghafari ESG, LLC explained that Ghafari is a well-rounded consulting company with branches servicing the architectural, construction, industrial engineering, materials handling, light display industries and more, of virtually every type of manufacturing industry. In the automotive arena, Ghafari services the Big Three; General Motors, Ford and Chrysler on the material-handling side.
De La Garza said that they turned to high-precision thermoformed trays because of a need to integrate shipping directly to a majority of processes that are fully automated. The cost of injection molded trays was simply too expensive.
''We started developing some new tray concepts with our thermoplastic vendor and we came out with four-five different trays that interface directly with the automation. I tell them my exact specifications and tolerances, how I want the parts to be packed in that tray -- upside down, on the side. I need to let them know what kind of automation grippers we are going to use so they can develop the tray to accommodate the grippers. They came back with five different designs for five different parts that are working perfectly,'' De La Garza said (Figure 3).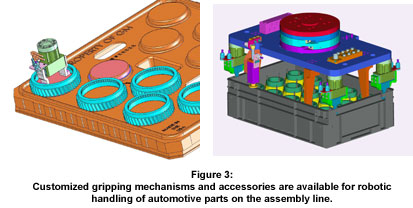 The thermoplastic vendor manufactures the trays and ships them to the OEM supplier. The OEM supplier then makes the part, fills the tray and sends it to the engine plant where the automated production line assembles it. Again, the tray is returned to the OEM supplier to continue the cycle. ''This is a very tough tray. The material is ABS. This is the kind of material that gives us the precision that we need,'' De La Garza said.
Ghafari started using this technology about a year ago. Before that, they were using injection molded trays. De La Garza said that he found the durability to be equal. He also stated that the tooling for injection molding ran about 300% higher than precision thermoforming.
''Even though we are very satisfied, because we are new to high-precision thermoformed products, we still wanted to be conservative. We didn't want to do everything at once. We are still using some injection molding, particularly for extremely large trays, over 48 inches. We're talking with our thermoforming vendor to develop and test precision thermoformed trays with very large geometries. Right now we are using 21 inch x 24 inch type trays. The large ones are the next step,'' De La Garza said.
Special Forming Applications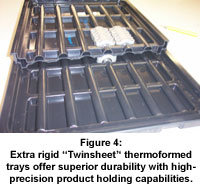 Precision thermoforming can step beyond the normal with special configurations. Currently, some interesting configurations are extra rigid ''Twinsheet'' style trays developed for extra durability (Figure 4), ideal for automation, and special formula plastic trays for products with sharp edges. Extra rigid Twinsheet trays are thermoformed from 2 sheets of plastic, one for the top, holding the parts, and one for the bottom, going over automated conveyor rollers smoothly. These trays are useful for heavy parts or to reduce vibration in shipping. The flatter bottom allows them to travel easy over roller conveyors while the interior protectively cradles each part.
Parts with sharp edges such as engine blocks, cylinder heads, transmission rings and other components with sharp machined edges, have proven problematic for all types of plastic shipping trays, whether thermoformed or injection molded. The sharp edges of the product typically ''shave'' plastic shipping trays causing slivers of plastic to attach to the parts requiring them to be cleaned and inspected before final assembly. This negates the benefit of protective ''ship-to-assembly'' trays. To compensate for this problem, a new type of thermoformed tray was developed using a special ABS/TPU material that cannot be cut by the sharp edges (Figure 5). This eliminated the need to clean parts before final assembly, with a great savings in time and money. This unique material is co-extruded with a rigid base layer of ABS and a cut resistant cover of TPU which requires special thermoforming tooling and techniques.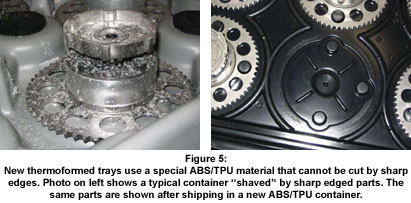 Not Just Automotive
High-precision thermoforming is rapidly replacing injection molding as the preferred technology for producing unlimited designs in shipping trays. The lack of accuracy, once the big drawback with standard thermoforming processes, is now equal or superior to that of injection molding using high precision thermoforming technology. This is applicable across all industries, not only automotive.
Editor's Note – The article's author, Nicky Borcea, President, IPR Automation-Sohner Plastics, welcomes questions and comments at (734) 222-4847 or NickBorcea@aol.com.
For more information, you may contact any of the experts listed in this article or visit Robotics Online, Tech Papers.
-Phil Krasny, GM Powertrain Containerization, 248/753-4246, Philip.krasny@gm.com
-Cesar De La Garza, Ghafari ESG, LLC, 313/436-3050, cdelagarza@ghafariesg.com
-José Ochoa, Siemens VDO Fuel Systems, 505/874-7567, jose.ochoa@siemensvdo.com