Have a Seat: Getting Comfortable with Furniture Robotics
POSTED 03/20/2003
 | By: Bennett Brumson, Contributing Editor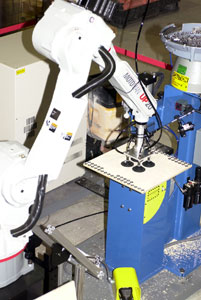 The use of robotics technology in the furniture industry is relatively small when compared to other industries, yet the opportunities are numerous and compelling. The chores for robots in the furniture sector range from material handling to welding to finishing. While robotic automation is not yet as common in furniture factories as, say in electronics, the signs are building that there will be widespread adoption of the technology.
''Robotics are new to the furniture industry, which traditionally has been a manual operation,'' said Joseph J. Keilen. ''Robotics are coming but they have not fully penetrated the furniture market yet.''
Keilen is a material-handling specialist at Stiles Machinery, Inc. of Grand Rapids, MI. Stiles is an integrator of Fanuc robots and a provider of industrial woodworking equipment.
MIG Seats
The tasks that robotics perform in furniture enterprises are similar to those in other industries, such as welding, an application that can be justified on many fronts from health and safety to cost savings to quality. The type of welding could be MIG, spot, resistance, and arc, depending on the variety of furniture and the type of metal used in its construction.
''Of the applications that I have seen of our furniture industry customers, most are in arc welding,'' says Harlon Neumann, director of the industrial engineering business unit at Genesis Systems Group, Davenport, IA. ''I have worked with chairs being robotically welded to their bases. Also, there is robotic welding of the spring-loaded control mechanisms of high-end office chairs, the framework of file cabinets, and office dividers.'' Neumann went on to say that he has seen school desk/chair combinations along with table/chair units for McDonald's restaurants fastened together using arc welding.
There are furniture welding robots that are equipped for resistance welding. This is especially the case when assembling file cabinets made of thin sheet metal.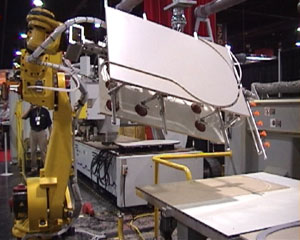 Rearranging the Furniture
Material handling is the robotic application that is the most useful in the furniture manufacturing industry. The work is labor intensive, tedious and physically stressful. Regardless of industry, this application is among the most easily justified.
''From what I have seen, the primary application for robotics used by furniture makers is loading and unloading of flat panels on a woodworking machine,'' said Denis Cormier, an associate professor of industrial engineering at North Carolina State University, Raleigh. ''Office desktops are very easy for a robot to pick up and place on the bed of a router.''
Cormier went onto explain that a woodworking factory has batches of blanks that are to be machined. A robot picks up a blank and moves it to a wood cutting machine where it gets processed. When done, the robot places the newly formed part on a pallet, ready to start the procedure over.
Stiles' Keilen says that most robotic cells in the furniture industry are for machine tending applications, a long-proven material handling application with many efficiency and quality benefits associated to it.
''Our experience with furniture robots is mostly machine tending,'' Keilen said. ''A robot lifts tabletops with a suction cup gripper. Next, the robot moves the panel to a machine that does another operation. This approach is more of a material flow process.''
The main benefit of this technique is there need not be any stacking and destacking between processes. The vacuum gripper holds the panel while it is being cut with a band saw while holding onto the scrap that is generated. The suction cups holding the scrap pieces are released while others are still holding onto the tabletop. The robot's arm swings over to machines that do the routing, contour edge banding, drilling or other machining. All the while, the cups have the same grip on the main panel, never letting it go until it is deposited onto the pallet containing completed tabletops. While the robot controls the suction cup gripper, the vacuum power comes from the router.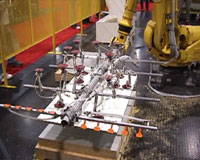 The advantage of the method is its speed. Since the panel is held by the robot through several phases of operation, it provides a quicker cycle time and greater throughput. The panel does not need to be put down and picked up in a different position for another procedure. Also, there is less likelihood of the tabletop being marred during multiple gripping sequences. Stiles Machinery uses a Fanuc robot for their furniture workcell.
Stafast of North Carolina is using Motoman robots to tend their t-nut fastener machines, eliminating problems with high turnover and risk of injury.
One can see there are scores of traditional roles for robotics in the furniture industry, which in many cases is enough alone to justify automation, but what makes this so interesting is that the technology can be adapted to very niche applications.
Furniture Under Distress
Among the operations unique to the furniture industry is that of physically thrashing wooden pieces to create a timeworn look—a distressing job description indeed.
''I recall seeing a robotic cell in a furniture factory that undertook a distressing operation,'' said Prof. Cormier, with no apparent concern about the robot's discomfort. With apologies for the pun, it is however interesting to note that the same operation would raise at least some concern for the health and safety of a human counterpart
Cormier described how a brand new piece of furniture is made to look as if it comes from an era long in the past. When done manually, a worker flails a new piece of furniture with a short length of chain that has bolts and spikes embedded into it. This distressing chain puts dents and dings into the furniture, giving it a feeling of being aged.
Doing this manually could lead the process to be overdone, thus ruining the piece, and entails repetitive motion and other risks such as flying debris. When done robotically, each piece of distressed furniture has the same amount of cosmetic blemishes, yet each one is unique, and workers are removed from a tedious task with certain inherent health and safety issues.
Other specific furniture applications for which robots are well suited include cutting and material removal, upholstery work, and dispensing. Users can find good track records in other industries for these robotic operations.
''I have heard of robots being used for cutting material such as fabric or leather,'' claims Troy Palmer. ''Robots can be used to apply fabric and upholstery as well as doing stitching operations. Also, there are adhesives applying applications.'' Palmer is the quality manager at Custom Machines Inc. of Adrian, MI.
Palmer continued, saying that there can be a place for robotics in the material removal phase of furniture making. ''If there is a complex curve or other surface that needs grinding on furniture, there can be a programmed grinding wheel at the end of a robot,'' Palmer related.
Much like the automotive industry has learned for its painting and dispensing applications, robotics can apply some finish coatings to wooden furniture.
''There are some robotic finishing operations, usually with a clear finish as the top coat,'' said Prof. Cormier. ''Robots are not used for staining wood because this requires a fair amount of judgment. The spraying and finishing systems I have seen tend to use gantry robots.''

Genesis Systems' Harlon Neumann spoke of other uses of robotics in the furniture sector.
''There are robots driving screws and controlling feeders that supply screws which fasten metal frames to chairs,'' said Neumann. He also said there are some robots used for laser cutting of chair's framework and seat bottoms. Painting is another opportunity for robotics automation in furniture manufacturing.
Your Seam is Showing
Integration expertise can be particularly critical when you don't want an embarrassing or unsightly manufacturing blemish. This is notably true for welding furniture where the seams are visible. Harlon Neumann addresses this issue.
''From an arc welding perspective, there are difficulties with furniture's thin materials. Also, the welds are typically very visible, so appearance is very critical,'' he said.
Some welding robots are equipped for resistance welding, especially for assembling items fabricated from sheet metal. To make the weld look better, different types of wires, gases, and welding positions are used. Usually, the weld is applied vertically with the bead flowing downhill.
''In other industries, form follows function. Furniture is the opposite. Form is important,'' maintains Neumann. ''Engineers have to figure out how to make a product work and still look right. Sometimes we see designs that look really cool, but are almost impossible to weld or to tool for. People do not care what an axle looks like under a pickup truck. They do care what a chair looks like.''
Richard Smith of Fine Line Production echoes Neumann's opinion. Smith said, ''In assembling furniture, the difficulty is with the weld's appearance.'' Smith is president of the Euless, TX-based firm that specializes in robotic welded assemblies.
''The cell can not scratch or dent the furniture while being loaded and unloaded from fixtures,'' continued Smith. ''Also, splatters of welding materials need to be held at a minimum. Parts must be protected, sometimes with cardboard or paper, which requires extra handling.'' Fine Line uses three ABB robots in their robotic welding workcells.
Going Against the Grain
Using robots to fabricate parts for wooden furniture, indeed any wooden part, poses several hurtles for system engineers to overcome.
''The challenge for using robots to shape wood stems from the fact that it is not a homogeneous material. Wood, unlike metal, is not a well behaved material,'' asserts Cormier. ''When shaping curves, there are spots in the wood that could tear if the grain is twisted.'' Within a species, there are contrasts in the grain. This can make edge detection by a vision system problematic.
Adding to the inconsistency of wood grain are variations among species of wood. Some woods are very light in color, like maple, while there are darker ones like walnut. As with any specialized application, the user is well advised to find an integrator with experience in this area.

Robo Furniture of the Future
Although they are only beginning to take hold in the furniture industry, momentum is picking up for greater adoption of robotics. Current robotic technology is well suited for handling flat panels, like office tabletops. As more users become aware of the benefits, a larger pool of expertise and technology will evolve as it has in other industries such as electronics, automotive, medical devices and pharmaceuticals.
''Once people in the furniture industry have the data and the return on investment becomes more understood, I think there will be a quick investment in robotics,'' said Joseph Keilen. ''Those furniture makers who are stepping forward already will start a domino effect.''