Grippers Grab the Future with Greater Functionality
POSTED 07/14/2003
 | By: Winn Hardin, Contributing Editor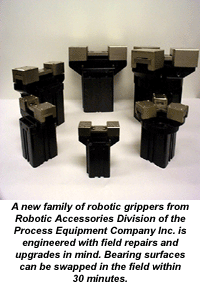 With customers demanding standardized solutions that set up easier, last longer and work faster, it's no wonder that the robotics industry and its component ''gripper and clamp manufacturers'' are in a sea of change. Growing more common every year, the ease of use of 'work cells-in-a-box' are not a lucky happenstance, but the result of hard work and serious engineering behind the scenes from robot suppliers.
It makes sense then that gripper and clamp manufacturers would look to improve their designs to keep pace. After all, a robotic arm is not much good without a hand. ''People are looking for longer life from grippers, with more engineered materials,'' said Peter Tarbell, Sales Manager at the Robotic Accessories Division (Tipp City, OH; robotic-accessories.com) of the Process Equipment Company Inc. ''People more and more want grippers that don't just grip one part at a time, but are truly flexible automation. They want to be able to use the same gripper on a variety of parts without having to change hard tooling.''
Pneumatics Keep Pace
Other than vacuum material-handling end of arm tooling (EOAT), the majority of robotic actuators are pneumatic grippers. Clamps are similar in design and function to grippers. According to Tarbell, end users are demanding standardized designs that allow field adjustments and repair while providing greater flexibility for a variety of applications.
''Historically, modifications to a gripper had to be done at the factory, but people want to do it on the fly, so you have to think ahead with your gripper design,'' Tarbell said. Robotic Accessories' newest gripper line is designed so end users and integrators can change out the bearing surface and plate in 30 minutes, eliminating long down times. New product lines also use plated tool steel to extend the life the device.
Standardized product lines also allow a single gripper to be modified for a variety of applications such as swapping out a seal for high temperature applications or the seal and lubricant for the food industry. Hard stops and sensors are other ways that gripper manufacturers are designing flexibility into their devices. Hard stops can customize the stroke length of a standard gripper to suit a specific application without requiring a specially designed tool.
Other gripper improvements include bringing the air lines through the mounting plate, rather than outside the robotic arm, to cut down on air line damage. Forethought into air lines and mounting plates reduces integration time while enabling new robotic functionality. Tarbell uses the example of a single robot with multiple grippers attached to a rotary actuator. In tool and die applications, a part may go through multiple-tooling processes on its way to completion. A robot with multiple grippers can pick out a finished product and replace it with an untooled product without having to turn and go back to the feed tray -- essentially allowing one robot to tend multiple-tooling machines, each with their own specific gripper design if necessary.
''This is something we're looking at in the future,'' Tarbell said. ''This keeps a robot with one gripper having to go in to the machine several times to remove parts and insert a new part. Integrators have been doing this for years, but there's a call for standardized products like this and reducing integration time is a major motivator behind gripper development.''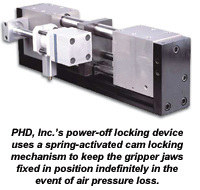 Another enhancement in the marketplace today is power-off locking devices for pneumatic grippers and clamps. PHD, Inc. (Fort Wayne, IN; phdinc.com) provides several choices for this purpose. One device uses a spring-activated cam locking mechanism to keep the gripper jaws fixed in position indefinitely in the event of air pressure loss.
''These power-off locking devices have rapid response times,'' said PHD's Director of Business Development, Denny Stuerzenberger. ''They are designed for the specific actuator, providing retention forces up to 5000 Newtons.'' Another device uses a patented rotary clutch lock mechanism for parallel grippers. In addition, many of PHD's grippers can be specified with optional spring assist. Spring assist can add to the gripper's grip force during actuation, or provide gripping force to retain the part in the event of air loss.
PHD offers clamps also have a locking mechanism to achieve part retention when air pressure is lost or removed. These clamps incorporate cam slots within the jaws. The cam slots form a locking drive angle that locks the clamp's jaws when they are in the closed position. The jaws remain locked until the piston exerts force on the mechanism.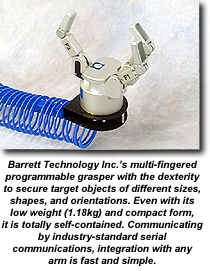 Electric Grippers: More Human than Human
In addition to the modified grippers mentioned above, new servo actuated devices rest on the edge of an evolutionary development that will resemble the human hand rather than the two-pronged gripper of today. One of the most visible examples of this new technology can be found in a grasper from Barrett Technology Inc. (Cambridge, MA; barrett.com). Designed initially for NASA, the grasper has multiple, jointed fingers controlled by high strength steel wire used in aircraft, servo motors and no less than five microprocessors in the palm of the grasper.
''Servos offer greater degrees of freedom,'' said Barrett's President and CEO, William Townsend. Although the device has only been tested up to half a million cycles, Townsend believes that servo grippers can beat lifetime and meantime between maintenance levels of today's pneumatic grippers. ''Servos don't hit end stops hard, so you can adjust the wear profile,'' Townsend said.
The grasper servo motor has 17,000 positions between fully opened and closed allowing the gripper to provide 3D metrology information about the shape of the device as well as material-handling functions. Stroke, cycle, grip configuration and other factors are all set in software, providing for instantaneous changeover for new product lines. This is particularly useful in applications that use automated vision for robot guidance.
Townsend commented, ''In 3D applications, parts come down in a variety of orientations. If you can see the part in 2D then you can probably pick it up with grippers, but when you have to deal with 3D parts, grippers have a hard time, often requiring tooling changes which is a problem in and of itself.''
''At $30,000, the grasper has to prove its value to the customer,'' Townsend said. Custom applications, where the part needs to be supported rather than pinched, or in cases where a programmable grasper can replace multiple robotic arms and bowl feeders, are situations where the grasper becomes cost effective, he said. Baxter Health Care is exploring the grasper to move one-liter bags of plasma. Vacuum suction and other methods were found to be ineffective or punctured the bag because of excessive force. ''The grasper wraps around the product, so we can handle things that are very delicate,'' Townsend explained.
While a commercial version of the grasper is expected within the year, Applied Robotics Inc. (Glenville, NY; www.arobotics.com) has added to its existing pneumatic gripper line by releasing a simplified ''servo'' version that uses multiple stiff fingers for one-fifth the price.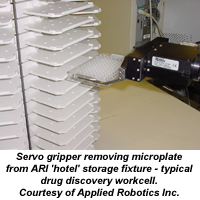 ARI's newly released servo gripper product line includes three microplate-handling finger options: ''straight'', ''slim'' and bent or ''offset.'' Their new PC-controlled servo gripper targets the biotech, pharmaceutical, and clinical sampling industries, and offers compatibility with common plastic microplate arrays for drug assays, repetitive experiments that test variations of new drugs against targeted cells. The new servo gripper provides support for delicate structures by using long, straight fingers to 'scoop' up the sample without pinching, but offers less position and metrology data than the jointed-finger grasper.
''The drug discovery market needs variable position and force control from the PC, and servos can provide that while pneumatics cannot,'' said Applied Robotics Product Manager, Larry Kelley. ''You don't want to crunch the microplate like you might with a pneumatic gripper - the lab requires a higher degree of control.'' In its suite of lab-appropriate accessories, ARI also offers a servo gripper-compatible collision sensor, to protect end-of-arm tooling from crashes.
The new servo gripper was due for release on June 23, 2003, but already Kelley said Applied Robotics is considering improvements that would make it more applicable for general industrial applications outside the lab. Specifications for their new product line are found at servogripper.com.
Flexibility is Key
Whether pneumatic or servo based, grippers are evolving to expand the functionality of the robotic cell by providing greater flexibility. Software-controlled electrical grippers will likely replace hardware solutions such as hard stops, and adjustable force controls for delicate operations, while pneumatics will continue to do the heavy lifting in industrial applications. Improved flexibility and functionality is the key to both product lines as application types realign themselves to accommodate new gripper types and designs. The true winners will be grippers and clamps that provide more without sacrificing dependability and ease of use. ''People want grippers that have more engineering behind them,'' noted Robotic Accessories' Tarbell. ''Instead of saying a gripper can run 5 million cycles in a lab, they want it running loaded in some kind of application. Marketing materials are reflecting that, tending toward application based rather than laboratory based.''