Going Green with Robotics
POSTED 06/02/2009
 | By: Bennett Brumson, Contributing Editor
As the world reaches its peak of energy production along with increasing concerns about the health of our planet, manufacturers are looking at ways to be more environmentally friendly. "More products will become greener by using robotics to build them," says, John Dulchinos, President and Chief Executive Officer of Adept Technology Inc., Livermore, California.
From saving energy, reducing scrap, to minimizing human handling of extremely small and large parts, robots are particularly suited in the fabrication of solar panels, light-emitting diodes (LED), wind turbines and other "green" products. Robots also have a crucial role in "greening" the manufacture of conventional products.
Companies that make green products and those trying to lessen the impact of their production processes will have a chance to discuss environmentally-friendly manufacturing at the 2009 International Robot, Vision & Motion Control Show and Conference to be held at the Donald E. Stephens Center in Rosemont (Chicago), Illinois June 8-11.
Forecast: Sunny
As demand for alternative sources of electricity rises, robotics will have an increasingly important role in the manufacture of solar panels, thin film solar modules, and wind turbines. "Green manufacturing is a bright subject for Ellison. The number of robots sold to make solar panels has undergone huge growth in recent years," says John Burg, President of Ellison Technologies Automation (Council Bluffs, Iowa). "The processes of making solar panels is not easy for humans to do because of the cleanliness requirements. Cleanrooms are the right environment for using robots."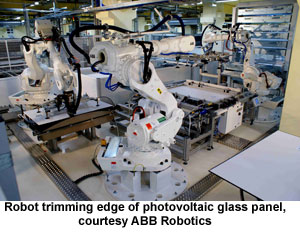 "Crystalline PV solar panel manufacturing lends itself nicely for automated robotic solutions in high volume facilities," said Keith Fox, Alternative Energy Business Development Manager, ABB Robotics, NA. "The manufacturing process is repeatable and very labor intensive. Solar panel manufacturing is beginning to mature to the point that standard function packages are now available that reduce cost and integration time," says Fox."
"FANUC is seeing many start-up companies involved in green technologies in North America. Solar, wind turbines, and battery manufacturing for electric vehicles are becoming big in North America," says Christopher Blanchette, National Distribution Sales Account Manager at FANUC Robotics America Inc. (Rochester Hills, Michigan) "We are also seeing more business in manufacturing inverters, power management electronics, and LEDs."
Blanchette notices established Asian and European companies gaining a toehold in the North American solar and wind turbine markets. "Green technologies have evolved to a more mature state in Asia and Europe," Blanchette says. "Companies are taking advantage of volatile energy prices. More foreign providers of support elements in solar and wind systems, such as tracking mechanisms and light-weight structural components, are coming to North America."
Of solar energy systems, Blanchette sees thin film modules evolving the most rapidly. "Because thin film modules have many techniques to process them, robotics are becoming an important tool to make them. Traditional crystalline silicon have a more limited array of technological possibilities in its manufacture." Blanchette continues, saying, "Designers of thin film solar systems are working on different doping techniques. Some are depositing materials onto glass while some use an imprinting process." Because of this variation, companies that make thin film solar modules have gravitated to the use of robotics due to their inherent flexibility, claims Blanchette.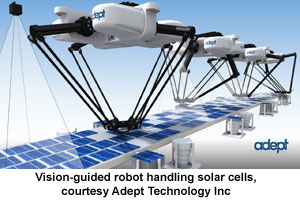 As solar panels become thinner, it makes sense that robotics are deployed to assist in their manufacture, says Adept's John Dulchinos. "When solar panels are 200 microns thick or less, humans have difficulty in effectively manually handling them without causing damage. Robotics are able to handle solar cells very gently and transfer them with a much lower scrap rate than if done by hand." Dulchinos sees big opportunities for robotics in solar cell assembly as they become thinner and more brittle.
Thinner solar panels is also on the mind of Dieter Manz, Chief Executive Officer of Manz Inc. (North Kingstown, Rhode Island), who says, "Robotics are the key to high volume in solar cell production. The use of robotics has allowed reduced panel thickness from about 300 microns a couple years ago down to 150 microns, while tact time has been reduced from four seconds to 1.5."

Likewise, Dan Shumaker, Market Research Manager with Motoman Inc. of West Carrollton, Ohio, believes, "Solar panels are becoming much thinner and robotic handling can reduce damage compared to manual handling. Robotics can be utilized in many green products like solar panels and wind turbines, in applications such as welding and material handling"
With demand for solar panels expected to rise, opportunities for robotics in their manufacture and inspection will increase as well. "Inspecting solar components is not too different from inspecting other electronics. Our equipment is inspecting seals, welds, and components that go behind the silicon," says Gregory Hollows, Director of Machine Vision Products with Edmund Optics, Barrington, New Jersey. "Inspecting solar panels is getting big in machine vision. Existing technologies are leveraged very well into the inspection of solar panels."
Hollows adds that inspecting electric cars is another growth area for vision-guided robotics. "Inspecting electric cars is an emerging green trend. Electric vehicles have far less parts than conventional gasoline-powered vehicles, but have many different materials that must be inspected." Hollows notes that the cost to build electric cars is still relatively high, but vision-enabled robots will help to drive those costs down.
Servomotors have a role both in solar cell manufacture and their use, says John Mazurkiewicz, Product Marketing Manager Servos and Motion Control at the Baldor Electric Co. (Fort Smith, Arkansas). "Servos are used both in the production of solar cells and in the positioning of solar cells. Solar cells mounted on the top of buildings are repositioned by servos to capture the maximum amount of the sun's rays over the course of the day."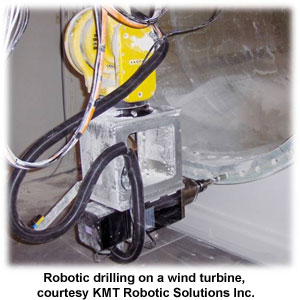 Steady Breeze
Like solar panel manufacturing, production of wind turbines is growing. Roberta Zald, Director of Market Planning and Communications at KMT Robotic Solutions Inc. (Auburn Hills, Michigan) anticipates more business in wind turbine manufacturing. "KMT is focused on processing composites parts for large wind turbines, such as using robots to trim the wind blades and nacelles. Because of the huge growth in wind turbine production, we have seen more opportunities for robots in painting, trimming, and surface finishing of their components."
Zald sketches some of the tasks that robotics perform in putting together wind turbines. "Utility size wind turbine blades are at least 37 meters long and very heavy. KMT's systems can flexibly cut, surface, drill, and offsetting the part program to the location of the blade. This saves energy and effort by eliminating the need to exactly locate blades for processing." Production facilities can produce more in less space and using less energy, Zald says.
Zald also says robots can precisely drill holes and finish the edges of turbine blades. "Turbine blades are made of composites, but work is being done on making them out of other advanced materials to decrease their weight." Dust control from cutting composites is key to having a safe and comfortable working environment for employees. Robotic cutting and finishing of composites is one way to keep people out of the dust, Zald says.
ABB's Keith Fox says, "We are seeing the European wind turbine companies expand their manufacturing to the United States." Robotic applications for turbine blade manufacturing include painting, drilling, trimming, polishing and vision inspection.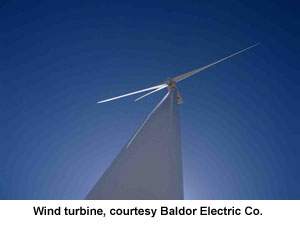 John Mazurkiewicz of Baldor points out that, "Servo motors are used to constantly adjust the angle of turbine blades. This captures the most wind as to generate the maximum energy possible."
Vision-enabled robots are inspecting wind turbine blades adding value to the manufacturing process, suggests Greg Hollows of Edmund Optics. "Robots are inspecting turbine blades by looking for stress on welds. We are leveraging equipment and processes that already exists."
"In wind turbine production, more companies are looking to use robotics to manufacture them and their components," says John Burg of Ellison. "I see substantial growth of robotics used in their manufacture over the next few of years."
Power to Run
As wind and solar power systems become more prolific and cost-effective, they will be used to charge batteries in electric vehicles and in homes. "Manz sees a big trend towards plug-in electrical cars. We anticipate tremendous efforts in developing battery technology that will lead to lighter and less expensive batteries," posits Dieter Manz.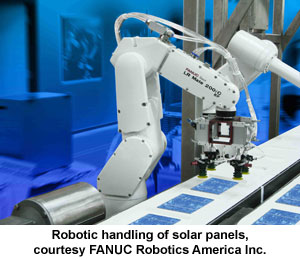 Christopher Blanchette of FANUC believes that lights and other components in electric-powered vehicles will need to be more efficient than their current counterparts in conventional gasoline engines, so as to not draw too much energy away from propulsion. "People driving electric vehicles rather than those with internal combustion engines will be more concerned about power utilization." Blanchette declares that robotics will be part of the solution in producing low-power devices for electric vehicles.
Robots will also have a role in swapping out discharged batteries from electric vehicles. Rather than waiting two hours to recharge an electric car's batteries, a robot will exchange spent batteries for fully charged ones at modified service stations. In under a minute, less time that it takes to fill a typical fuel tank, a robot will have an electric vehicle on the road again with fully charged batteries. Renault S.A. (Boulogne, France) is investing $600 million in electric cars designed with robotic battery replacement, with the goal of introducing them in three years.
On the home side of solar power, Blanchette power management will become increasingly important. "Low power consumer products like LED lights is expanding very rapidly in North America as part of power management systems for home-based solar and wind systems."
Less is More
Robotics help manufacturers reduce energy use and scrap, the heart of going green. "Because the movement of robotics can be very precisely controlled, they have a positive impact on energy and material savings," says Andrew Lovell, Applications Engineer with PIAB Vacuum Products of Hingham, Massachusetts. "Robots give manufacturers the precision needed to optimize their manufacturing environment."
Richard Litt, Chief Executive Officer of Genesis Systems Group LLC (Davenport, Iowa) reflects Lovell's sentiments, using arc welding applications as an example. "Welders might grossly over weld to meet minimum bead size if done manually. Globally, that means many thousands of pounds of wasted filler metal." Welds performed robotically are very consistent in size. "The robot applies what is appropriate and no more. That elimination of waste is green," contends Litt.
Litt says material savings is also true in robotic painting applications. "A minimum thickness of paint needs to be applied. When done manually, painters do not know if the paint is applied at the correct thickness, which leads to over-painting. When done robotically, paint is consistently applied to the appropriate thickness. Because painting applications are very repeatable, integrators can program work cells to eliminate a lot of needless over-spray."
And going green can involve going beyond standard robotic manufacturing technology, often resulting in residual benefits that are inherent to an improved process. An example is new robotic high pressure water deburring (HPWD) and parts washing systems. These systems are able to reach most areas of simple and complex parts, while eliminating environmental and energy concerns, such as the use of cleaning chemicals and heated water. Jan Nielsson, Global Product Manager of ABB Robotics says, "This provides a combination of accuracy and proximity that is unmatched by traditional washing systems. Because of the agility of the robots, no chemicals or heated water are needed."
Glimpse of Green
The 2009 International Robot, Vision & Motion Control Show and Conference gives robot suppliers, integrators and end-users a chance catch up on the latest on green technologies. One session, "Robots and Vision in a Green Manufacturing World," will look at how robotics help fabricate green technologies, particularly alternative energy sources such as wind turbines, solar panels and fuel cells.
John Burg of Ellison Technologies will present "Successfully Implementing Robotics Solutions" on Monday, June 8, at 1:00 PM. "I will offer advice to end-users on when to set up a robotic work cell on their own or to have an integrator do it," says Burg.
Burg gives reasons why Ellison is attending the show this year. "Ellison offers our lean work cells in this economic climate to help our customers cut costs rather than increase production capacity. We have made a big effort to retrofit current manufacturing systems to allow end-users to reduce costs."
Greg Hollows of Edmund Optics will lead a tutorial, "Advanced Lighting and Optics for Machine Vision" on Tuesday, June 9 at 8:00 AM. "This session will show integrators and end-users how to choose the right equipment for their vision needs and how handle parts with irregular surface features."
ABB Robotics' Jan Nielsson will participate in the panel discussion on "Robots & Vision in a Green Manufacturing World" on Tuesday, June 9 at 1:00 PM. "I will show how the unique capabilities of robotic technology provide a variety of green manufacturing benefits in the washing and deburring of both small and large parts."
Green Buzz
"The buzz is 'Green Tech.' In ten years, places like Silicon Valley will be a mecca for green technology as it was for semiconductors," predicts John Dulchinos of Adept. "We see many opportunities for robotics in helping make the world a greener place."
For additional details on the 2009 International Robot, Vision & Motion Control Show and Conference in Rosemont (Chicago), Illinois, USA, June 9-11, 2009, including show hours, conference agenda and registration, click: More.