Gentlemen, Start Your Robots...
POSTED 06/01/2007
 | By: Donald A. Vincent, Executive Vice President, Robotic Industries Association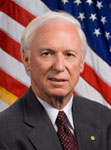 Have you seen the new NASCAR race car? Since hearing about the 'Car of Tomorrow,' I couldn't wait to see how different this new car looks, and I am anxious to size up the competitiveness of 43 drivers in the next generation of technically crafted and standardized racing machines lighting up the track each Sunday afternoon.
From where I sit there are many similarities today between the robotics industry in North America and NASCAR racing. The quest to be a winner, loads of technology on board the equipment used (robot or car), and a dedicated interest in safety in the workplace (on the track or factory floor), all make for serious business in today's fast paced world.
Changes are happening everywhere, and I've become more tolerant of the 'new' in my life and in the business of running a robotics trade association. Watching NASCAR implement change is a big deal for die-hard race fans. In the same vein, watching RIA and its member companies take the lead on the Next Generation Robot (NGR) initiative will bring new traction for success with robots in all industries and emerging application areas.
With the NGR there will be a paradigm shift in safeguarding concepts. When? Optimistically, it could be 2010 before the NGR becomes real. Right now, RIA resources and robotics industry believers are driving the concept of developing a new generation of robots that provides even more safety to their users. At the same time, these robots will better meet the needs of lean manufacturing.
The Next Generation Robot is envisioned as a machine incorporating inherent safety design and benign operating features which create a bubble of safety for robot operators. Isn't true technology invisible? In NASCAR racing, the technology in the cars is not noticeable, allowing the driver to focus on driving to win. Likewise with NGR, technicians and operators can work alongside a robot system and know it's safe. Productivity from using robotics and safety from technology make for a winning combination in manufacturing.
What's up with NGR today? RIA is on track to give guidance to the robot manufacturers about the sweeping changes coming with NGR. These are changes designed to make robots safer, promote efficiency, and standardize robotic systems between robot suppliers and users. With recent work by the International Standards Organization (ISO 10218) and the RIA commitment to safety standards, incremental improvements and optional new safety features are being seen today. We have the green light to go! The RIA invites participation from suppliers, users and research organizations and will spearhead industry cooperation throughout the NGR crusade.
Come to the International Robots & Vision Show on June 12-14, 2007 in Rosemont (Chicago) to become a Next Generation Robot fan. RIA will provide learning opportunities on the show floor, with one-on-one discussion with robot safety experts, to help jump start the big NGR project. And, don't forget Robotics Online as a resource for valuable updates on all aspects of the North American robotics industry. I look forward to seeing you at the Robots & Vision Show….we have crossed the starting line and the race is on!