Frame Grabbers: Pushing the Limits of Machine Vision
POSTED 08/22/2011
 | By: Winn Hardin, Contributing Editor
"The reports of the death of the frame grabber were an exaggeration."
– Mark Twain, speaking at the 1897 AIA Business Conference

First it was Ethernet and USB. Then the smart camera. Today, it is USB 3.0 and 10GigE. Tomorrow, who knows what foul villain will be tagged as the murderer of the frame grabber. But one thing is for sure: They're all innocent, and the naysayers, they're all wrong.
According to industry experts, the frame grabber isn't going anywhere because only the frame grabber can offer industrial imaging network interfaces, the lowest latency, image processing power, and data integrity in a PC-compatible package. In short, if you're pushing the boundaries of machine vision, or simply servicing older machine vision technology, you're probably doing it across a frame grabber.
The Digital Myth
Digital cameras that could plug directly to a PC were the harbingers of dark times ahead for the frame grabber industry. Why pay hundreds or thousands of dollars for a special PCI or PCI Express board when you can plug a digital camera directly into the Ethernet or USB port that comes with the PC?
"Digital cameras have overtaken traditional analog cameras, but analog is still very much present," explains Kamalina Srikant, Product Manager, Machine Vision & Scientific Imaging at National Instruments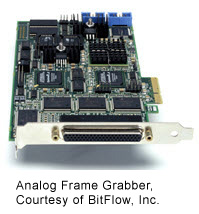 (Austin, Texas).
BitFlow Inc. (Woburn, Massachusetts) continues to sell a lot of analog frame grabbers into a variety of markets, particularly in Asia. "We sell analog into the U.S. as well," says Donal Waide, BitFlow's Director of Sales. "There are a lot of machine vision applications you can solve with a Sony analog camera and our Alta-AN analog series frame grabbers. It usually comes down to a combination of what resolution, speed and data transfer you need."
While analog still dominates in many emerging and Asian markets, Waide adds that every user of Camera Link, or the new CoaXPress communication standard, also must have a frame grabber to connect to their camera "As a general rule, the U.S. uses more Camera Link while Europe prefers GigE," says Waide, "although that could change with the advent of CoaXpress. We just released one of the industry's first CoaXPress frame grabbers with the Karbon-CXP. If the trade associations get behind it, I expect CXP to become an important standard because of its high bandwidth and longer reach than Camera Link."
High Bandwidth, Low Latency
"Obviously, there's a strong movement towards frame-grabber-less setups using GigE, or FireWire, but to me, a frame grabber's strength isn't just about high bandwidth, but latency and determinism," explains Markus Tarin, President and CEO of MoviMED (Irvine, California), and designer of the new AF-150x family of National Instruments CompactRIO compatible image acquisition modules. "If you have to process images at a rate of 100 to 200 frames per second, it's most likely not going to happen on a Windows PC. You have to use a frame grabber for very high-performing applications that require determinism and latency of less than 100 milliseconds. In high-speed, deterministic real-time applications such as robotic motion control where the camera closes the feedback loop for the servo system, it would be impractical to use an interface such as USB, Firewire or GigE. These interfaces have been designed to allow all members of the network to communicate with all other members. Hence, they packetize the data transfer, which causes disruptions, leading to jitter and latencies during the communication. Once the PC receives the packets, its network interface card (NIC) needs to reassemble the packets, which in addition may be out of order. From there the data is being turned over to the operating system. In case of Windows, capable of preemptive multitasking, it will further add jitter to the image processing system. You may get away with this system design approach if you have a high-end PC and you can afford latencies of more than 100 milliseconds as a ballpark figure, but I would never use this kind of system for a mission-critical application or safety system."
Smart cameras might be another answer because they typically run an embedded OS with lower latency, but smart cameras typically come pre-configured with a limited number of algorithms. "If you need a custom algorithm written, then you probably get beyond the capabilities of most smart cameras," says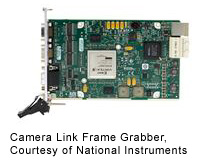 Tarin.
"The role of frame grabbers has evolved, but they are still used heavily as they allow users to take advantage of the best-in-class processors and fastest protocols," says NI's Srikant. "And it's not just bandwidth, but the flexibility to integrate multiple types of measurements with imaging into a single system, access on-board I/O for triggering & synchronization, and off-load the processor from time-consuming tasks such as transferring images to memory using DMA transfer. Our new PXIe-1435 Camera Link frame grabber, for example, is designed for high-speed automated testing in semiconductors, solar, electronics, and automotive where you need to do multiple different measurements at once. Testing time is very important to high-volume electronics manufacturing, so integrating all these signals makes synchronization simpler and keeps cost lower."
Smart Is As Smart Does
As the number of signals - be they data streams from cameras or other data acquisition channels - increase, frame grabbers also are adding intelligence and processing power to help the PC handle the extra load.
"There's going to be a lot more need to off-loading image processing as camera data rates increase," explains Srikant. "We've gotten into FPGA-based image processing, which is very suitable for high-channel-count and high-throughput applications, such as OCT (optical coherence tomography), that benefit from processing image data in real time. It's the same for high-speed control applications, such as alignment and tracking of semiconductor wafers Unlike GPUs [graphics processing units], FPGAs are also suitable for I/O, not just for processing images."
Of course, not all high-end vision applications demand a hybrid frame grabber/single board computer. For some applications, even a few milliseconds delay feeding data through an FPGA is too much. "We have OEM customers in OCT and other applications – particularly in life sciences – where a millisecond delay getting the data to the image processing software is a problem," says BitFlow's Waide. "BitFlow's FlowThru architecture allows the frame grabber to control, acquire, reformat and transfer video data directly into the user's application at camera speeds with zero latency or CPU usage."
Like many machine vision products, the technology is crossing traditional lines and spreading into new industries and applications. FPGAs and GPUs, originally designed for defense and entertainment, now find themselves in machine vision products, while machine vision is now used in gaming consoles and performance-art expositions. High-end machine vision systems, which used to run only on specialized VME rack computers before PC platforms advanced, are now spreading to embedded data acquisition product families, such as NI's CompactRIO, or single boar. The only constant is change, and the one sure bet is that there is no single solution for every problem.
In other words, make yourself at home, frame grabber. You're not going anywhere.