Food Robotics Comes of Age
POSTED 02/07/2011
 | By: Bennett Brumson, with contributions from RIA staff
Fro

m the beginning, robots were built for harsh environments, a trait that serves them well in food processing applications. Freezers are not the most hospitable environment for people, but robots can go into cold damp confines and work tirelessly. Heavy, sharp tools used by people to cut and trim a carcass can be wielded easily by a robot and far more safely. Quality and sanitary improvements are other ways robots enhance food processing.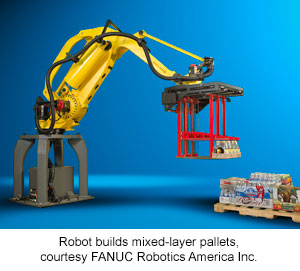 On January 4, 2011, the Food Safety Modernization Act was signed into law authorizing the Food and Drug Administration (FDA) to inspect food production facilities and order the recall of foods tainted with pathogens. Robotics will be among the tools food processors can use to ensure compliance with the law and to ensure a consistently safe food supply that human workers cannot.

"Do not think food processing is too complex for robots," said Brian Huse, Director, Marketing & Public Relations for Robotic Industries Association. "The more complex a process the more one should consider a robot."

While robotics has been a fixture in many industries for decades, penetration into the food sector has finally reached the tipping point, according to a growing base of RIA members.

"Robotics in the food industry perform tasks in four broad categories: processing, picking, case packing and palletizing," explains Dick Motley of FANUC Robotics America. He notes also that robotics remove people from ergonomic dangers of food processing lines, promotes a safer food supply, and gives flexibility to food processors.

Moving Upstream
At first, most system builders saw opportunities for robots at the end of the line when it came to food. Robots are so sturdy, flexible and reliable they can easily handle mixed loads and reprogrammed for quick changeovers.

"With increased robustness and cost effectiveness of sensor technologies such as vision, robotics have been applied in more complex applications," observes Rush LaSelle of Adept Technology Inc.

Robots that directly process food is the newest and most complex application, reports Motley. "Robots are actively forming food products, such as butchering meat. Penetration of robots upstream from end of line palletizing has been made possible by higher performance robots."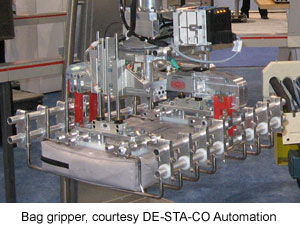 One intriguing application is the Automatic Pork Grading System developed by Dr. Andrew Goldenberg, Ph.D., of Engineering Service Inc. (Toronto, Ontario, Canada) In a proof of concept, Goldenberg has developed a robot system with sensors to check for fat/lean thickness, paleness, softness, the presence of blood and other fluids, and marbling content of pork carcasses as they move along the butchering line.

Not only is butchering difficult, the work is performed under harsh conditions that create steady turnover. Robots are unaffected by this environment, and where a person needs frequent rest breaks to alleviate fatigue, the robot can run continuously and produce consistent results.

Clean Solution
To maintain a sanitary food production environment, robots and end-effectors must be able to withstand aggressive wash down cycles.

"The biggest difference between food robotics and traditional industrial robotics is protecting the environment from the robot. End-users do not want the robot to be a source of contamination of the food product," points out Motley.

Protecting the product from the equipment is also a concern with end-effectors. "Food-grade end-effectors must be capable of wash down. To comply with cleanliness standards, end-effectors have an IP69K rating, meaning they can be washed with high pressure water and solvents," says, Robert Pitera, of DE-STA-CO Automation.

People are often a source of contamination, a prime reason for end-users to invest in robotics, says Clay Cooper, from Applied Robotics Inc. "Robots do not sneeze or get colds. Reducing people in food plants reduces the propagation of germs and bacteria there."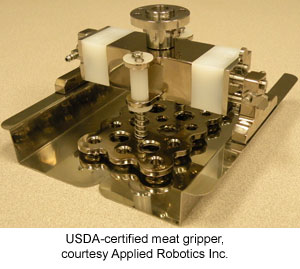 Variety
Unlike the production of most industrial goods, end-users in the food industry must deal with a very wide range of inconsistent products passing through their assembly lines. The fickle nature of consumers means new products need to be introduced frequently. The flexibility of robotics makes them ideal for these applications.

"Robots enable food and consumer product companies to manage increasing variation in products and package configurations. Variation is driven by consumer demand and the need to differentiate their brands from competitors. The variety of choices is greater now than any time in history, particularly how food is packaged," notes, Tim DeRosett, Director of Marketing with Motoman Robotics, a division of Yaskawa America, Inc.

The ability to produce a wider range of products more competitively drives food processors toward robotics. Even in today's economy, food producers often struggle to man shifts with experienced people. Robots can help fill seasonal labor requirements, asserts, Sylvie Algarra of Stäubli Corp.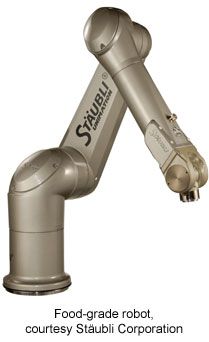 "Production levels in many food processing plants vary over the course of a year. Food processors often have difficulty getting sufficient people for seasonal production." This may have been no more evident than during the recent Christmas shopping season.

If trends continue, the economy is likely to expand in the New Year and robots will have a significant impact on food processing. North American robot orders were up 34 percent across the board through the first nine months of 2010 (latest available data at this writing) with a 41 percent gain in food and consumer goods.

Automate 2011
Every two years, North America showcases top makers of robots, vision and motion control technology at Automate, March 21-24, 2011, at McCormick Place in Chicago, Illinois. For the first time, the event is collocated with ProMat, a huge material handling and logistics show.

"We have seen and heard more and more about robots in the food processing industry and this show is about the only way to see systems integrators, robot makers and automation tools in one place to get new ideas," says Huse. "The Automate Show is an ideal way to calibrate your production and supply chain with the latest trends and technology."

The first thing you will see at Automate is the Integrated Solutions Center. It is a collection of leading integrators of automation, robotics, machine vision and motion control. Conference sessions are designed for professional development and emphasize fundamentals. For more information visit www.automate2011.com or call 734/994-6088.

Background on Show Sponsors
Automate 2011 is sponsored by Robotic Industries Association (RIA), the Automated Imaging Association (AIA) and the Motion Control Association (MCA). Together, these trade associations represent some 550 automation manufacturers, component suppliers, system integrators, end users, consulting firms, and research groups. In addition to the trade show and accompanying technical conference, the groups develop industry standards, hold industry networking events, collect market statistics, offer educational resources, and provide content-rich websites (Robotic Online, Machine Vision Online, Motion Control Online).

ProMat® 2011 is sponsored by the Material Handling Industry of America (MHIA), the leading non-profit trade association representing the U.S. material handling and logistics industry -- The Industry That Makes the Supply Chain Work®. MHIA members are material handling and logistics equipment, systems and software manufacturers; consultants; systems integrators and simulators; third party logistics providers and publishers. MHIA provides educational, business development, networking and solution sourcing opportunities for its over 700 member companies and for the larger community of manufacturing, distribution, logistics and supply chain professionals.

ProMat® and The Industry That Makes Supply Chain Work®. are registered marks of Material Handling Industry of America (MHIA).