Food For Thought: Robotics in the Food Industry
POSTED 06/12/2008
 | By: by Bennett Brumson , Contributing Editor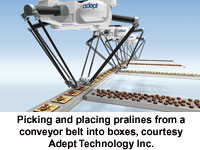 Visit a food production facility and you will notice a mix of tasks performed by manual labor and robotics. While the reliance on manual labor has been steadily declining, more and more of the jobs in food manufacturing installations are being carried out robotically. Picking, packing and palletizing applications make up the bulk of robotics in the food industry, and robotics in retail has potential to become the next frontier in the food industry.
"Robots in retail need to be autonomous and must be able to comprehend tasks independently. Robotics in food retail is a growing application and more specialized automation is coming to the market," declares Jay Sachania, Marketing Manager at Adept Technology Inc., Livermore, California. Many agree and feel the growing power of software and controllers will eventually make robotics a common feature in the food industry on a retail level.
Food Lines
With the price of food increasing to historic highs, manufacturers are searching for every avenue to decrease costs and to maintain their profit margin. Food makers often have difficulty finding and retaining labor to work their production lines due to the potential for injury, repetitive tasks, and the high speed of the line. Robotics are increasingly called upon to fill the void left by manual labor.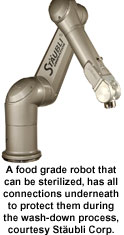 "Robotics can help the food industry because this industry needs to be close to where consumers are. However, the food industry has difficulty in finding labor in both Europe and the United States," asserts Sylvie Algarra, Product Marketing Manager with Stäubli Corp., Duncan, South Carolina. "Robotics will help the food industry to stay near consumers and improve productivity with less people." Algarra adds that to increase both volume and productivity, the food industry needs to invest more in robotics.
Labor retention is an important problem within the food industry. "When producers in the food industry do find people to work, retaining labor is an issue due to high turnover, the repetitive nature of tasks, and injuries associated with the high speed of the production line," Algarra says. Managing people in the food industry comes with high costs that robotics can help abate, maintains Algarra.
Kitchen Work
The tasks that food robotics are called upon to perform are as wide-ranging as the foods themselves. "Pepperidge Farm has robotics stacking, de-stacking and capping cookies, as well as placing cookies into trays or cups," says Harry Pettit, Manager of Systems and Infrastructure Engineering, Pepperidge Farm, Inc., Norwalk, Connecticut. "Robots are also loading bread baskets, packing trays and cases, and palletizing." Pettit lists other jobs robots carry out. "We have robots loading assortment and variety packs, doing pan storage and retrieval, and cake decorating." Looking forward, Pettit sees ingredient mixing as a potential robotic application.
Robotics help eliminate injuries that occur in food production facilities. "Robots offer similar benefits to the food industry as they do in other industries," says Ronald Potter, Senior Director, Distribution and Emerging Robot Markets with Motoman Inc., West Carrollton, Ohio. "Robotics improve productivity and quality, lower direct labor costs, and improves safety by reducing lifting and repetitive motion injuries for workers."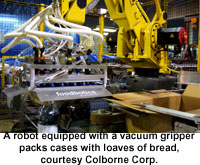 Inconsistency
Unlike other items handled with robotics, foods need to be managed with great care. "Colborne offers a bread loading system that utilizes robotics to form a pattern on the end-of-arm-tool and places the pattern into a tray or box," says Rick Hoskins, Vice President Sales and Marketing at Colborne, Lake Forest, Illinois. "Bread is very compressible, so end-users need the flexibility to pick from different points to compensate for changes in product dimension." Hoskins adds, "Because food is inconsistent and often unpredictable, robotics offers the flexibility and speed that raises the probability of success."
Likewise, Clay Cooper, Engineering Manager with Applied Robotics, Glenville, New York, says, "Picking and manipulating food items that are not rigid and do not have a high degree of repeatability in size, shape and weight is a challenge. End-of-arm-tools handle products in its minimum and maximum dimensions." Cooper goes on to say, "Applied Robotics developed an end-of-arm-tool to accommodate the range in sizes and thicknesses of food products in a way that maintains positional control, using a secondary device that is part of the gripper."
Going Retail
Robotics on the retail level of commerce is still a rarity. This is poised to change if Allan Jones, Chief Executive Officer of Discovery Ice Cream, Kingsport, Tennessee, has any say. "I have observed that kids like to push buttons to make things happen. I came up the idea of a robotic system where kids push buttons to create their own ice cream treat," Jones says.
Jones' concept is an ice cream vending system that uses a small five-axis robot make a customized treat, with or without toppings. "End-users" watch as the robot assembles an order according to selected specifications. The robot's arm manipulates a scoop between various stations to dispense measured amounts of ice cream and optional toppings. After the robot prepares the dessert, it places the ice cream into a port for delivery. No packaging, packing or palletizing of these products. Rather, products are distributed directly into the hands of eager young customers for instantaneous gratification.
Motoman offers a robotic system for dispensing beverages on the retail level. Ron Potter says, "Motoman has a RoboBar robotic beverage dispensing system installed in the cafeteria at the company's corporate headquarters that serves soft drinks to employees and visitors." RoboBar has dual arms, allowing it to simultaneously handle glasses, bottles, and any amenities that might come with a beverage.
Ron Potter sees the benefits of a robotic bartender. "RoboBar not only has the attraction of watching a robot mix a drink, but also is a labor-reducing device that will not make mistakes. I can see a lot of applications with dual arm robots, such as coffee kiosks, where users make selections and the robot prepares and dispenses the drink."
Potter looks forward to an increase in the use of robotics in the retail food industry in the coming years. "I see more robots used in the both the fast food and overall food industry in next five years. The labor pool for many fast food establishments consists of people who are not always reliable. People sneeze and do not always wash their hands properly," Potter says.
Stäubli's Sylvie Algarra also sees more use of retail uses of food robotics. "I have heard of the distribution of food robotically in airports and train stations, but that is in transition. Robots are also used to distribute coffee at meetings around a room."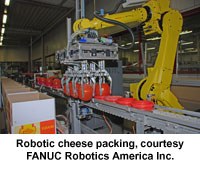 Freezers and Ovens
When making or handling food, robots are located in freezers or near ovens. While these environments generally do not harm robots, some precautions must be made to ensure the robot operates efficiently. Richard Motley, Account Manager for Distribution Network at FANUC Robotics America Inc., Rochester Hills, Michigan, addresses some issued integrators must keep in mind when deploying robots in cold environments. "Lubricants do not flow as well in deep freezers and the robot goes through the effects of expansion and contraction. In some sub-zero applications, the robot will be placed in a protective-warming suit."
Making ice cream drives the use of robots into freezers. "Ice cream manufacturers do not like the condensation that builds up when taking ice cream out of freezers for palletizing operations," says Richard Tallian, Market Development Manager for Consumer Industries at ABB Inc., Auburn Hills, Michigan. "The change in humidity and temperature causes condensation on the containers. That condensation never goes away." Tallian says that robots based inside freezers for palletizing operations precludes undesirable frosty condensation from building up on ice cream packages. Furthermore, people can work in ice cream freezers only for relatively short periods.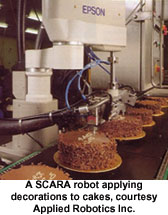 Tallian adds that integrators must think about lubricants and other vital fluids within the robot. "Oil and lubricants must be the type that can operate at cold temperatures. Special lubricants work well at low temperatures. When the robot warms up, integrators have to think about lubricants blowing by seals when it loses viscosity."
While robots are normally not situated inside ovens, robots perform their tasks near them. "Robots can handle temperatures of 50 degrees Celsius. In this environment, end-users do not need to protect the robot from the heat, but do need to protect its controller," suggests Hans Schouten, Vice President of Marketing and Sales with Flexicell Inc., Ashland, Virginia. "To handle hot environments, we enclose an air conditioner with the controller or locate the controller away from the heat source." Schouten also advocates putting the robot in a protective suit, where cool air is circulated.
Cleaner Than Clean
Robotics help companies in the food industry meet health and cleanliness standards. "Cleanliness is a key justification for using robotics, as humans are 'dirty' and contamination recalls are very costly," contends Jay Sachania of Adept. "Robots are cleaner then humans and come in various cleanliness standards to meet the needs of the environment. Robots maintain their cleanliness over time because of being easier to keep clean." Sachania explains that a robot can be readily meet cleanliness requirements but people need to go through various cleaning stages and wear protective clothing to work in a food handling environment.
FANUC's Richard Motley says, "The threat of contamination usually comes from a human source. A few years ago, a fast food chain was the source of an outbreak of escherichia coli bacteria. That outbreak was caused by a human, not from the animal." Motley believes that if more robotics were used in the food industry, outbreaks of food poisoning associated with production would decrease dramatically.
To meet cleanliness standards, robots need to be sanitized. Ron Potter points out what standards are applied to robots. "Robots used to directly handle food must have an IP67 (wash down) rating. In order to make robots universal for the food industry, they would have to be made out of stainless steel or plastic, or be specifically coated to allow frequent wash downs." Potter notes, "Using robots can eliminate worries about contamination caused by improper handling, missing ingredients and human error."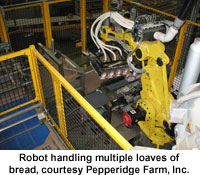 To meet sterilization requirements, robot manufacturers now offer vaporous hydrogen peroxide resistant machines that can withstand the effects of harsh cleaning chemicals.
Harry Pettit agrees that robots decrease worries about contamination of food while in production. "Robots eliminate issues such as people carrying hair, dust, pollen or mold spores into Pepperidge Farm's facilities. With the use of robotics, people do not touch the product." Pettit claims that wearing gloves and hairnets are not sufficient to eliminate potential contamination.
What's Next in Robotics?
Those interested in robotics for the food industry, as well as medical and pharmaceutical applications, have a chance to take a peek at the future at the Robots 2008 Conference. This conference, sponsored by the Robotic Industries Association (RIA), Ann Arbor, Michigan, will take place at the Hynes Convention Center, Boston Massachusetts, on June 11-12. Speakers will present business cases for "What's Next in Robotics."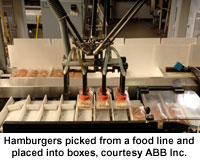 Motoman's Ron Potter will speak on "What's the Future for Service Robots?," while Richard O. Litt of Genesis Systems Group, Davenport, Iowa and President of RIA, will cover "Strategic Planning for Successful Robot Implementation." Allan Jones of Discovery Ice Cream will give a presentation entitled, "Robotic Ice Cream Machines: Come Discover a New World."
Robotic Cuisine
Food robotics are on the rise. It makes sense for manufacturers to invest in robotics due to the safety, consistency and efficiency robots offer. Rick Hoskins of Colborne gives this example: "Robots using vision confirm that a bread bag has been closed properly. This offers the benefit of allowing systems to operate more efficiently and makes sure end-users are not putting product on the shelf that will stale pre-maturely."
Editor's Note:
This article has been reviewed by members of the RIA Editorial Advisory Group.
For more information, you may contact any of the experts listed in this article or visit Robotics Online, Tech Papers.
Richard Tallian, Market Development Manager for Consumer Industries, ABB Inc., 720-889-4003, richard.tallian@us.abb.com
Jay Sachania, Director of Marketing, Adept Technology Inc., 925-245-3400, jay.sachania@adept.com
Clay Cooper, Engineering Manager, Applied Robotics Inc., 518-384-1000, ccooper@arobotics.com
Allan Jones, Chief Executive Officer, Discovery Ice Cream, 423-863-8901, allan.jones@discoveryicecream.com
Richard Motley, Account Manager for Distribution Network, FANUC Robotics America Inc., 248-377-7522, richard.motley@fanucrobotics.com
Hans Schouten, Vice President of Marketing and Sales, Flexicell Inc., 804-550-7300, hans.schouten@flexicell.com
Rick Hoskins Vice President Sales and Marketing, Colborne Corp., 847-371-0101, rick4@colborne.com
Ron Potter, Senior Director, Distribution & Emerging Robot Markets, Motoman Inc., 937-847-6200, ron.potter@motoman.com
Harry Pettit, Manager of Systems and Infrastructure Engineering, Pepperidge Farm, Inc., 203-846-7349, harry_pettit@pepperidgefarm.com
Sylvie Algarra, Food Activity Manager, Stäubli Corp. 864-433-1980, s.algarra@staubli.com