Flexible Fixturing on the Rise
POSTED 04/17/2003
 | By: Winn Hardin, Contributing Editor
The expected life cycle for an industrial robot can easily exceed ten years with proper maintenance. Part of that extended life cycle is due to the robust design of the robot and the ability to reprogram and retool robots for different tasks.
Of course, simplifying tooling and speeding the reuse process is a major design consideration for lean manufacturing in today's harsh economic climate. In many cases, robots are used in conjunction with hard automatics.
Hard automatics are dedicated mechanical systems designed to hold a specific part or perform some limited motion task for a small number of parts. These systems are rarely reconfigurable or reprogrammable to any great extent.
In the past, perceived (often misconstrued) costs kept end users from using robots in place of hard automatics or hard tooling for fixturing purposes. New robot designs, however, are helping to change that by providing just the right level of flexibility for the application.
From the Ground Up
Definitions of flexible fixtures range from the most direct, ''a fixture is something that holds a part'' to variations of flexible tooling and material handling, where ''fixtures'' can mean a variety of end of arm tooling or new ways of ''fixtureless'' manufacturing.
''There are different levels of flexible fixturing,'' explains Allen Grzebyk, program manager of the Body Structures Group at FANUC Robotics America, Inc. (Rochester Hills, MI). ''There is 'flexible tooling,' where you have hard designed tools that have indexing slides or pivots that bring a specific locator or clamp to the [automobile] body…Sometimes these tools are interchangeable or are mounted on indexing tool trays.'' Such solutions tend to have limited flexibility.
To improve the status quo, solutions need to be found that provide flexibility and convertibility while reducing capital expense, reducing operating expense and improving process control to the end user, Grzebyk adds. The progression of flexible solutions ranges from those modular basics (like clamps, locators, etc.) targeting prototypes and manual shops to robotic solutions geared toward full-speed plant automation requiring a broad model/style mix.
According to John Petro, tool engineer for ABB Inc.'s (Ft. Collins, CO) welding systems division, manual shops tend to go to modular toolmakers such as Demmeler Maschinenbau GmbH (Heimertingen, Germany) for modular clamps and similar fixtures. Although Petro continues to look for customers wanting modular fixtures for robotics, he has yet to find it in great numbers.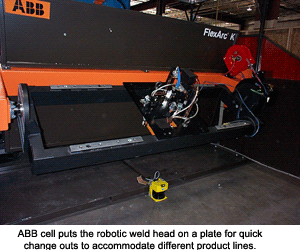 ABB has had success with robotic designs that use flexible tooling to accommodate a broad range of parts and processes. ABB's cell is one example of a flexible manufacturing cell in a small footprint. The cell itself can be picked up and moved with a forklift or quickly refitted for new product parts.
For larger manufacturing, such as automotive and construction equipment, Petro feels that customers still prefer hard automatics that can stand up to the fast cycle times and extended production runs common to these applications.
Adapting Robotics
Motoman Inc.'s (West Carrollton, OH) series of six-axis robots are finding use in flexible manufacturing environments where flexibility rather than strength is critical.
''We have a customer in Japan that uses a three robot system to make aftermarket automotive exhaust systems. The application uses two robots to handle tubes, and another six-axis robot model to weld them.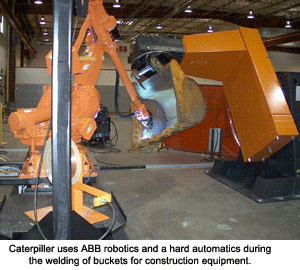 By quickly tack welding the parts together and then allowing the welding robot to freely move around the other two to finish welding the part, the system could handle up to 200 manifold types. The robots position the tubes in proper relation to each other and eliminate 'hard fixtures','' said Chris Anderson, market segment manager for welding at Motoman.
Another example of flexible fixturing straddles the fine line – not between flexible tooling and fixturing – but between fixturing and material handling. Motoman's parent company, Yasakawa (Japan), has had significant success selling ''jigless welding'' or ''fixtureless welding'' systems to Japanese automakers.
In these applications, a part is quickly tack welded ''and then you can do subsequent steps using grippers and not have to reinvest in as much capital for [production line] turnovers,'' Anderson said. In this case, robots both make the part and pass it along the production line rather than using chain-driven pallets, conveyors or similar systems.
''The key to making this all work is the multiple robot controller – the ability to control different things happening in the cell,'' Anderson said. Adding that, ''Motoman has been integrating similar systems for U.S. manufacturers implementing lean manufacturing with high flexibility.''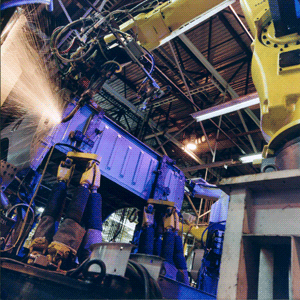 Software is Key
FANUC Robotics also uses advanced software, but with a new hardware design for flexible fixture applications. FANUC has a commercially available robot platform designed specifically for flexible fixturing. Based on a parallel link mechanism design similar to that used in flight simulators, the platform uses six electric ball screw actuators to connect a pair of plates. The top plate can be fitted with any variety of locator, clamp or other fixture.
According to FANUC's Grzebyk, a pair of these platforms taking up 5x5x2' replaced a 16x10x10' hard automatic that located front panels to pickup boxes, saving significant costs in plant floor real estate alone. The resulting work cell also had far greater flexibility.
''When you have a pickup box that has a floor and two sides but no front, it can twist in what's called matchboxing. The customer had a difficult time flushing out the front panel to the box side on multiple models using hard tools. They could shim for one style, but they couldn't get the other. With flexible fixturing, you can look at the trend on how model A and model B are coming in to the station and, via software shimming, you can move the front panel up a quarter of a millimeter and flush it out if needed.''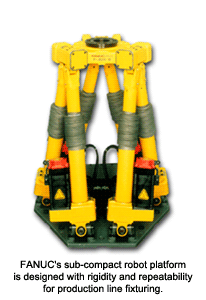 Flexible fixtures also cut down on delays when tools don't quite match up with the parts due to product changes. ''You can take the teach pendant and quickly adjust the locator position to match the part,'' Grzebyk said.
Pallets Versus Platforms
Heavy dependence on software worries Comau Pico Robotics' (Southfield, MI) Hans Nikesch, director of advanced manufacturing. ''Calibration can be a problem with more complex systems – the jury's still out on that…As part of the Flexible Auto Body plant we're building for Ford [Motor Company] in Dearborn [Michigan ], we're looking at a minimal amount of hard tooling and limiting the number of stations that require [total geometry changes].
For different models, we do a tool tray change, a pallet change or end effectors change, reprogram the system and that's it…A 20 percent change allows a line designed for four platforms to handle four completely different vehicles.''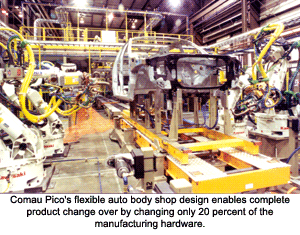 Designing for the Future
Nikesch concludes that, while flexible fixturing is something the automotive industry wants, simple flexible fixture designs mean that you have to design the parts to fit the locators, rather than vice versa as it has always been. These kinds of ''changes'' require a change in thinking and attitude that can be difficult to cultivate in older manufacturing sectors, such as automotive and durable goods.
Despite this hurdle and pushback from integrators worried that reducing hard automatics will adversely impact their bottom line, flexible fixturing could reduce Detroit's capital investment costs by as much as 25 percent per machining system, or $30 to $50 per vehicle. Similar cost reduction implications apply to other industries such as appliance manufacturing and aerospace. With savings like that, flexible fixturing is an idea whose time has come.