Flexible Automated End-of-Line Solutions for Packaging and Palletizing: Systems Integration is Key to Success
POSTED 02/16/2006
 | By: Mary Kay Morel, Staff Writer/Editor
Most consumer goods manufacturers need the ability to create variety packs or mixed loads of product on demand to meet specific customer requirements, pack product into trays or cases, palletize the trays and cases, and add stretch wrap or band the load – while always knowing what is inside each case or load using Radio Frequency Identification (RFID) tags. It is a monumental task, but the technology exists to create fully integrated end-of-line solutions that include robots, conveyors, product accumulators, RFID tag readers, stretch wrappers, and banders.
If your company's product volumes are straining your current capabilities for packing and palletizing, you are experiencing product damage due to manual handling, or workers' compensation claims are increasing due to repetitive motion and back injuries related to your operations – it's probably a good time to consider automating your process. You might not have the in-house expertise or time to deal with all of the aspects of an automation project. Who are you going to call?

Ideally, you need help from a systems integrator that is experienced in all of the aspects of automating packing and palletizing production lines. Robots are at the heart of any packing and palletizing solution, and will likely be one of the more expensive components in terms of capital equipment investment. Your systems integrator should be able to determine the best robot(s) for your application, and should have the experience and expertise required to provide the support you need to make your project a success.
Some robot manufacturers offer this type of systems integration and will partner with your company to provide a complete solution. Others just want to sell you hardware and you will need to find a third-party systems integrator to help you with designing the system, and implementing a fully integrated solution.
Some systems integrators are closely aligned with a particular robot manufacturer – others will provide robots from whichever robot manufacturer you prefer. Be sure to ask how much experience the systems integrator has with the particular robots you want. While robots are commodities in many ways, they can offer some key differences in ease of programming, functionality, reliability, and availability of options, as well as warranty, parts and service.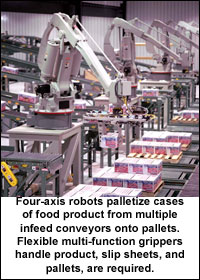 A good systems integrator will match your needs with the type of robot that best suits your application. For some applications, such as picking cases off of a conveyor and building pallets on another – an economical four-axis manipulator might be perfectly adequate. If more complex motions are required, a five- or even six-axis manipulator might be better suited for the job. For example, a six-axis robot might provide the flexibility required to handle product, slip sheets, cases, and pallets using a multifunction gripper. Building a tight palletizing pattern might require the robot gripper to be able to pick up multiple units of product at a time and then release them in groups (synchronously) or individually (asynchronously), as needed, reorienting them as necessary, to create an optimal packing or palletizing pattern. A robot with additional axes of motion might cost a little more initially, but the additional flexibility and functionality provided might easily justify that investment.
Some systems integrators can offer pre-engineered work cells that include the robot, gripper, conveyors, peripherals and safeguarding that meets the current ANSI/RIA R15.06-1999 safety standard. This type of modular approach can offer a lower-cost, low-risk solution that uses reliable, proven components and approaches. However, if your application requires a unique approach, your systems integrator should be able to design a custom solution that will meet your specific needs.
While most material-handling applications can be performed using general-purpose robot manipulators, some robot manufacturers now offer process-specific manipulators with unique features like integrated upper arm cabling that reduces interference and makes programming easier. Washdown capability is also a factor in some applications, particularly in the food industry. Some robots can operate in extremely hot or cold temperatures – such as near ovens or in freezers. The robot manipulator needs to be suited for the environment in your manufacturing facility.

Be sure the robot you select has the necessary payload capacity, reach, and repeatability you need. Your systems integrator should also be able to provide all custom end-of-arm tooling required. This includes vacuum or mechanical grippers for bags/cases, as well as pallets and slip sheets. As simple as it seems, successful packaging and palletizing requires an appropriate solution to grip what can be an extremely wide range of products, but this capability is often overlooked. If your product is an unusual shape or is packaged in a pouch (which does not have a repeatable shape, footprint or characteristics) – be sure your systems integrator has specific experience in handling this type of challenge. Inexperience will cost you money.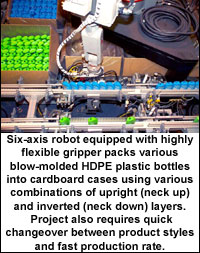 For example, one manufacturer of blow-molded plastic bottles needed a robot system capable of handling a myriad of product sizes and shapes of still warm and slightly soft high-density polyethylene (HDPE) plastic bottles and packing them into corrugated cases using various combinations of upright (neck up) and inverted (neck down) layers and rows. The solution included a custom, dual-function robot gripper that uses rubber strips on long, parallel gripping rails to hold the bottles securely, while built-in hard stops prevent the gripper from crushing the bottles. A custom pneumatic bottle inverter uses an inflatable bladder to clamp the bottles by the outer ''T'' finish of their necks. A rotary pneumatic actuator then inverts the bottles for robotic pickup.
Programming the robots and changeover between product runs should be as easy as possible, and adequate operator and systems training should be included in the total system price. For packing and palletizing operations, many robot companies offer software that makes programming various packing and palletizing patterns simpler and faster. Some of these programs will optimize packing and palletizing patterns automatically, making them easy to use even for people who are not expert programmers.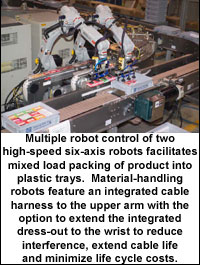 Some robots have multiple robot control capabilities that facilitate programming due to built-in collision avoidance features and optimized communication functions. Some of today's advanced robot controllers can also provide cell control capability, eliminating the need for a programmable logic controller for overall system control. This can reduce system complexity and cost.
For some projects, your systems integrator might use PC-based software tools to create a simple 3D computer simulation model that can be used to verify robot reach and cycle time prior to project start. Software libraries of various robot models and major system components exist to aid in developing this type of simulation.
However, for very large, complex systems – such as a multi-million dollar packaging/palletizing line with multiple conveyors and a variety of product, you might want to pay to have a more detailed, discrete event simulation performed. Today's accurate computer simulations allow a system to be modeled and optimized in the virtual world, and allow various alternatives to be considered -- before any capital investment is made. For example, in addition to showing robot reach and overall cycle time capabilities, discrete event simulation can be used to show where bottlenecks are likely to occur; what the addition or subtraction of additional conveyors or the increase or decrease of a particular line speed would do to the production throughput rate. While more expensive initially, discrete event computer simulation can lower your company's risk and increase the likelihood of a successful implementation on major programs.
Likewise, you want to choose a systems integrator that is experienced with the other major components of your end-of-line solution – including overall system controls (PLCs), conveyors, product singulators, line splitters, product accumulators, stretch wrappers, banders, etc.
In addition to bar codes on the outside of cases or pallets, some of the largest retail chains are starting to mandate the use of Radio Frequency Identification (RFID) tags on all products. The RFID tags allow readers to automatically track the individual products in each case or pallet. Retailers can use RFID technology to track consumer buying, improve their inventory control, and combat theft.
In automated packaging solutions, the robot systems can use RFID data to facilitate packaging/palletizing of mixed loads (variety packs). RFID readers can be used to confirm that a case or pallet actually contains the products indicated by the RFID tag or bar code on the case or pallet. Use of RFID in your automated solution does add another level of system complexity. Your systems integrator needs to know the ins and outs of this new technology so that you don't end up funding their learning curve.
Don't be penny-wise and pound-foolish when selecting your systems integrator. Experience counts. You want to partner with a company that is reputable and committed to your success. Some companies make the mistake of choosing a systems integrator on low price alone – then find themselves getting nickle-and-dimed to death after the order is placed. Others pick an integrator based on geographic proximity, thinking they will get ''boutique'' service from a smaller company with lower overhead that is conveniently located nearby.
Look at the warranty offered by your integrator, as well as their field service response record, and spare parts inventory. Does the integrator have a 24-hour hotline you can call if you run into trouble outside of normal business hours? How quickly can you get spare parts, if they are needed?
Be sure to look at the total cost – including productivity enhancing options that will pay for themselves. You want to get the best value for your money.