Engineered Solutions, Non-Visible Imaging Drive Machine Vision Optics Growth
POSTED 07/16/2014
 | By: Winn Hardin, Contributing Editor
There isn't a completely new formula for making glass, an incredible new coating that transmits 100% of light, or magical new metal for mirrors. But by combining mature materials and products with a lot of engineering know-how, optics companies are maintaining solid growth.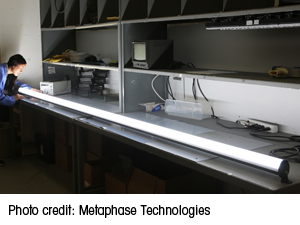 In the machine vision world, a lens and light don't work alone. They're connected to cameras, and the trend in cameras is "go big or go home." In recent years, the bulk of machine vision applications moved from VGA at 0.5 megapixels (MP) to 1.3 MP sensors. Today, 2 MP cameras are seeing strong growth, and 5 MP cameras aren't far behind. At the same time, industrial and scientific camera manufactures are releasing cameras 20 MP and up that use 1-in. and larger sensors to accommodate the larger arrays, even as pixel pitch shrinks to 3 microns to manage both camera cost and size.
Larger arrays with smaller pixel pitch present a double whammy for the optics manufacturer, who has to produce larger lenses with larger distortion-free sweet spots that can resolve light to ever-smaller pixels at the focal plane. One would be bad enough, but doing both at the same time means higher costs to manufacture — and higher costs to the end user.
"We can make virtually any optic of any size with any characteristic, but customers aren't always willing to pay for it," says Jason Baechler, Business Manager for Machine Vision and Industrial at SCHOTT North America, Inc. (San Jose, California). "So as cameras grow in resolution and sensitivity, we're using decades of optical engineering experience and proprietary software to develop new approaches to solving these large-area, 3D, and similar applications."
How Do You Eat an Elephant?
Today, the electronics market with its high volumes is a big driver behind machine vision growth and therefore machine vision product development. With this in mind, SCHOTT breaks less traditional machine vision applications into two basic types: dynamic fields of view and complex fields of view.
Automated inspection of printed circuit boards is a common example of an application driving today's machine vision market. The customer wants to inspect the entire board, or large portions of it, but they also want to check the position of very small components. Using a large-array camera, the customer can capture the entire board with a single image. But what if the customer also wants to check the solder joint of the smallest transistor on the board? Traditionally, the customer would use a zoom lens to change magnification or a second machine vision system (or multiple systems), each with its own camera, optics, computer, and software. Both approaches add cost and time to the production line – another double whammy.
In response, Baechler may suggest that his customers use fixed lenses with mirrors to enable multiple fields of view without the expense of mechanical zoom components. Then, using the image processing software, the customer can stitch the image together into a large image with sufficient resolution to verify the overall board construction as well as the position of the smallest component. The basic principle is to take on the larger field of view one bite at a time, just like eating an elephant.
"That's what we call a dynamic field of view because the field of view is always changing based on the product," Baechler says. "If the customer can run the inspection of multiple cell phone models on the same line, for example, then they want the machine vision system to be able to inspect all the different models and adapt accordingly. Using dynamic fields of view allows them to achieve this while managing the costs of the inspection system."
Mix and Match Takes on Complex Applications
Lighting manufacturers are doing their part. "Mixed" lights can help customers do multiple inspections in a single station by using one color of light for each inspection step. "We've recently built lights that have 365- and 395-nm ultraviolet [UV] lights, RGB lights, as well as 850- and 940-nm infrared lights," says Oliver Szeto, President of Metaphase Technologies, Inc. (Bristol, Pennsylvania). "We've seen a lot of activity mixing colors, both where customers want specific colors as well as a broader continuum of light. We build single light fixtures that have a combination of both visible and UV/IR LEDs. This is definitely in response to the trend toward mixed manufacturing in many industries."
SCHOTT's Baechler notes that mixed lights are good example of complex field of view where the customer may use visible light to inspect the surface of a semiconductor MEMS wafer, for example, and a silicon-penetrating infrared light to image features just below the surface. Metaphase's application engineer Paul Chua offers additional examples, such as package inspection, where visible light is used to inspect the package while UV light is used to verify the clear adhesive, or fiberglass inspection, where visible light reveals surface flaws, but infrared light reveals voids and contaminants within the composite.
Applications that use UV light are growing considerably, according to Mark Kolvites, Technical Sales Manager at Metaphase. "The output and expected lifetime of a UV LED light has increased considerably," he says. "UV light applications have suffered from short lifetimes, but today's UV LED will last up to three times longer than what it was just a few years ago. We're also seeing demand for shorter UV wavelengths. Recently, manufacturing of gasoline additives needed UV light at 255 nm, although lights below 300 nm are still very expensive. Today, UV applications are everywhere from baby formula packaging to fluorescence microscopy. There's a significant push in microscopy to replace 150 W halogen and 400 W metal halide lights used for microscopy with cool LED lights that don't produce heat. The heat from a halide lamp can burn skin that comes into contact with it, and it damages the fiber optics used to bring the light to the sample. LEDs avoid that damage."
Kolvites also reports a significant increase in large-format imaging that requires very large lights, including backlights measuring nearly 2 meters and linear lights more than 5 meters long.
Whether it's larger optics that save money with fixed zooms or dome lights that make one light appear to be many lights to avoid hot-spot reflections, machine vision optical companies are using engineering and application knowledge to solve a greater number of applications. While machine vision optical technology may be changing at a slower rate, flattening as it enters the "mature" section of the technology adoption curve, optics manufacturers are proving that knowledge is power when it comes to solving automated inspection and sorting applications.