Customized Distribution Robotics
POSTED 11/01/2005
 | By: Bennett Brumson, Contributing Editor
Robotic-based distribution systems are among the fasted growing applications in flexible automation. This is due to manufacturers responding to the demands of their customers, who require that product comes into their facilities palletized in a structure that best suits them. The configuration of each manufacturer's pallet is customized to meet their specific needs, a task that easily done with flexible robotics.
''Over the past five years, robot manufacturers have recognized, through demands of their customers, that customized mixed load palletizing presents an enormous opportunity for automation,'' says Carl Traynor, Senior Director of Marketing at Motoman Inc., a robot manufacturer and provider of integrated automation systems headquartered in West Carrollton, Ohio.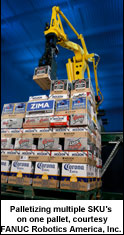 Customized Configurations
Donald Faulkner, Engineering Director the Automation Systems Group at FANUC Robotics America, Inc., Rochester Hills, Michigan, laid out some of the challenges to getting a distribution system utilizing robotics up and running. FANUC is a robot maker and systems integrator.
''Integrators of customized palletizing systems must deal a large number of SKUs (Stock Keeping Units), the physical sizes of the product and the stability of the load,'' Faulkner says. He went onto say that some shippers have a preference in the tradeoff between the stability of a palletized load being transported and that load's density. Faulkner emphasized that the amount of SKUs and the physical size are the main drivers for optimizing stability and density.
Another colleague at FANUC, Laxmi Musunur, says, ''FANUC can customize how an order is going to be filled and the combination of how product is arranged.'' He added, ''When dealing with grocery chains or Big Box stores, challenges of the number of more SKUs and the physical sizes grows exponentially.'' Musunur is FANUC's Engineering Manager of Packaging and Palletizing.
Because a wide variety of product is being manipulated, the cases product is put into will vary greatly in both size and shape. This variety of sizes and shapes are what robotics is all about. Musunur used diapers as an example to illustrate his point.
''Diapers come in a variety of case sizes. When case sizes are mixed, it is a challenge to get them on a pallet properly. FANUC has systems that are doing this successfully where robots can take many different sizes and stack them on a pallet.''
Musunur went on to say that a particular distribution center might not get a full pallet of goods. An individual store might only need a layer and a half of diapers on a pallet. If so, other items are often put on that pallet load to maximize delivery efficiency, but there is a risk of a mixed load pallet being unstable.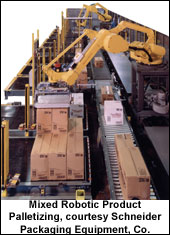 Izzat Hammad, Schneider Packaging Equipment Company's Robotic Systems Sales Engineer, looks to solve any problems stemming from multiple case sizes on one unit load prior to addressing other potential challenges. Schneider is a system integrator and engineering services firm located in Brewerton, New York.
''The first challenge is to optimize the unit load pattern. Multiple case sizes are more difficult to handle and create a challenge when palletized on the same unit load,'' Hammad says. A unit load strives to have all cases the same size. If this cannot be accomplished, an alternative solution is to put product into trays for the robot to handle. ''Trays are all the same size. What is in them can be different,'' says Hammad.
Multiple case sizes are also on the mind of David Williams, Traynor's colleague at Motoman. Williams, Senior Market Segment Technology Leader, says, ''Manufacturers realize it is best to put product into plastic trays, regardless of what is in the trays. The market is migrating to the use of plastic trays versus corrugated cases.'' Williams explained the advantage of product being placed into trays for robotic handling.
''We are seeing a trend toward placing product into plastic trays for robotic handling. What is inside of the tray is irrelevant. All trays are the same size and shape, and are picked up the same way. Manufacturers make up an entire pallet of the common sized trays,'' Williams says.
''If product is in cases, you need to maintain minimum to maximum case dimensions to get a quality pallet stack. Product inside the cases helps maintain the structural integrity of the case and supports part of the load, potentially causing damage. With stackable plastic trays, the trays themselves support the load and maintain the quality of the stack, so the product does not crush,'' Williams continues.
The challenge to design a system for palletizing multiple product types is also one of economics,'' says Williams. ''Injection-molded plastic trays might cost a little more than vacuum-formed trays initially, but they offer many advantages. They have a much more repeatable size and shape, which is important with robotic handling. They last longer and can be used over and over. Eventually, they can be ground up and recycled. Corrugated trays are not as sturdy or repeatable, are generally used only once and then end up in landfills,'' Williams explains.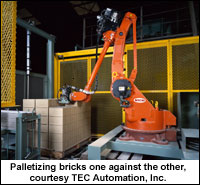 James Webb of TEC Automation, Canton, Georgia, addressed the need for modular tool changers. Webb says, ''TEC Automation often uses modular tooling to handle a variety of products.'' Webb, TEC's Vice President for Robotics, continued by saying ''TEC first identifies the part. Typically reading a bar code does this. That tells the robot where to put that part. Individual part identification is important, so each can be tracked and to build the appropriate pallet configuration.'' Webb says that TEC outlines a customer's particular requirements and analyzes their options to provide a complete package.
Grippers and other end-of-arm tools are the devices that actually handle the product and put it onto a pallet. For Motoman, having the correct type of gripper is key to robotics in a distribution system.
According to David Williams, ''The first requirement is to determine whether you can pick up the product with the gripper you have. In packaging and palletizing applications, people are focused on software, SKUs, and pallets. It is a challenge to place bottles with plastic over-wrapper on the same pallet with cases of potato chips. Integrators have to make sure the system can pick up everything with the gripper.'' Williams added that most of Motoman's customers are handling a wide variety of product. It is difficult to design grippers that are designed to pick up everything.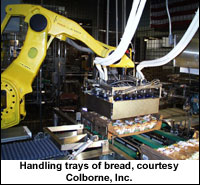 The flow of products through their respective processes presents is another task that robots are called on to monitor. ''One challenge is dividing the flow of products to various packaging equipment. This becomes difficult with line balancing issues,'' says Rick Hoskins, Vice President of Sales at Colborne Corporation., Lake Forest, Illinois.
''Line balancing is important when food product exits coolers, freezers, or ovens. Products tend to accumulate in areas of the conveying system,'' Hoskins continues. He says integrators need to ensure that before deploying robotics, product is evenly distributed to enhance efficiency. Colborne is a system integrator that specializes in food products and secondary packaging.
Justification is Customized
As with other robotic applications, end-users need to be able to justify such a large capital investment. FANUC helps clients justify their investment in robotics by showing the possibility of reverse-stop loading of delivery trucks. In this system, robots fill pallets and load them onto a truck in the reverse order that the truck makes its deliveries. Goods going to the first store are put on the truck last. Faulkner gave the example of convenience stores having customized pallet loads put onto delivery trucks destined to specific stores.
''Reverse-stop loading optimizes the driver's time, so all the product for a particular store is in one area. Also, robotic-based reverse-stop loading lowers incidents of theft, by having all the product for that store secured in one bay of the truck.''
Faulkner explained that a concern of convenience store operators is the theft of goods from an unattended truck while the driver is inside the store with part of the order. With robotic reverse-stop loading of trucks, a store's entire load is in one bay of the tuck. All product for that store is unloaded once and the truck is secured while bringing the order inside. ''If there are more deliveries, the next store's order would be in the next bay of the truck. At no time is the truck cargo doors open unattended. Companies are able to save money on lost product,'' Faulkner says.
L.P. Musunur agreed with his FANUC associate saying, ''The drivers take less time to find product so are more time-efficient. This decreases the cost of distribution.'' Making the load denser optimizes space in a delivery truck, Musunur continued. There is less driving, so less gasoline is used and there is a reduction the number of trucks making deliveries. ''To make this application justifiable by the customer, FANUC makes them commercially affordable,'' Musunur concluded.
Efficiency in materials is another justification of using robotics in distribution systems. ''TEC Automation uses value analysis software to justify investments in robotics. The primary virtue of robotics is its consistency,'' says James Webb. ''People are not consistent. People are thinkers and planners, while robotics do the difficult and dangerous things.'' Webb says people ought not to load pallets due to ergonomic and repetitive stress syndrome concerns.
Webb says planning issues are diminished with the use of robotics in distribution systems. ''There are no spikes in the throughput of building pallet loads,'' Webb explains. Distribution facilities are likely to have other pieces of machinery, such as filling equipment.
''It is easier to tie a machine to another machine like filling equipment, than it is to tie a machine to people,'' Webb continues.
Finally, Webb says robotics saves money in the long run because there is less damage to goods, product does not get dropped, as often and there is less scrap.
What's in store for stores?
''ABB sees a trend moving away from standard single product configurations towards palletizing upstream to the end of the packaging line,'' says Rick Tallian, Segment Manager for Consumer Industry at ABB, Inc., New Berlin, Wisconsin. ''Robotics is helping companies perform a distribution function in their manufacturing facilities. They are creating a customized pallet that they can ship to a store,'' Tallian says. ''This eliminates the requirement for distribution centers.''
In the past few years, robotics has had an increasing role in distribution systems. With the advent of better vision systems and software, this role can only increase.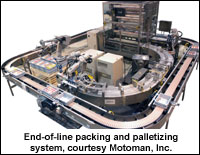 David Williams and Carl Traynor of Motoman see easier to use software for robotic-based distribution systems. ''The quality of simulation software has improved substantially, most importantly in the user interface. It is now possible to import case patterns and to make the robot programming process automatic,'' says Traynor. ''In the next five years, Human Machine Interfaces (HMIs) will continue to be enhanced and less expensive to the point where inexperienced operators can use them.''
Looking ahead, Traynor sees an increase in the market for customized distribution systems using robotics. ''In the next five years, I think customers are going to be more interested in robotic palletizing rather than dedicated palletizers,'' Traynor says. ''The move away from dedicated palletizers is well underway, as customers are now demanding the flexibility of robotics.''
Robot systems now include tools for managing and overcoming distribution tasks, including comprehensive approaches to executing the process. ''So, although integrating a customized distribution system using robotics is a challenging task, robot vendors have taken steps necessary to minimize risk and maximize return for customers,'' says Traynor.
FANUC's L.P. Musunur and Don Faulkner both see improved vision. ''In the next five years, I see continual improvements in vision. FANUC has two and three-dimensional vision products, so there can be more than one robot in a cell. This is more cost effective,'' says Musunur. While Faulkner says, ''There is going to be enhanced vision to handle a wide variety of environments, not just controlled environments.''
Musunur further says there will be an increase in capability with a decrease in costs. ''As FANUC gets more distribution application customers, there will be more to decrease costs,'' Musunur said. FANUC is poised to fulfill this increasing demand for robotic-based distribution systems.''
Both Musunur and Faulkner see more and better force sensing on end-effectors. ''There will be the ability to grab product with less force when that is necessary, as to prevent crushing of the product,'' predicts Faulkner. He also sees better integration of distribution systems utilizing robotics. ''I see unskilled labor operating robots, with Game-Boy simplicity,'' Faulkner said.
As manufacturers strive to become more efficient, they will increase their demand for integrators to configure packaging and palletizing systems for their specific needs. With the continual evolution of software that resides in robotics, robot makers are providing integrators with the powerful but easy to use tools to meet this increased demand. Look to see customized packaging and palletizing applications becoming the norm in a manufacturing plant near you.