Cooking Up Success: Space and Labor Limitations at Frozen-Foods Manufacturer Overcome By Robotic Palletizing System
POSTED 01/19/2004
 | By: Reprinted by permission from Robotics World
Rich Products, a frozen food company, needed three, and eventually four, automated case palletizing lines for the three-shift operation in its Winchester, Va., plant. The area's labor pool was small, with many manufacturers competing for it. However, there was no floor space available for automating the three packaging lines, and adding another room was not an option. At the plant, frozen rolls, breads and sweet goods have to be moved into the holding freezer from the packaging floor before the frozen, raw dough begins to thaw. This taxed the workforce and the forklift operators.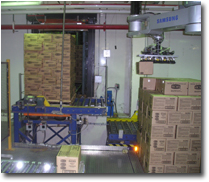 Dwight Carey, president of American Productivity Group, toured the plant and discovered an old 30-foot by 30-foot sunken compressor room next to both the holding freezer and the packaging room. Carey pointed out to Jim Pratt, the plant manager, that two Samsung PL2 horizontal articulating robot palletizers could service the three lines and a potential fourth line in the space. The control system for the Samsung units could also handle 40 or more SKUs, the constantly changing case sizes on each of the dedicated three lines and do this without anyone ever entering the room to make conveyors adjustments.
APG decided to feed empty pallets from an automatic pallet dispenser at the entrance to the packaging room from the holding freezer door. This dramatically reduced the distanced traveled by forklifts bringing empty pallets into the packaging room and eliminated removing full pallets from this area. Empty pallets from the dispenser are lowered automatically into the sunken room by a scissor lift, moved onto the shuttle car and delivered to the three palletizing zones.
All cased products are moved from different areas of the packaging room and down into the new palletizing area to the two robots. As each pallet is completed, the shuttle car transfers it between the two Samsung palletizers to the freezer side of the room. The shuttle car then transfers the full pallet onto a second scissor lift, and the full pallet is raised automatically to the floor of the freezer. While this is occurring, the next empty pallet is transferred to the shuttle car and returned to the empty pallet zone. Because there is no human intervention in any of these procedures, the robots continue to palletize the other two pallet zones. When the completed pallet scissor lift reaches its maximum elevation, the load is transferred onto a pallet highway that moves this load two zones. In the second zone, an automatic door to the freezer opens and the load is transferred 90 degrees into the freezer, where full pallets accumulate and wait for rack storage. The system allows the frozen, raw product to be transferred to the freezer without any delay.