Construction Robots and Constructing a Robotics Community
POSTED 10/11/2007
 | By: Bennett Brumson, Contributing Editor
Automobiles and consumer goods are among the many products we see every day that traditionally have been manufactured with the help of robotics. The use of robots in the construction and building industry is still not commonplace, but it is increasing slowly but surely. From welding steel I-beams for buildings, to handling insulation where it is manufactured, the use of robots is making steady inroads into the construction and building industry.
As robotics are used in increasing numbers for nontraditional applications such as in the construction industry, the robotics industry looks forward to its annual get-together, to measure its success and plan for the future. Robotics industry leaders, suppliers, integrators and end-users will congregate at the 15th Annual Robotics Industry Forum to be held in Orlando, Florida, November 7-9. The Robotics Forum is the perfect venue for those in the industry to engage in ''Connectioneering'' – a series of 20-minute meetings where attendees build executive level business connections.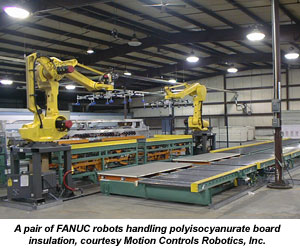 Construction Robots
Motion Controls Robotics, Inc. (MCR), a FANUC Robotics certified servicing integrator, Fremont, Ohio, has integrated systems that handle insulation for packaging applications. Scott Lang, President of Motion Controls Robotics says, ''MCR has integrated systems for the construction industry doing material handling of rolled fiberglass insulation for use in homes and commercial roofing. Insulation is made in a continuous stream then cut into smaller pieces.''
Lang continues by saying, ''Our system stacks and bundles the insulation into different configurations as required by our customers. The robot batches rolled insulation together then stretch-wraps them for shipping.''
MCR has also built robotic work cells that manage other types of insulation. ''MCR has integrated robotic work cells to handle rigid polyisocyanurate board insulation in sheets measuring four feet wide by 20 feet long. Robots put the board insulation into cartons, then palletize and unitize the cartons.'' The throughput of these systems is impressive. According to Lang, polyisocyanurate boards can be cut, put into cartons, palletized and unitized at a rate of 42 linear meters per minute. Some work cells can be run as fast as 67 meters per minute, depending on the laminating process.
Lang says MCR has also integrated systems performing similar tasks in the packaging and palletizing of house wrap. ''The house wrap is manufactured on a huge roll, from which the robot cuts it into the rolls offered in retail stores. Our systems shrink wrap the retail-sized rolls, then package and palletize them according to the customer's specifications.''
MCR has also has integrated work cells that package and palletize foam pipe insulation that is used to cover hot pipes. ''The rolls move through very fast, and our system packages the rolls into boxes, puts the boxes into cartons and palletizes them,'' says Lang.
Michael Sharpe, Director of Engineering Materials Joining at FANUC Robotics America, Inc., Rochester Hills, Michigan, explains how robots are used for fabrication by the construction industry. ''Robots are used for welding and assembly in concrete finishing machines and in the handling of bricks and insulation,'' says Sharpe. ''Most installations are in production plants but some are now in the field in a limited fashion.''
Sharpe points out that, ''Robots used in the construction industry are performing arc welding of metal components used to build construction machinery, and are handling insulation and windows. These systems are capable of routing, palletizing and packaging. Robots are also applying adhesives or sealants to building materials such as window frames, glue laminates, as well as the fastening and assembly of doors and windows.''
Bricks and Blocks
Robots are used for laying bricks and concrete blocks. Both are repetitive and physically punishing tasks when performed manually, so they are ripe for flexible robotics to be integrated into these jobs. The functions that a block or bricklaying robot are performing consist of picking from a pallet and applying the mortar. For robotic brick and block laying to be viable, the robot would need to be able to handle a wide variation of sizes and types, be able to dispense mortar, and be able to sense variations from one brick to the next.
Bricklaying robotic work cells are equipped with a standard vacuum gripper that can manipulate a variety of bricks or concrete blocks. The system determines a datum from which all blocks or brick are placed. While few examples of robotic-based brick laying work cells are actually on the job, the feasibility of such a system has been proven in trials. Meanwhile, some companies such as the French brick factory, Lhoist Réfractaires, use robots to palletize their products.
Robotic concrete dispensing is another emerging application in the construction industry. The process entails a robot layering concrete vertically to form a structure. The robot dispenses the concrete much like an adhesive, albeit an extremely heavy one.
Steel Up, Time Down
Japan is on the forefront in the use of robotics in construction. A system deployed by a Japanese construction firm uses a pair of six-axis robots to carry out arc welding on structural steel for use in buildings.
Through the use of robotics, the required time to put up steel in buildings is cut by reducing the amount of welding necessary on the construction site. Steel I-beams are pre-cut by robots and brought to the job site when required with relatively little welding necessary. Most welding is performed by the robot in the factory, lending the building process to lean, Just-in-Time manufacturing.
As with conventional robotic welding applications, repeatability and accuracy are vital, usually within 0.16 mm. The work cell cuts holes in the I-beams for running the building's plumbing and electrical systems as well as cutting the beams to their desired length. In addition to welding, the robot also applies a part number on each I-beam to facilitate speedy assembly on the job site. Look to see robots at a construction site near you.
Three Days at the Forum
People in the robotics industry have the opportunity to discuss construction robotics and other nontraditional applications at the 15th Annual Robotics Industry Forum. Hosted by the Robotic Industries Association (RIA), Ann Arbor, Michigan, the Forum is the place for those in the industry to see what is new and to hear informative speakers on a variety of important topics. A feature that debuted at the 2006 Forum is ''Connectioneering,'' private one-on-one meetings of upper-level robotics executives and end-users.
RIA's Jeffrey Burnstein, Executive Vice President, says, ''Connectioneering was first at the Robotics Forum in 2006 and it was a huge hit. Connectioneering allowed companies to formalize the networking process that takes place at the Forum. By scheduling meetings in advance, robotics companies who participate in Connectioneering are assured that they can talk privately to the people they most want to meet with. Robot companies have the opportunity to talk in-depth with people who may not have been on their radar.'' Burnstein concludes by predicting that Connectioneering will play an even larger and important role at the Forum this year.
Likewise, Ronald Potter, Senior Director of Emerging Technologies at Motoman Inc., West Carrollton, Ohio has praise for Connectioneering. ''Connectioneering is very useful to Motoman. Last year we met privately with a company who is now a partner with Motoman, and that partnership has worked out quite well. Connectioneering provides the privacy and confidentiality to review with other companies, to help get ideas into motion, and to advance areas your company wants to develop. The Connectioneering process is a valuable part of the Forum and will become the norm.''
Potter adds that Connectioneering at the 2006 Forum was very effective and provided a lot of positive feedback for Motoman and other companies. In short, Potter says, ''Motoman is very high on Connectioneering.''
The Robotics Industry Forum offers more than just Connectioneering. Speakers from the Ford Motor Company, Corning Incorporated, and the Rensselaer Polytechnic Institute are scheduled. One speaker will be RIA's next president: Richard Litt, President and Chief Executive Officer of Genesis Systems Group, Davenport, Iowa.
Litt, currently RIA's First Vice President, says, ''I want to look at long-term strategic planning. As RIA has matured, the robotics industry has seen considerable change and consolidation.'' Litt also contends that RIA will not turn its back on historical programs, but it needs new programs to grow its integration and strategic planning bases. ''Those are areas that I will be emphasizing at the Forum,'' Litt notes.
Litt says as the first systems integrator that has been elected president of RIA, he wants to push what individual member companies are good at and develop a network of system integrators that have industry-specific know-how. ''These are areas that RIA wants really wants membership to grow. I will look at offering new programs and to network integrator resources,'' Litt says. ''Expansion into these 'soft areas' is necessary if the robotics industry wants to continue to grow.''
Genesis, an RIA member company, has its own aspirations for the Forum. ''Genesis goes to the Forum to support the robotics industry, to learn about new applications as well as learn of new opportunities and threats. Also, the Forum is the place to network with old friends and competitors,'' Litt says. ''The Forum allows us to get refreshed on what is new, what is no longer relevant, and to re-calibrate where the robotics industry is going in the next year.''
Editor's Note:
This article has been reviewed by members of the RIA Editorial Advisory Group.
For more information, you may contact any of the experts listed in this article or visit Robotics Online, Tech Papers.
Jeffrey Burnstein, Executive Vice President, Robotic Industries Association, 734-994-6088, jburnstein@robotics.org
Michael Sharpe, Director of Engineering Materials Joining, FANUC Robotics America, Inc., 248-377-7000, Michael.Sharpe@fanucrobotics.com
Richard Litt, President and CEO, Genesis Systems Group, 563-445-5600, rlitt@genesis-systems.com
Scott Lang, President, Motion Controls Robotics, Inc. 419-334-5886, scott.lang@mcri-us.com
Ronald Potter, Senior Director of Emerging Technologies, Motoman Inc., 937-847-6200, ron.potter@motoman.com