Coming Off Banner Year, Robot Industry Looks Forward to 2004
POSTED 01/15/2004
 | By: Winn Hardin, Contributing Editor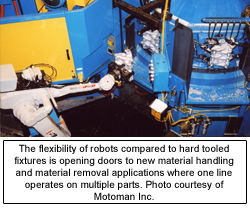 Just two short years from one of the worst economic downturns in the robot industry's history, companies are using words like it's 1999 … when the industry was at its peak. But after a painful industry contraction in recent times, companies from coast to coast expect the newly established momentum of 2003 to carry over to a successful year in 2004.
According to statistics compiled by the Robotic Industries Association, North American robotics suppliers received orders for 10,051 robots valued at $698.2 million from North American manufacturing companies in the first nine months of 2003. An additional 331 robots valued at $29.3 million were ordered by manufacturing companies from outside North America. The combined totals of 10,382 robots valued at $727.5 million represents an increase of 28% in units and 15% in dollars over the same period in 2002.
''While it's too early to know if any time soon the robotics industry will break the record sales posted in 1999 and 2000, we're very encouraged by the fact that nearly as many robots were ordered through the first three quarters of 2003 as were ordered in the entire year of 2002,'' said Donald A. Vincent, Executive Vice President of RIA. (Yearend statistics were not available at press time for this article.) ''We'll see what 2004 has in store, but barring another downturn, solid gains are predicted.''
RIA's new president, Ake Lindqvist, a 30-year veteran of ABB Inc., expects the robotic industry to have relatively steady growth over the next few years.
''We saw some major orders in the first half of 2003, mainly from the automotive industry, but that was because they didn't buy much in 2002,'' said Lindqvist. ''In 2004, I think we can expect industrial applications (non-automotive) to return to healthy growth. If we see 10 percent growth in 2004, we're probably doing pretty good.'' Lindqvist is Group Vice President, Robotic Products and Automation N.A. of ABB, Inc. (Auburn Hills, MI).
Productivity, Productivity, Productivity
The rising level of capital expenditures for robotic work cells came at the leading edge of what has been deemed an uneven economic recovery that began just a few short quarters ago. Only recently has there been a fairly broad investment in production equipment. So how did the robotics industry beat the odds and come in with one of its best years on record in 2003?
''We're a precursor to the entire economy,'' explained Craig Jennings, President of Motoman Inc. (West Carrollton, Ohio). ''We're capital equipment, but we're capital equipment that's geared toward two things: cost reduction and productivity improvement. So when we see orders take off (in robotics), that's a precursor to the rest of the economy.'' Jennings has been in the industry more than 20 years, and is a past president of RIA.
Productivity improvements are not the only reason behind the robotics industry's positive outlook for 2004, as FANUC Robotics America, Inc. (Rochester Hills, Michigan), President and CEO Rick Schneider attested.
''International exchange rates are also helping,'' Schneider noted in a reference to how the dollar had softened against the Japanese Yen and the EU Euro in late 2003, thus improving the international export environment. He continued: ''Technology also has an impact. We're stressing intelligent robots with enhanced vision and force sensing capabilities that make new (robotic) applications possible.'' Schneider has more than 20 years of experience in the robotics industry.

The improving dynamics of world markets and new technology is expected to provide solid growth for the robotics industry in 2004. ''We (Motoman) expect a 40 percent growth rate for 2003, that's record annual growth for Motoman,'' Jennings continued. ''I don't know to what level anyone could sustain this kind of rise, but we're certainly bullish about being up 10 to 15 percent next year. I would expect to see the robot industry up 10 to 15 percent overall in 2004.''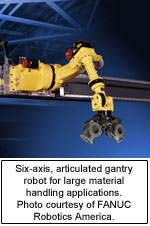 Material Handling Applications Lead the Way
Industry experts expect material handling applications to continue to lead the industry in sales revenue, units and most other metrics that matter.
''Material handling has been the horse for the robot industry during the past decade. It's the largest market segment for robots,'' said Motoman's Jennings. ''It cuts across small and large payload robots, and across all markets: consumer goods, perishables, machine tool, pharmaceutical, etc.''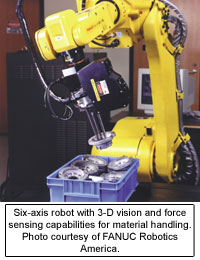 According to FANUC's Schneider, integrating force sensors into robot end effectors is helping to expand the world of material handling applications: ''When you combine a limited force sensor with vision sensor … we're finding that it gives the applications shorter cycle times, better quality and eliminates ergonomic issues. We see multiple wins as a result of companies moving to intelligent robotic solutions in material handling.''
The rising cost of employee health care is one factor that is pushing companies to look at new material handling systems, including robotics. ''Companies have to find ways to keep people from having repetitive motion injuries, and other problems that go with moving heavy parts or doing tedious operations eight hours a day,'' said Motoman's Jennings.
Vision systems also are seeing new duty with material handling applications, opening up areas that were once beyond the ability of a robotic work cell. Random bin picking is one example. ''You need to be able to determine the orientation of a part for bin or rack picking,'' Schneider explained.
Despite concerns in the general industry that random bin picking with high-uptimes is still beyond the capabilities of robotic work cells, Schneider explained that random bin picking is not only possible with today's technologies, but happening every day -- it is just a matter of finding a vendor with proper design, programming and integration experience.
''It's a matter of having a library of set tools that allow you to do the application. We're building bigger tools and libraries all the time. If someone says bin picking is not feasible, the answer is: 'It is possible, depending on the part,''' said Schneider.
Robotic Welding Operations Expected to Grow
Personnel issues also are drivers behind the use of robots for arc and spot welding. Health and safety are among the factors, but so too is the effect of a shrinking pool of skilled tradesmen for arc welding.
''We anticipate that arc welding will continue to grow (in 2004),'' Jennings predicted. ''We're finding a shortage of labor in arc welding in general, so people are employing robots more and more for various types of welding, whether it is thin metal MIG welding or heavy welding in agricultural and construction industries.''
Jennings added that the acceptance of robots in welding applications for markets like automotive, construction, and recreational vehicles is helping to encourage the use of the technology in non-traditional manufacturing applications for consumer goods and other industries. ''People aren't afraid of robots anymore,'' he said.
One reason fear has abated for many users, especially for those in the industrial market, is the comfort that comes from simple, standardized modules that are easy to adapt.
''A lot of our success has been driven by a move toward standardization of the arc welding work cells,'' said Richard Litt, President and CEO of arc welding robot integrator, Genesis Systems Group (Davenport, Iowa). ''But the one thing you can't standardize in this application is the fixture, and that's an area where we've seen significant growth because we've internalized the fixture building.''
Although Litt said that revenues are up dramatically for arc welding applications, they are still slightly behind the levels of 1999, a benchmark year for robotics. He has the perspective of one who in 1983 founded his own company, Genesis Systems Group, and now serves on the Board of RIA.
''Automotive has been our life boat, but we're starting to see an up-tick in industrial applications, especially in agriculture and construction, logistics and leisure goods. I look for (the industrial) sector to be up sharply in 2004,'' Litt said.
Steady Growth in Coating and Dispensing
Motoman's Jennings also expects steady growth in dispensing and coating as more industries capitalize on robotics' ability to save on raw materials and improve product quality.
''Material handling has been the work horse of robotics, while arc welding actually went down about five years ago and has come back to record highs. Coating, however, has been the 'Steady Eddie,''' Jennings explained.
''(Coating and dispensing robots) comprised about 18 percent of the (robotics) market a decade ago; 19 percent five years ago; and 20 percent now. That's steady, but the change in the mix of markets is interesting. It used to be entirely automotive and some construction and military, but now everyone widely deploys robots for coating applications because of the simplicity of use and the price (of the work cells) has come down. Today, less of the coatings and dispensing market is consumed by the automotive industry because it's fairly well saturated, but consumer goods, toy makers, etc., are deploying robots today for this purpose,'' Jennings concluded.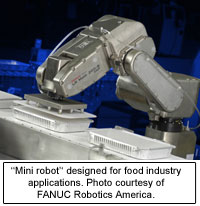 New Horizons: Material Removal & Services
The quality, flexibility and productivity improvements that robots are known for is having the effect of opening up new application areas. Material removal, which has long been a manual process, is widely seen as a growing market with significant upside. Although 2003 growth in this area was limited, Glen Carlson of ACME Manufacturing Company expects 2004 to show positive growth.
''There's a growing tendency to use robotics in material removal because you have a lot more flexibility and changeover is easier,'' Carlson said.
A 26-year veteran of the robotics business, Carlson has served since 1991 as Chairman of ACME, a company that specializes in robotic finishing systems. He explained that, unlike material handling applications, material removal work cells may require the robot to take the part to several machines around the work cell for radiusing, deburring, polishing and other surface finish operations. In addition to the automotive aftermarket manufacturers, Carlson said he is seeing growth in the medical (prosthetics and joint replacements), aerospace (turbine polishing), construction and consumer goods markets.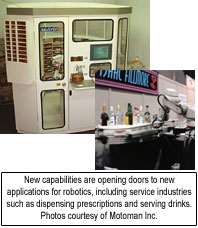 The convergence of public acceptance and new capabilities for robots seems to favor an accelerated realization of the futuristic ideal of robotics, according to Jennings. For instance, the service industry is a growing industry for robotics. Examples include robots that fill your car with gas (used in the UK), or act as bartenders, or as first responders in hazardous environments – an application area the U.S. Department of Defense has pursued for several years.
Today, the combination of vision, fine motion control and force correction are placing robots in new and surprising applications -- even cutting-edge medical procedures. So the next time you go in for brain surgery, don't be surprised if the surgeon has little to say and cold hands – it could just be the latest six-axis rotary robot going for the scalpel!