Collaborative Robots: Raising the Human Condition
POSTED 12/16/2019
 | By: Tanya M. Anandan, Contributing Editor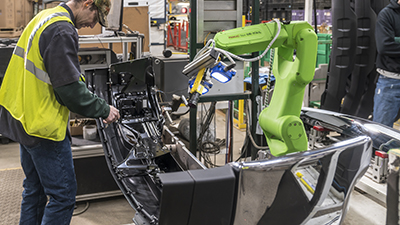 Collaborative robotics is more than one kind of robot. It often involves a human working alongside a robot, and the collaborative robot (or cobot) is usually fenceless, but not always. They can have one arm, two arms, or none at all. They can be mobile or portable, small or large. They can work alone or as a fleet. Even standard industrial robots are fair game, thanks to innovations like FreeMove™.
Last month we set out to broaden your view of human-robot interaction and collaboration. We're back to do it again. We'll show how robots tackle labor shortages, reduce costs and optimize floor space. How they elevate the jobs humans do while improving process efficiency.
From making floral bouquets to inspecting bumpers, and bagging this season's hottest tech toys, cobots are transforming the human-robot paradigm and knocking down barriers on the shop floor, between entire industries, and on a global scale.
Bumper-to-Bumper Cobots
Tier 1 automotive supplier Flex-N-Gate Corporation puts collaborative robots to work on the assembly line inspecting bumpers and other fascia components. These camera-wielding cobots use machine vision to inspect assembled components for proper orientation and installation. The robots work alongside their human coworkers without safety cages or other hard guarding to separate man from machine.
The Urbana, Illinois-based company supplies bumpers, exterior trim, lighting, chassis assemblies, and other automotive products. At the supplier's Ionia, Michigan facility, they stamp and assemble steel bumpers for the Ford Ranger pickup truck, among other vehicle platforms. Here, cobots inspect parts in two different assembly areas.
"We supply a full bumper assembly module delivered directly to assembly plants," explains Nick Wiegand, Director of Advanced Manufacturing – Global Metals and Assembly Group at Flex-N-Gate. "We fabricate the steel shells via a progressive stamping process. The steel shells are then either painted, or chrome plated, or in some cases powder coated. Then we have other components that have to be affixed to the bumper, including internal structural components, fasteners, air dams, fog lamps, bezels, front parking assist (FPA) sensors, rear parking assist (RPA) sensors, blind-spot warning (BSW) sensors, integrated wiring harnesses, active air dams/grille shutters, and myriad other plastic and composite finishing accessories.
"The amount of electronics that go into a bumper assembly these days is mind-boggling," says Wiegand. "We're utilizing camera-carrying cobots in our assembly processes to ensure we have the right color/style combinations, and that all the requisite components based on the part recipe are present and installed correctly."
In one area of the shop floor, workers load a steel bumper onto a fixture in front of a green cobot arm. The FANUC CR-7 collaborative robot outfitted with a Cognex camera and integrated lighting swoops across the part inspecting and error-proofing assembled components. While the robot does its job, the operator can be tending to other areas of the assembly module.
On the moving assembly line, inverted FANUC cobots mounted just above the line workers' heads maneuver at different angles, examining parts as they advance down the line. Watch Flex-N-Gate's camera-wielding cobots at work.
"Our biggest challenge was programming the cobots for line tracking," says Wiegand. "Flex-N-Gate was the first in the industry to attempt this feat. We worked with the robot supplier and system integrator to solve issues as they arose."
Cost Savings
Automated inspection has evolved at Flex-N-Gate. Traditionally, error proofing was done with a bank of overhead cameras, but this approach had its limitations. Fixed cameras made it difficult to see parts at optimal angles for the vision systems to read accurately and repeatedly. Company engineers had a better idea.
"Why don't we put a camera at the end of a robot arm and take the camera to the inspection instead?" says Wiegand. "That was phase one in our evolution."
They mounted a camera on a conventional robot arm. Now they were able to position the camera in ideal locations for inspection and view aspects of parts they couldn't see before. Now they only had one camera to maintain instead of up to a dozen fixed cameras.
Wiegand says some of these cameras can range from $10,000 to $15,000 a piece, so the savings were significant. The next phase in their evolution – deploying cobots – would further reduce costs.
Space Savings
Flex-N-Gate was performing vision inspection with conventional high-speed, low-payload robots for about a year. Meanwhile, collaborative power and force limiting robots were garnering more attention as their applications grew, setting the stage for the supplier's transition to inspection with collaborative robots.
"We were doing this with traditional robots, which required them to be caged and guarded per the RIA safety standards, just like you would any other industrial robot," says Wiegand. "We're now able to do the exact same thing with collaborative robots and eliminate all of the guarding and a majority of the safety-related hardware costs. Now an operator can actually work beside the robot in that same station, enabling human work and robotic vision inspection simultaneously."
This collaborative robot cell not only saves costs associated with guarding and required safety devices and interlocks, but it also saves the floor space often required for fenced robot cells.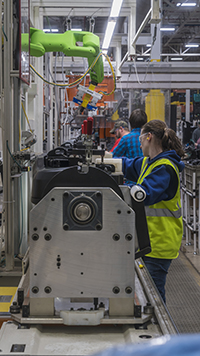 Safety First
There are different ways to achieve a collaborative robotics application, as explained in Testing Thresholds for Collaborative Robot Safety and evidenced on the bumper assembly line. Besides the inherently collaborative nature of power and force limiting robots, Flex-N-Gate uses an area laser scanner in conjunction with their cobots to further support safety while optimizing production efficiency.
"In order for it to be a collaborative application, we're limited to a maximum collaborative speed for safety reasons," says Wiegand. "In some cases that can be problematic, because we're unable to get all the work completed in time with the slower robot travel speeds. In some cases, we've used a safety scanner so that when an operator is not in the area, the robot can run at full speed. When humans come near the robot, it slows down to a safe collaborative speed. The operator can simply touch the robot and it stops.
"You can physically just push them out of the way, too. When you restart the robots, they go right back to where they were and carry on with their jobs," he adds.
Wiegand says safety is number one at Flex-N-Gate.
"We dot our I's and cross our T's to ensure that we are in fact integrating these units per the RIA standards and that we are 100 percent safe," he says. "We also go a step further and require third-party safety certification."
Proper training for personnel working with and around the new collaborative robots was also a priority.
"Traditional robotic safety and avoidance of human-robot interaction is so engrained in our workforce," says Wiegand. "Our technicians were sent for collaborative robot-specific training (provided by the robot supplier) and we did safety demonstrations with the plant personnel and operators. It was a bit of a paradigm shift, but it didn't take long for team members to become comfortable working around the collaborative robots.
"I've spent my entire career in automation and robotics," he says. "Robots and people occupying the same space has always been a huge no-no. It's cool to see how getting over that hump was surprisingly easy. A lot of it boils down to physically demonstrating that it is, in fact, safe. Showing people something, versus telling them, has a different impact."
Flex-N-Gate has deployed 33 collaborative robots at different facilities throughout the U.S. and Mexico. Worldwide they have approximately 2,000 traditional robots across 62 facilities.
"In the last year, we've really gone hard and heavy in the collaborative space," says Wiegand, noting that right now, they primarily use the cobots for vision inspection. "As more opportunities present themselves, we'll continue to look at collaborative robots as a potential solution."
On the West Coast, a different manufacturer was looking to cobots as a potential solution for labor shortages. A robot integrator came to the rescue with two sets of collaborative arms.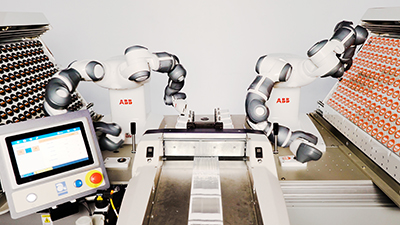 Cobot Twins Curb Labor Woes
Promotional products supplier iClick had a problem. Their popular PopSockets grips for mobile phones were flying off the shelves, but the Seattle-based company couldn't hire enough workers to keep up with demand. Kitting and bagging product was a tedious job.
Workers were manually attaching the grips to promotional cards and then feeding them one at a time to an automated bagging machine, a labor-intensive process. Even with a crew of four, the workers couldn't keep up with the bagging machine to maximize capacity. Labor continued to be difficult to find and retain.
In an effort to move workers to higher-value jobs, iClick sought out robot integrator House of Design to offer a collaborative robot solution. The FlexBagger system was born.
The robotic kitting and bagging system consists of two ABB YuMi® dual-arm collaborative robots. In a carefully choreographed dance of their seven-axis arms, each robot attaches PopSockets to promotional cards and then drops them into the automated bagging machine.
Watch the cobot twins take turns bagging branded PopSockets.
Since each robot must occupy the same space as they deposit assembled items in the bagging area, the timing of the arms needs to be coordinated to avoid collisions. House of Design used ABB RobotStudio to program the robot workstation and ensure smooth movements of its kinematically redundant arms.
Flexible Kitting and Bagging
Chad Svedin, Project Manager for House of Design in Nampa, Idaho, says the manual bagging process was painstaking. Human workers weren't able to put the product in the bags fast enough. With two dual-arm robots working in concert, they can perform the work of four people and keep the automated bagger fully stocked.
Launched in February 2018, this was iClick's first foray into robotics. It was so successful that less than a year later, they ordered another FlexBagger system.
House of Design markets the FlexBagger for other kitting and bagging applications. The YuMi cobot is equipped to grab various small items such as screws, nuts or washers and assemble them in bags. Check out this demo with different sizes and colors of interlocking toy bricks.
Like other power and force limiting cobots, YuMi has special characteristics to help it work collaboratively in close proximity or directly with its human coworkers. It was important to iClick to have a collaborative robot so its workforce could easily enter the robots' operating space to remove defective items or replenish products when necessary. The dark gray areas on YuMi's arms are padded for safety in the event of contact.
"If someone juts their hand into the working system, it bumps into them and freezes in its spot," notes Svedin. "A minor bump will stop it from moving."
House of Design trained iClick personnel on safety, and how to run and program the robots.
"They loved that the robots looked very humanlike and that they could approach it," says Svedin. "It wasn't this thing in a box away from them. They saw it as a part of their crew."
Cobots are part of the crew in unexpected places. Manufacturing isn't the only sector with labor woes. The floral industry is on the verge of a labor crisis and looking to automation for solutions.
Roses and Robots
Visitors to the Automate Show last April may have caught a glimpse of a cobot arranging small bouquets of roses, or you may have even taken home a souvenir bouquet. Some of us skipped the buds for the backstory.
FloraBot is the brainchild of Founder and CEO Alex Frost, a second-generation florist who grew up in his parents' retail flower business. For the past dozen years, his Fort Lauderdale, Florida-based software company, QuickFlora, has been providing cloud-based ERP systems for floral retailers.
"We work with a lot of retailers in the U.S. and Canada helping them manage their software technology frontend and backend systems. We have a front-row seat to some of their challenges. Over the last 5 to 10 years, there have been fewer and fewer people going into the flower business, so it's hard to find qualified floral designers to work in flower shops."
He says you compound that with increasing minimum wage rates in many places such as California, and you have a real labor shortage in the floral industry. It's an environment he thinks is ripe for collaborative robots.
"We see them flipping hamburgers, making pancakes and serving coffee. We decided last year, let's bring one of these machines in here and see what it can actually do," says Frost. "Can we program it to make flower arrangements? Can we create a turnkey cell for end users?
"If you think of Kroger, they have 4,000 stores across the country (marketed under different supermarket brands). Each store needs about 10 to 30 arrangements every day," he says. "Those are all made by hand right now. Usually, you have 50 to100 people in a cooler set at 34 degrees. The process is very labor-intensive and you can't scale it. When Valentine's Day or Mother's Day comes around and volume increases 5 or 10 times, you can't just hire 5 or 10 times the people that fast when you don't have space. There's a labor shortage issue, a labor cost issue, and a scalability issue."
Automating Floral Design
Frost sees an emerging market, not only in North America but worldwide. In fact, most of his inquiries come from Western Europe, because labor costs are higher and the European market tends to be more receptive to adopting automation technologies. He notes the evolving niche for precision agriculture, which we examined in Cultivating Robotics and AI for Sustainable Agriculture, where startups and established companies are adapting collaborative robotics for farming.
"We sort of fit into that category because we're dealing with product that is very sensitive, not heavy, that requires specialized grippers, force control, and vision systems to actually make it work," says Frost. "There are a lot of similarities between our technology and that technology in terms of trying to handle delicate flower stems of all shapes and sizes, and then pick and place them into specific xyz coordinates with reasonable cycle time and low defect rate."
He was skeptical himself at first. But as their research and product testing progressed over the last year, he became a believer. They decided to start with a Universal Robots collaborative robot because of their relative ease of use and ease of programming. They have a built-in ecosystem of compatible hardware makers and apps. They're also easily portable.
The current FloraBot system uses a UR5 cobot with a Robotiq Hand-E gripper. Previous testing was conducted with grippers from Ubiros and Soft Robotics. Frost says the gripper system has been a big part of the learning process.
"What we realized is that nothing worked off the shelf. Absolutely nothing. We had to come up with our own proprietary fingers. Now we're working on our own proprietary servo-electric gripper. It will give our end users more flexibility."
Check out this early iteration of the FloraBot system in action on the trade show floor.
Turnkey and Travel-Ready
While patents are still pending, FloraBot won't release shots of the near production-ready system. They are currently pilot testing at one company in Miami. They plan to start shipping units in January 2020 right after their official launch at the Consumer Electronics Show (CES).
Frost says the system can assemble AIFD-quality floral arrangements at 100-200 units per hour, 24/7, and with an ROI in less than a year. Right now they plan to sell the system, but eventually, he expects to move to a RaaS model. That way flower companies and growers will be able to try it without making a CapEx investment.
FloraBot supposedly excels at small arrangements about 12 cubic inches. But when you get into larger arrangements like a dozen long-stem roses in a vase, it requires a different kind of gripper. That's where FloraBot will have to turn to proprietary grippers of their own.
Frost is envisioning a turnkey system they can ship on a 48 in. x 48 in. pallet, basically one robot cell that can do specific tasks within an assembly line. For example, to create an arrangement you may need six cells on the line. One robot that cuts the foam for the container, one that hydrates the foam, one that picks/places the foliage, then one that picks/places the flowers, one that sleeves the arrangement, and another that puts it in the box.
"Right now, we see that the machines are capable of doing 75 percent of what humans do in the floral business, whether it's a typical flower shop or the mass market," says Frost. "That's really the sweet spot for this technology, the mass market because they crank out high volumes (2000-3000 bouquets) of the same type of arrangements on a daily basis. There will always be a market for people that want something custom. But the reality is most retail florists make the same arrangements week in and week out."
FloraBot has been approached by companies that put flower arrangements in boxes and ship them around the world. There are a lot of new, innovative players in the flower business. Frost says most of the new upstarts are the most receptive to automation.
"We've had requests to do Hawaiian flower leis, which is a very labor-intensive process. Others want us to make different animals covered with roses, which is popular in many countries. That's also very labor-intensive because you have to cut out a foam model of a little French poodle and then put 600 roses on it. That usually takes 4 to 8 hours. There are definitely cases where machines will take over in terms of production capability.
"You might not know that it was created by a robot and you might not care," says Frost. "If the customer gets a beautiful flower arrangement that has 12 to 24 stems, the color palette is wonderful and it's at their price point, they're going to be happy. At the end of the day, it's about delivering the most value for the customer."
In June, FloraBot exhibited at the International Floriculture Expo (IFE) in Miami, touted as the largest B2B floral event in North America. Frost was astounded by the interest.
"Everyone at the flower show, big growers and bouquet makers, came over to the booth and asked how they could use the robot to cut their payroll. No one asked or cared about the technology, or whether it worked or not. It just came down to cost and ROI. CFOs came over. I never had so many C-suite-level people engage in serious discussions at a show. That really tells us we're on the right path."
FloraBot recently beat a path all the way to Boston, where they opened a new office at MassRobotics, one of the major robotics clusters. It will be interesting to see what comes next.
"Five years from now there will be no humans making flower arrangements," says Frost, "because when you see labor savings in the range of 50 to 75 percent, it just doesn't make economic sense anymore."
From rosebuds to electrical connectors, cobots are popping up in industries far and wide.
Mobile Production Assistant
Collaborative robots also come in mobile varieties, including this mobile manipulator that integrates an autonomous mobile platform with a six-axis articulating arm. Stäubli Electrical Connectors relies on the HelMo mobile robot system from Stäubli Robotics to help supplement production during peak demand or during human workforce shortages due to illness or other unforeseen absences.
Once trained, HelMo can handle almost any manual job on the various assembly lines at the connector manufacturer's facility in Allschwil, Switzerland. The production assistant navigates to its own workstation, decelerates or stops when human coworkers come too close, and then automatically resumes its operation when the protected workspace is clear.
As soon as HelMo arrives at its workstation, the cobot precisely positions itself within a tenth of a millimeter by referencing three permanent orientation points at the workstation. HelMo then connects itself via a multi-coupling to the fixed supply sockets for electricity and compressed air, then starts its shift.
The mobile cobot is also equipped with an automatic tool change system. One day it could be working with connector housings and contact pins. The next day might be some other stage in the assembly process, wherever it's needed.
Integrated atop the mobile platform is a standard Stäubli TX2-90L robot with a 15 kg payload and 1,200 mm reach. Watch the HelMo mobile robot system autonomously load rotary tables for manufacturing pneumatic couplings, and later in the footage safely navigate around human coworkers and other equipment in the production space.
The flexible production assistant monitors its environment with three integrated laser scanners. HelMo can perform its tasks automatically or in collaboration with humans.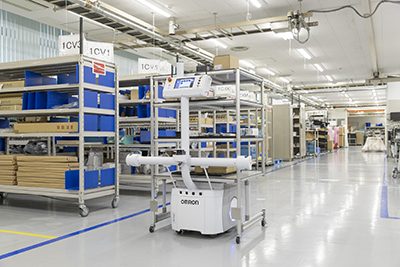 Material Transport Cobots
In Japan, a fleet of mobile robots collaborates with humans. OMRON's FA sensor manufacturing facility in Ayabe wanted to upgrade its material transport system with a fully automated solution for transporting work-in-progress (WIP) components throughout the factory.
Ayabe is both a production facility and a development facility. In addition to producing OMRON technologies for customers, it also serves as an environment for testing and optimizing new products, including the OMRON LD mobile robot. Moving away from cumbersome conveyor belts that are difficult to rearrange, the engineering team opted for this flexible mobile solution where robots autonomously navigate their way through dynamic environments.
Each LD mobile robot gets its configuration data from the Enterprise Manager, which helps optimize traffic flow by sharing each robot's position and trajectory with other robots in its vicinity. This allows each mobile robot to make path adjustments on the fly to avoid people, obstacles and other robots in its path.
The Enterprise Manager allows operators to manage map and configuration updates from a central communication point. These updates are then pushed to each mobile robot in the fleet. The Enterprise Manager also provides a queuing manager to receive job requests from call buttons and automation equipment, and then dispatch jobs to the mobile robots.
In the Ayabe factory, the mobile robots carry product containers between the assembly, final inspection and shipment stations. Since the mobile robot system is connected with the manufacturing engineering system (MES), transportation orders through the MES are conducted according to the work in progress. Watch Ayabe's mobile robot fleet in action.
To make transportation more efficient, each LD mobile robot has two lifts, one on the front and one on the back, which makes it possible to carry materials to two destinations in a single trip.
"We were able to automate 75 percent of all material transport tasks using these mobile robots," says OMRON's Assistant Manager Makoto Kasuya. "People used to move containers in batches, but now robots can move them more frequently. As a result, the lead time needed to transport material has decreased by 80 percent on average."
The overall solution also reduces the expense and effort required for future investments, as LD mobile robots can be easily implemented in other factories without incurring new design costs.
Using its workforce for higher-value tasks instead of moving around products and materials will help Japan's manufacturing sector address a growing labor shortage crisis as the country's population continues its rapid decline. Workers at OMRON's Kusatsu factory used to manually transport up to 300 containers per day. Now the LD mobile fleet does what robots do best, enabling the people to focus on more creative work.
Creativity is still the human element. We need inspiration, ingenuity and vision, the kind that dreams up unique floral designs, innovative tech toys, and adds new functionality and value to age-old automotive components. Robots push us to be better.
RIA Members featured in this article:
ABB Robotics
FANUC America Corporation
OMRON Automation
Stäubli North America