Bringing Closed-Loop Functionality to Stepper Motors
POSTED 05/27/2020
 | By: Emmet Cole, Contributing Editor
Stepper motors are exquisitely simple devices that have found several uses in automation applications.
Automation systems designers like the ease with which stepper motors can be controlled: Instruct a stepper motor to turn 1,000 steps forward and 75 steps backward and --provided payload limits are not exceeded-- it will do so.
Most modern stepper drives can micro-step downward to 51,200 steps per revolution, which enables smooth, low speed motion of 0.1 rpm or below. Nano-stepper motors offer even higher resolution and motor control.
Furthermore, stepper motors are less expensive than their servo motor counterparts.
So far, so good.
In practice, however, stepper motors have inherent limitations that can reduce their capacity to support complex automation applications.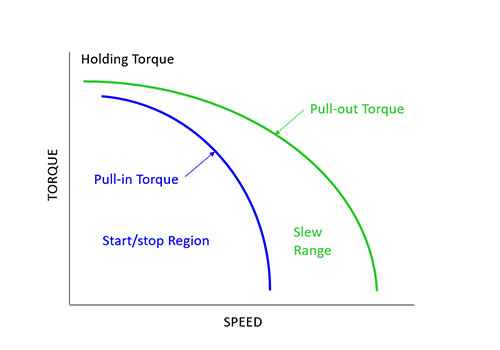 Image courtesy of NMB Technologies. In stepper motors, as torque increases speed decreases. Slew range shows the stepper motor's usual range of operation.
"Stepper motors are good at either high-torque and low-speed or high-speed and low-torque. So, for applications where you need high-speed and high-torque, a stepper motor is no use whatsoever," says Mark MacDonell, UK Sales Manager at Trio Motion Technology Limited.
With these limitations in mind, stepper motors tend to be used in low power, low payload applications such as 3D printers, CNCs, automated screwdrivers, XY plotters and miniature pumps.
Open-Loop Performance vs. Closed-Loop Reliability
Typically, stepper systems are open-loop, which makes for high performance in terms of speed. When the motor's load is not exceeded it will naturally operate at maximum speed throughout its operation.
Open-loop systems sacrifice the reliability associated with closed-loop systems. Whereas closed-loop systems offer secondary verification and performance-enhancing functionality --such as automatic position feedback and correction on the fly, essential features for advanced automation—open-loop systems do not.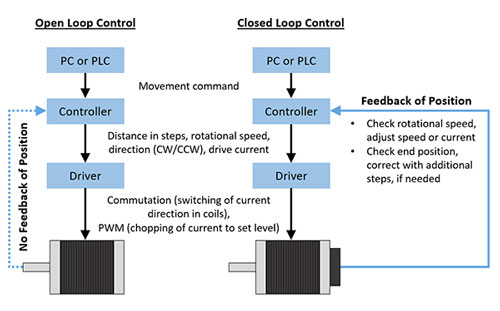 Image courtesy of NMB Technologies. OL control systems (left) provide no position feedback to the controller, whereas CL control systems (right) do.
However, there are circumstances in which you want a stepper motor to provide closed-loop features too, especially positional feedback.
"We encounter this closed-loop requirement a lot in high-risk, medical applications such as the clinical analyzers used in lab testing scenarios," says Scott Jacobs, Application Engineering Manager, Motor Products at NMB Technologies Corporation.
Clinical analyzers transport samples in cuvettes to put them through different tests. In these scenarios, the end user needs to be sure that the system has the cuvettes in the correct position and dispenses the correct amount of reagent or other materials.
"These customers can't have a case where the motor only dispenses even slightly less than the amount that it is supposed to. They need to be one hundred percent sure that the motor has moved the exact amount and they want assurance that the stepper motor has reached its target position," explains Jacobs. "Closed-loop functionality provides this assurance by enabling the system to double check the stepper motor's precise position."
Position-Sensing Technologies
A typical way to provide additional closed-loop functionality on a stepper motor is by adding a sensor that can provide precise feedback on the motor's rotor position.
"The most common choice is an optical encoder, but magnetic encoders and resolvers are also offered in the market," says Johann Tang, marketing analyst and product specialist at Oriental Motor USA Corporation.
Generally speaking, optical encoders use an LED light source, a code disk to control the light produced and light detectors to convert the light signal into an electrical output. Incremental optical encoders can provide resolutions up to 65,536 PPR, while absolute optical encoders can provide resolutions up to 20 bits (220).
Hall-effect sensors are solid-state magnetic encoders that provide lower resolution than optical encoders, adds Tang, so they are not a good fit for stepper motors that require 200 or more steps to rotate one whole revolution.
Meanwhile, resolvers (which come in both analog and digital forms and measure degrees of rotation) offer similar levels of robustness to Hall-effect sensors and similar control resolution.
Motion Control
Adding any type of sensor to a stepper motor increases cost and requires a complex motion control system to operate.
"Stepper motors are simple, synchronous devices that like current to be provided in a square wave form, so they have a couple of coils and the driver card provides the current that energizes the motor windings," says TRIO's MacDonell. "The driver typically divides the current into 'micro-steps' for more precise shaft positioning, but with a speed trade off. Typically, a motion controller will output a pulse stream for the stepper motor to follow and a direction signal that instructs the motor to go backward or forward."
Usually, a driver card sits between the motion controller and the motor. The driver interprets the direction signal and amplifies the low (typically 5V) power signal received from the motion controller up to 24V or 48V, and provides a few amps to physically drive the windings of the motor itself.
While switching between open-loop and closed-loop operations is possible using bespoke driver algorithms and additional sensors, the complexity involved will tempt many automation designers to choose servo motors for their inherent extra power and closed-loop capabilities.
Hybrid Motion Control
The temptation to turn to servo motors may be reduced with the emergence of a new class of hybrid motion control systems that offer a way for stepper motors to switch seamlessly between open-loop and closed-loop control.
Hybrid motion control systems combine the OL performance of stepper motors with the reliability of closed-loop systems.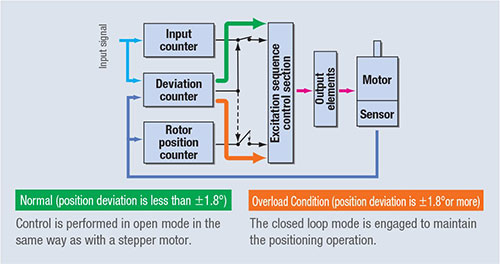 Image courtesy of Oriental Motor. Hybrid motion control systems enable stepper motors to switch between open-loop and closed-loop control, bringing end users the benefits of both.
In such systems, the position of the motor is constantly monitored and the driver automatically switches between open-loop and closed-loop control, depending on the situation and the application requirements.
In hybrid motion control systems, a sensor detects the number of steps rotated by the motor. Then, depending on criteria set by the user, the stepper system knows when it should operate in open-loop mode, and when it should operate in closed-loop mode.
Once the threshold between open-loop and closed-loop is established, an algorithm is able to command the motion system to switch between open-loop and closed-loop functionality based on feedback from the motor.
The system starts in open-loop mode while an input counter continuously compares its step count (i.e., its theoretical position) with its rotor position counter (actual position), explains Oriental Motor's Tang.
The difference between the two positions is kept in a deviation counter. When the deviation value exceeds a certain threshold, the system switches into closed-loop mode.
At the same time, the deviation value is fed into the excitation sequencer and the system corrects itself while torque is maximized. Once the deviation counter drops below the threshold, the system will operate in open-loop again.
"A system that's able to switch back and forth from open-loop to closed-loop operation, provides end users with improved performance and greater reliability than tradition stepper motor systems," adds Tang.
While recent advances in closed-loop stepper motor control have brought the technology gap between stepper motors and servos closer than ever before, the choice still depends on the application, says Tang.
If the application calls for high speeds, servo motors will work well. If the application is not as demanding, hybrid-controlled stepper motors provide a low-cost alternative."