Autonomous Mobile Robots Push Robot Boundaries
POSTED 06/17/2019
 | By: Morgan J Zenner, A3 Marketing Manager
There's a new robot in town that is moving and shaking things up in a big way: Autonomous Mobile Robots (AMRs). Also known as mobile robots, AMRs are the latest automation innovation to transform traditional robot tasks through increased flexibility and diversified applications.
It's no surprise that with the emergence of any new technology comes a new set of safety requirements, education and learning to follow. The Robotic Industries Association (RIA) keeps automation professionals ahead of the curve by organizing the Autonomous Mobile Robot Conference on September 17, 2019 in Louisville, Ky. This first-time event features an expert line-up of speakers discussing strategies for deploying AMRs, research for how AMRs are a change agent for various sectors, and more.
Additionally, RIA will be introducing the R15.08 American National Standard for Industrial Mobile Robots and Robot Systems – Safety Requirements to address all aspects related to the safety of people around AMRs for manufacturers, integrators and end users. The committee continues to work through the formal revision and approval process with the goal of having the standard ready for ballot by the end of 2019.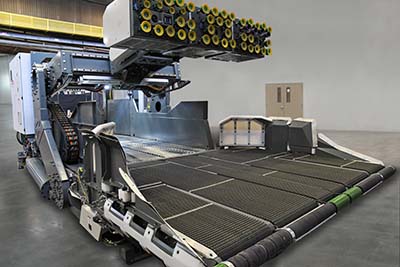 Autonomous Mobile Robot Have a Unique Understanding
The first AMRs were used by NASA in space exploration. Today, they are changing the landscape across many industrial environments. Through the mobilization of a robot, businesses are increasing flexibility and diversifying applications. Plus, the easy programming and implementation of AMRs makes them even more attractive to end users.
Autonomous mobile robots are known for their unique ability to navigate in an uncontrolled environment with a higher level understanding via sensors, blueprints, artificial intelligence, 3D or 2D vision and more. AMRs are highly innovative compared to a traditional automatic guided vehicle (AGV) which is also mobile but uses wires or magnets to navigate a narrowly defined area.
"AMRs don't just travel from point A to B, their perception allows them to reroute when something is in the way," says Matt Wicks, Vice President, Product Development at Honeywell Intelligrated.
Wicks led the team that developed Honeywell's General Merchandise Truck Unloader. It's a flexible piece of machinery that can unload a variety of shapes, sizes or multi-weighted products from a truck container. The robot uses machine vision and sensors to decide how best unload a container.
The benefits of a robot like Wicks' is clear. "Mobile robots allow us to do things that go beyond fixed automation. A manipulator that is fixed to the floor can only reach so far; but now the mobile base extends the reach of the system and you can unload the entire truck," he says.
Most AMRs are at peak production when combined with another traditional robot system. "Hybrid solutions that work together are optimal. The truck unloading AMR interfaces with a traditional fixed automated palletizer or conveyance system, leading the product further on its journey with complete automation. The robots enhance each other and allows us to do more," Wicks says.
Thus far, Wicks has seen AMRs used for unloading trailers, fleet management in warehouses, conveyor systems, manufacturing work cells, hospitals, and more.
Moving into the Future with AMRs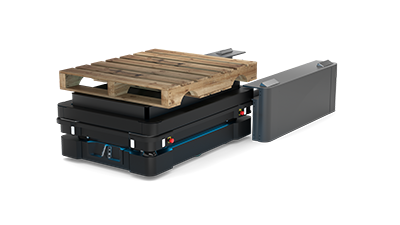 The focus for Josh Cloer, Sales Director at Mobile Industrial Robots, Inc., (MiR) is to create a robot to replace the forklift. The MiR1000 is designed to do just that with a payload of 1000kg. The robot required cutting-edge technologies to make this heavy duty lifting possible.
In fact, it requires six laser scanners, 3D cameras, and an artificial intelligent camera to be exact. The scanners are strategically positioned to gather sensory data under, over, outward and above the mobile robot, providing 360 degree coverage of the environmental landscape that it needs to navigate through. The scanners also provide a safety field surround the robot, just in case something or someone takes a wrong step, the robot stops instantly. The 3D cameras look out and above two meters in the air, to ensure the pathway is clear. An optional AI camera identifies objects and uses machine learning to make real-time decisions on the action to take.
But why all this trouble to replace a forklift?
"AMRs allow you to do more on time delivery and reduce the work in progress manufacturing," Cloer says. "We increase efficiency by opening up floor space allowing for more machines and therefore, moving product through processing at a faster pace."
Just like the Honeywell AMR, the applications of MiR robots are varied and flexible. A software program controls a single robot via app allowing users to change the route of the robot in a couple minutes and program a completely different task from day to day. A fleet controller software program connects all of the MiR robots in a traffic control interface to make sure they work together or at the very least, around each other.
"We've seen users push carts or fixed conveyors around a warehouse. The [largest] MiRs move pallets or drive under large carts to replace trolleys and tuggers. Some users put collaborative robot arms on the AMR and dock them to a pick-and-place station," Cloer says.
He's worked with clients from aerospace, semiconductors, automotive, logistics, manufacturing and textile industries. Cloer says the average return-on-investment is 12 to 18 months.
"Processes are changing over time and companies need technology that can change along with work environment. Our [AMR] technology will help industries grow along with these shifting priorities," Cloer says.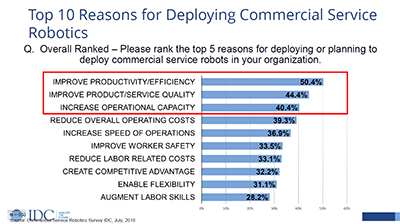 AMRs Drive Data Strategy
John Santagate, Research Director, Service Robotics at IDC, echoes Wicks' and Cloers' comments saying it's not enough transport material from point A to B. The most valuable AMRs have a data driven strategy incorporated into them.
"The traditional fulfillment centers used a person to pull inventory and bring it to a pick-and-pack station. Most of this was done offline and there was no understanding of flow path optimization," Santagate says.
But today's AMRs are creating a digital understanding of end-to-end movement. According to Santagate's research in the commercial service robot practice, a middle layer is now emerging between the operation floor and the overarching business systems.
"AMRs are building aggregate data across the entire organization to create a common data architecture that understands the movement pattern of materials, how to improve, and how to reconfigure and simulate optimizations," he says.
Data from IDC's 2018 Commercial Service Robotics Survey shows there is no slowing down of this technology. More than 90% of companies surveyed indicated some plans for commercial service robots in their organizations. The industries with the most active robot deployment are retail and wholesale/distribution.
Of those surveyed, the top reasons for deploying robots in organizations are to improve:
Productivity/efficiency
Product/service quality
Operational capacity
"Companies have tremendous growth opportunities and those who have deployed robots have benefitted through significant improvements," Santagate says. In fact, more than 70% of users noted double-digit KPI improvements from increased capacity, productivity, efficiency, operational speed, customer service, inventory turnover and reduced operating costs.
Safety First for AMRs

The future of automation contains a fundamental shift: The reduction of barriers between the robot and its environment. More than 30 years ago, the R15.06 American National Standard for Industrial Robot Safety Standard, addressed hazards in an industrial environment where the robot was bolted in place with fencing around the hazard zone. Years later the emergence of collaborative robots removed that barrier as the robot worked in tandem with a person, requiring all new safety measures. Today, autonomous mobile robots are adding another layer of complexity to safety considerations.
"An AMR can approach a person without the person being aware of it," says Carole Franklin, RIA Director of Standards Development. "We need to consider how to reduce the risk of a person being injured by an AMR or its payload."
The R15.08 American National Standard for Industrial Mobile Robots and Robot Systems – Safety Requirements is designed to address these considerations for manufacturers, integrators, and end users. The standard describes basic hazards associated with AMRs in an industrial environment, and provides requirements to eliminate, or adequately reduce, the risks associated with these hazards.
Basically, the standard provides the framework to answer critical questions around deployment of AMRs.
"Should people and AMRs move freely within a shared space? How do the risks change if we move from a small, lightweight, low-payload AMR to large, heavy, and powerful robot? If additional equipment is added to the autonomous mobile platform, what requirements need to be stated to ensure that the resulting combined unit is safe?" Franklin says.
R15.08 contains three parts:
Part 1 - Covers safety requirements for manufacturers of autonomous mobile platforms, other equipment ("attachments") intended to be mounted on a mobile platform, and units that combine the capabilities of an autonomous mobile platform plus some other attached industrial equipment; for example, a manipulator.
Part 2 – Covers safety requirements for integrators who are using an AMR, or fleet of AMRs, compliant with Part 1 to design a system for a specific site.
Part 3 – Covers requirements for the user of the AMR/AMR fleet to keep the system operating safely throughout its lifecycle.
The standard also covers requirements for sensor systems, stability, physical and data interfaces, safety-related parts of the control system (SRP/CS), safety behaviors including safety-related stops, and other aspects related to the safety of people around the AMR.
"The goal of the standard is not to prescribe a specific technological solution, but rather state the desired outcome and leave the 'how' up to the designers," Franklin says.
Currently, the standards committee is making final revisions to the standard. Following a formal review and approval process, the standard should be available in Fall 2019. Members from the committee will be on hand to discuss the standard during the Autonomous Mobile Robot Conference on September 17 in Louisville, Ky.
The conference agenda highlights the criteria for deploying AMRs: technologies, installation considerations, artificial intelligence, business cases for AMRs in warehouses and logistics, autonomous mobile manipulation, applications in diverse work environments, and more.
"The conference is for anyone who is manufacturing, integrating, using or considering AMR technology. By the end of the day, attendees will leave with a working knowledge of how to deploy AMRs at their companies," says Robert Huschka, A3 Director of Education Strategies. "You will also hear from and meet the people who are behind today's development AMR technology."