At the ''Fore-Front'' of Automation: Acushnet Uses Robot to Handle Golf Balls
POSTED 02/05/2005
 | By: Mary Kay Morel
Robots and Titleist golf balls might seem an unusual pairing. However, Acushnet Company (Fairhaven, Massachusetts) -- the leading producer of Titleist® and Pinnacle® golf balls, Titleist® and Cobra® golf clubs, FootJoy® shoes and gloves, and other golf-related equipment and accessories -- is at the ''fore-front'' of golf-ball manufacturing technology, and now uses robotic automation to pick freshly painted golf balls off a moving conveyor and stack them onto drying trays.
Acushnet currently has three golf ball manufacturing facilities in the New Bedford, Massachusetts, area -- two for stock golf ball production, and one for custom logo balls where customized practice balls are also painted. (Practice balls have a harder core and more durable outer covering which allows them to stand up to hundreds of hits. They are usually painted with a stripe or otherwise designated as practice balls to distinguish them from stock balls that would be used for play on a golf course.)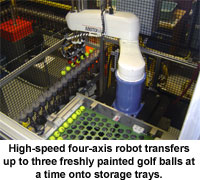 Acushnet decided to automate unloading of practice balls on the spray painting line at its custom plant, to reduce the need for manual labor, reduce costs by improving productivity and flexibility, and maximize throughput while eliminating downtime. Another reason for automating the unloading process was to reduce a health and safety hazard caused by repetitive motion.
''This project has an attractive two-year payback, and we were able to improve productivity by 30 percent while reducing labor by 50%. Instead of two operators manually unloading balls all day, one operator now loads empty trays and unloads full trays into the drying trucks as needed. The other worker was not displaced and now works elsewhere in the plant in an inspection capacity,'' said Ken Rebello, the Senior Manufacturing Engineer in charge of the robot project at Acushnet. ''Everybody is happy with the robot cell. Uptime has been nearly 100 percent since it was installed,'' he added.
While ball unloading has been automated (using dedicated equipment) at the other Acushnet stock ball manufacturing plants, the custom plant was still using two operators to manually unload practice golf balls from the custom painting line which normally produces 72 balls per minute with burst rate capability of up to 80 balls per minute. The painting line operates two shifts six days a week during the peak season between February and June, and one shift five days a week during the balance of the year. Using a proprietary process, custom logos are pad-printed onto the practice golf balls, which are then sprayed with a clear-coat finish while on parts nests on the conveyor.
''Unloading the balls from the parts nests was a very labor-intensive job requiring lots of repetitive motion,'' Rebello said. ''The stock production plants use dedicated automation to unload golf balls. Using two people per shift to unload customized practice balls from the spray line at the custom plant was not as cost-effective, and we saw that margins could be improved through automation,'' he explained.
''Custom is also an OSHA Voluntary Protection Program (VPP) Star Site, which means that we go well above the standard safety requirements in our plants. During our recertification, the spray room was identified as an area that could use improvement,'' Rebello said.
''Any time you see an opportunity to improve quality, safety, efficiency and productivity while reducing costs, you can bet that management is more than willing to pursue the project,'' he added.
The automated system needed to be able to handle a single part style of golf balls with a 1.68'' diameter and maximum weight of 1.62 oz. from transport nests with 3'' centers on an infeed conveyor onto a storage tray with balls on 2'' centers. Since quality is very important and to avoid smudging the freshly painted golf balls, the robot gripper contact points needed to have a maximum allowable contact area of 0.010 square inches.
''We also redesigned the drying trays for robotic automation. Previously, the trays held 11 dozen balls, but we commonly get orders in 12 dozen increments,'' Rebello said. ''We kept the tray size the same, but by changing to 2'' centers, we were able to dry more balls on each rack and increase production throughput without having to change our drying trucks,'' he continued.
Acushnet selected Motoman Inc. (West Carrollton, Ohio) to provide a complete robotic workcell including systems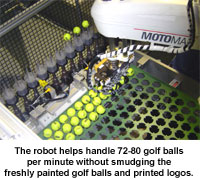 integration for this golf ball unloading project. The system includes a high-speed four-axis Motoman HM-10-850-200 SCARA type robot on a riser base. The compact size of the robot and JRC 2001 controller helped to minimize the amount of floorspace required for the cell. The robot controller has an enhanced teach pendant that makes programming easier, and also features built-in conveyor tracking capabilities that were important for this project. The robot's custom end-of-arm tooling consists of a multi-function mechanical gripper that handles up to three golf balls at a time. The gripper fingers include three sets of coated metal pins. A slide on the outside of the grippers allows automatic repositioning from the 3'' centers on the part nests to 2'' centers for tray loading.
''The golf balls are still wet and very slippery when they reach the robot cell,'' Rebello said. ''The pins allow the gripper fingers to hold the balls securely without damaging the freshly spray-painted clear-coat surface finish.''
Acushnet provided the infeed conveyor with the part transport nests. Motoman also provided a tray destacker with 10 trays used for drying the freshly painted golf balls. Additionally, Motoman provided a controls package, including a three-light status beacon, cables with covers (for cables subject to damage from falling or dropped balls), and required sensors. The cell guarding package designed to meet the ANSI-RIA R15.06-1999 safety standard includes dual-channel safety hardware, 2.44 m (8 ft) high nylon-coated wire safety fencing with extruded aluminum frame, an access gate with positive break safety switch, and a conveyor pass-through opening protected by a three-sided enclosure to limit the operator's reach into the cell.
Don't Drop the Ball
''Quality is what separates Acushnet from our competitors,'' Rebello said. ''Painted golf balls are rather slick and can be difficult to handle. When they drop, they bounce and roll all over the place (and also become rejects). We needed a high-throughput yet compact robotic solution that would not drop balls, mar their finish, or smear the freshly painted logos. Additionally, the robot must also be able to accurately place the golf balls into the trays despite the difference between the 3'' centers on the transport nests and the 2'' centers on the storage trays,'' he continued.
Changeover requires only the push of a button at the tray stacker, which shuttles a tray out. Shuttle time for trays is eight seconds. The conveyor never stops moving, but the JRC 2001 robot controller keeps track of where the balls are at all times. It also tracks the number of trays and signals when the destacker needs to be unloaded.
Motoman integrated the robot cell into the production line, did the initial programming for the workcell, and also provided start-up and debugging assistance. The system was fully operational within five days. Rebello and another technician also attended JRC programming class at Motoman's Technical Education Center.