Arc Welding Thin Walls
Reprinted with permission from Robotics World Magazine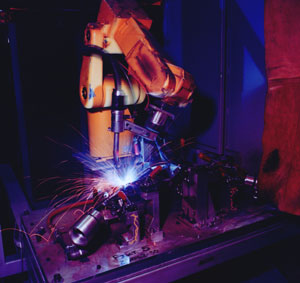 Manufacturing the metal frame that reinforces and supports the visible portion of an instrument panel of an automobile is no small feat. Each substructure contains as many as 27 main components that have to be welded together under tight tolerances to meet stringent quality and design specifications. These panels also are composed of very thin wall tubing and stampings that create additional welding and fixturing challenges.
For these reasons, Center Manufacturing in Byron Center, Mich., turned to Lincoln Electric power sources with FANUC robots for its two main instrument dash panel lines. Center Manufacturing estimates that it receives 60 to 70 percent higher productivity using robots than it would with manual welding. In fact, an entire instrument dashboard panel can be welded in approximately 1.5 minutes, excluding the cooling time between welds.
'I would say one of our primary challenges is to get all the components to come together in a dimensionally correct part,' said Rodney Rockwell, manufacturing engineer at Center Manufacturing. 'The designs are provided to us by customers and many have design gaps or other imperfections that cause welding problems on our end. Since we don't have control over the design, it is up to our engineering teams to use the robotic tooling, fixturing and programming to help us overcome these problems and still produce a quality part with the specifications set forth for us.'
Center Manufacturing has six plants that produce automotive, ATV, motorcycle and consumer electronic parts. At the Byron Center facility, the company uses 22 robotic welding cells. Many shops have robotic welding units that work independent of each other, but Center has three primary robotic welding work centers on each line that work in assembly-line fashion. Each robot welds a portion of the panel and then transfers it down the line.
First, 24 different stampings are created. Center Manufacturing also purchases three different sizes of tubes that are cut to length, two of which go through CNC bending processes. Before going to the robotic cells, some of the stampings and tubings are welded into subassemblies using a combination of six resistance welding cells and two robotic welding cells.
The assembly process for the instrument panel uses three primary welding centers, each containing cells that have dual FANUC R-J2 ARC Mate 100i robots. The first work center welds together two subassemblies with tubings and stampings. At the second work center, the robotic welding unit adds two more stampings and three additional subassemblies. At the final work center, three more stampings are added and the welds on the bottom of the instrument panel are created.
After the robotic portion is complete, the part is sent to a visual inspection center. If there are any welds that the robot is unable to weld because of a design issue or minor repairs that need to be made, the panel is welded by hand with Lincoln CV-300 GMAW welding units.
Center's Byron Center Plant has two lines that run simultaneously, completing dash panels in this assembly-line fashion. The cycle time is 14 to 16 seconds per robot. Most robot cells at Center have Lincoln Electric's Power Wave 450 ONE digitally controlled inverter power source. The Power Wave is able to provide seamless integration with the robotic controller. Center Manufacturing also uses Lincoln wire feeders that complement the system, Synergic 7 wire drives. Lincoln's .035-inch S-3 wire is supplied in 500- to 900-pound drums and uses a shielding gas mix of 90/10, Ar/CO2.
On average, each robot at Center Manufacturing puts down 10 fillet welds. In addition to being placed on thin material, the welds are very short, with the longest weld being 15 mm, but most averaging 5 to 10 mm.
As far as robotic cell composition, each of the three main welding centers has horizontal, Ferris-wheel type fixtures so the operator can be unloading and loading while the cell is welding. Fixturing for the cells is provided by a local integrator, BCM Inc.