Analog Is Dead. Long Live Analog (Imaging)!
POSTED 10/07/2015
 | By: Winn Hardin, Contributing Editor
Security, R&D, broadcast, and medical diagnostic imaging are keeping analog cameras and frame grabbers alive and in demand for the foreseeable future.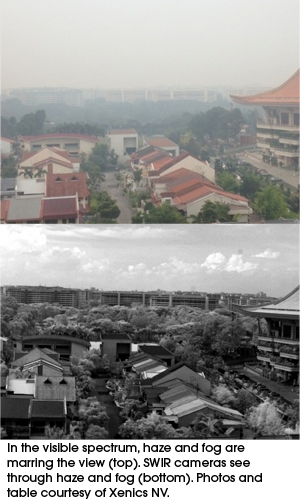 You won't see a lot of product releases touting the latest updates to analog industrial-grade cameras and frame grabbers, but that doesn't mean the original flavor of machine vision transmission technology is going away anytime soon.
In recent years, large machine vision suppliers such as Teledyne DALSA, Matrox, and National Instruments have all discontinued their analog camera and frame grabber product lines. Frame grabber supplier BitFlow Inc. (Woburn, Massachusetts) continues to manufacture and support its Alta-AN line of analog frame grabbers, primarily for university R&D, microscopy, and broadcast applications. However, according to Donal Waide, Director of Sales for Bitflow, analog's share of the company's total sales has diminished each year. "I can see our analog frame grabber line disappearing in the next three to five years," Waide says.
These market shifts are creating openings for others, such as Euresys s.a. (Angleur, Belgium). "Out of all the frame grabbers we've sold this year, 37% have been analog," says Keith Russell, President at Euresys, Inc., which sells analog frame grabbers that can support up to 16 cameras on one card. "They're sold into a lot of applications in medical diagnostics, security, and broadcast. Many countries haven't gone to digital television, for example. But I'd say medical imaging and automated inspection are the largest markets for our analog frame grabbers. Based on the market research we see, Asia continues to purchase a lot of analog cameras, upwards of 30%, compared to 15% of analog cameras for automated inspection in the rest of the world."
Hérve Copin, CEO of Xenics USA (Beverly, Massachusetts), agrees that regional preferences do affect analog demand. "There's a large installed base of analog infrastructure and demand from Asia, Russia, and Latin America, less from Europe and the U.S.," Copin says.
Xenics offers five lines of analog cameras for high-end security and homeland security applications: XSW and Rufus in the short-wave infrared (SWIR), XCO in the mid-wave infrared (MWIR), and the XTM and Raven analog cameras in the long-wave infrared (LWIR). "Our infrared cameras help to secure airports, critical infrastructure, nuclear plants, and help to monitor industrial facilities, such as flare stack monitoring, identifying gas leaks at chemical plants, and identifying hot spots in electrical equipment," says Myriam Gillisjans, Xenics Corporate Communications Manager and Marketing Manager for the Americas.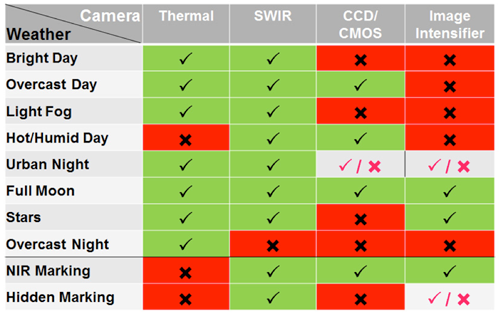 Most machine vision companies that sell into the security markets only target high-end security applications, leaving low-cost IP cameras to handle low-end applications, such as commercial surveillance. "We only use high-quality industrial components because that's what our customers need," Xenics' Copin adds. "Often our cameras are installed at remote locations. Our cameras can operate in extreme conditions from -40°C to 60°C. Most low-cost security cameras cannot operate across that temperature range. We also provide on-board image processing such as local contrast enhancements that allow all of our infrared cameras to provide good images during the day, or at night, despite the environmental conditions. Our cameras in security applications are increasingly using other means of image processing to automatically detect potential threats. That's why our core advantage isn't just the short-wave infrared sensors we design and manufacture or the cameras we build around mid- and long-wave infrared sensors, but the on-board image processing we build into each camera to produce the best possible image. Things that we used to do on PCs, we now do on the camera."
Improving image quality while still supporting analog transmission for security applications is the reason why Adimec (Eindhoven, The Netherlands) offers its TMX-DHD line of security cameras with the combined digital and analog outputs, says Dr. Joost van Kuijk, Adimec's CEO/CMO. "Recently, we started rolling out Sony's Pregius CMOS sensors in our Extended Day™ cameras for high-end security applications for improved low-light and bright-light imaging," van Kuijk says. "I think all security customers would prefer to move to all-digital solutions to take advantage of improvements in display and cameras, but it's not always feasible to replace all the analog infrastructure. So we offer the analog output as on option on the digital products."
Interestingly, one of the newest network protocols for connecting cameras and processors –CoaXPress (CXP) – runs over coaxial cable, which for many installations is the backbone for analog signals.
As long as the impedance of the coaxial cable is 75 Ohm or above, CXP can carry digital data up to 66 meters. While it is not long enough for some perimeter security installations such as base protection where cable runs may be a kilometer or more, CXP is well-suited for allowing mobile security and military platforms to upgrade to the latest camera technology for driver assistance and threat detection without requiring the platform to be complete rewired, according to Bitflow's Waide.
"Customers that have analog systems want to stay in analog because if you change to digital, you don't just replace the cameras," says Xenics' Copin. "You have to change connectors, switches, reprogram everything. In other cases, such as UAVs [unmanned aerial vehicles], analog consumes less power. For battery-powered applications, analog can be the best solution. For example, we have a camera that is offered in both analog and GigE. The analog camera consumes <2 W, while the GigE version consumes <4.5 W. And if you're using a thermal camera, and the enclosure gets too hot, you lose your contrast."
As some of the largest machine vision companies eschew analog support in lieu of digital's greater promise, their change in focus is creating opportunities for smaller suppliers to pick up the slack and expand their markets in the process. After all, in the spirit of Mark Twain, reports of analog's demise have been greatly exaggerated.
Video links, courtesy of Xenics:

On-board image processing features (auto-gain, auto-exposure, histogram equalization, etc.) on the Rufus-Analog camera

Despite the light intensity and weather conditions, the image quality remains excellent.

Or for long-range monitoring, you need MWIR.

Or thermal for flare stack monitoring, for example.