After 50 Years Robots Have New Horizons
POSTED 01/11/2011
 | By: Bennett Brumson, Contributing Editor
Robotics have been a component in manufacturing for 50 years. While robots are a fixture in the automotive industry, advancements in safety systems, end-effectors and sensors are rapidly bringing robotics into new applications.
"The biggest advancement has been in sensor fusion such as vision, force control, and tactile sensing. To grow beyond repetitive tasks, robots require more intelligence to sense what is happening in their environment," postulates Erik Nieves, Technology Director at Yaskawa America Inc.'s, Motoman Robotics Division (West Carrollton, Ohio) "Any single sensor modality is secondary to having multiple modalities providing end-users additional information."
Suppliers and integrators have the opportunity to exhibit advancements in robotics at Automate 2011, the premier robotics trade show scheduled for March 21-24, 2011 in Chicago.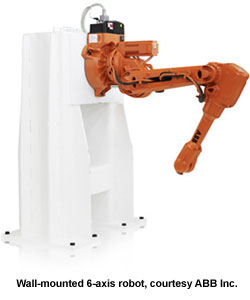 Sensors
Robots can perform tasks better because of advancements in sensors. "Applications are moving toward tactile force feedback and non-tactile sensing for positional and robotic guidance. Advancements in vision sensors make them less expensive and more powerful," says Nicholas Hunt, Product Support Manager at ABB Inc. (Auburn Hills, Michigan) "Advancements include high accuracy of vision sensors such as laser scanners. Sensors are very affordable and robot manufacturers are able to incorporate those features and functions inside the robot to accommodate data."
Robots are no longer simply grabbing parts and forcefully moving them into fixtures, asserts Hunt. "With tactile feedback available and the processing power within robots, integrators now allow the process to control the robot's behavior, not the robot's behavior controlling the process. Tactile feedback and vision systems with scanning lasers enable end-effectors to move on a micron level of accuracy."
Advances in sensors facilitates robotics successfully moving into nontraditional applications, said Nieves. "Robots go into places they did not go five years ago, such as biomedical and clinical laboratory applications. End-users in these applications want to remove the human element as much as possible and have become more amenable to robotics. Biomedical and clinical laboratory areas have really taken off in the last five years."
Nieves is quick to add that "Life sciences applications gleaned the benefits of sensor fusion. Robotic sorting of test tubes requires that each tube is scanned, encoded, and routed appropriately to a very high degree of confidence. Vision systems with character recognition, bar code reading, and radio frequency identification (RFID) track test tubes as they move through the system." High fidelity queuing software ensures the sample is correctly routed through the instrumentation.
Warehousing
Automated warehouse distribution has a promising future based on advancements in robotics and peripheral equipment, says Dick Motley, Senior Account Manager at FANUC Robotics America Inc. (Rochester Hills, Michigan) "Warehouse distribution represent a whole new area of the robotics market with huge potential. Technical obstacles to getting robotic penetration in that market are being overcome. The pieces are finally in place like grippers and vision."
Homogenous pallet loads from different manufacturers come into a warehouse and customer-specific loads come out. "In between, robots breakdown the homogenous loads, sequence and gather items and builds custom loads," describes Motley. "Pallets on trucks have been jostled by the time they arrive at the warehouse. The robot uses vision sensors to identify where the top layer is and how to pick from the pallet during de-palletizing."
To handle the variety of products moving from warehouses on customer-specific mixed loads requires adaptable grippers, Motley professes. "Grippers need to handle a wide variety of products, from products in boxes to those in shrink-wrapped bundles, to cartons, among others. Grippers need the flexibility to handle all of those products and the speed to find them in real-time so layers can be picked without crashes."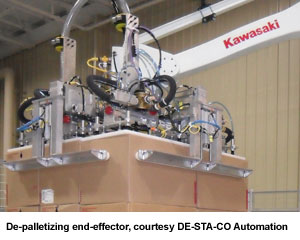 Continuing, Motley says, "A very flexible end-of-arm tooling (EOAT) must be able to grab a wide range of sizes and outer package materials. An EOAT fully integrated into the robot's motion plan can reliably grasp items and deposit them onto a mixed load." One such tool can handle products ranging in size from two-inches by two-inches by six-inches such as six-packs of juice boxes, up to a 26-inch cube like a box of diapers.
A flexible EOAT needs to collapse and expand to handle such a wide range of items while minimizing interference with the load under construction. "No two loads will be the same when constructed by the robot," concludes Motley.
For warehouse distribution applications to be viable, advanced software combined with vision sensors need to work symbiotically. "Software helps build a three-dimensional puzzle of different size items. Breakthrough new software algorithms take customer order data and direct a robot to stack that order efficiently on a pallet. These algorithms can be used in pre-planned mode for highest pallet efficiency, or in real-time mode for maximum production flexibility and lower capital investment. Recent successes have employed both approaches, with a real-time mode acting as a backup in case the pre-planned mode gets disrupted or interrupted," Motley points out.
"Software is now able to take an order and calculate building a stable load with all the customer's items, subject to efficient truck routes or efficient aisle traffic when stacking shelves, a complex task for software to do," emphasizes Motley.
Robotic-based warehouses require sensor fusion, contends Nieves. "Intralogistics is predicated on sensor fusion, like mixed palletizing and de-palletizing applications. De-palletizing robots must deal with high throughput and variable shapes. Robots will not be just handling boxes but also tennis balls, baseball bats, and chairs. To deal with them all, sensor information and dexterous end-effectors are crucial."
Like Motley, Nieves says in addition to the robot recognizing a wide variety of geometries presented to it, advances in end-effectors make it possible to handle work on these shapes easily. "In addition to the intelligence sensors provide, robots needs dexterity. Recently, more flexible, universal, adaptive end-effectors, have become another enabling technology."
Nieves' colleague at Motoman, Director of Marketing Tim DeRosett, agrees, saying, "Integrating robots to handle mixed pallets is challenging. End-users want robots to load mixed pallets in warehouses and unload those mixed pallets at its destination. Vision with sensing capabilities determining the configuration of a pallet then (to) de-palletize those products is an application of interest."
Going Mobile
Robots lead the way toward automated warehouse distribution systems, says DeRosett. "Distributors have expressed interest in mobile robotics being able to move around distribution centers automatically. Capabilities of automated guided vehicles (AGVs) are advancing so traditional robots will merge with mobile robots." DeRosett sees platform-mounted robots autonomously moving to a work station, engaging a dock for power, performing a task then moving to another station.
Likewise, Rush LaSelle, Director, Global Sales and Marketing, Adept Technology Inc. (Pleasanton, California) notes, "The use of intelligent AGVs to bring dunnage, raw products and work in progress from one location to another will grow over the next five years."
Adept Technology's recent acquisition of MobileRobots Inc. expands Adept's automation presence in non-structured environments, such as a single robot in a hospital room or a fleet of robots in a warehouse. Such applications are anticipated to enjoy explosive growth in the coming years.
Safety First
Advancements in software promotes safer robotic work cells, submits Michael Cicco, General Manager at FANUC. "The robot safety standard has allowed software to control safety if the system has dual processors. Newer robots have a dual chain safety circuit, enabling software to create three-dimensional safety zones that the robot must avoid or cannot get out of." Software-enabled safety zone creates an invisible fence, says Cicco.
Invisible safety fences have lead to reduced costs in robot safety systems, says Cicco. "Automotive manufacturers use such a system. Until recently, robot end-users needed to physically limit the robot with hard stops and dynamically limiting areas where the robot can move. Advances in software offer a simpler option that not only saves money but also shrinks work cells down to a minimum size because fences can be moved very close together. That saves valuable floor space in a manufacturing plant."
ABB's Hunt has a similar take on safety as Cicco. "Advancements in safety systems have been huge not just for safety's sake but also to save floor space. The ability to contour the restricted area of the robot means removing physical guards, allowing robots and humans to safely share the same space when necessary. That drastically reduces floor space requirements for work cells." Hunt says, "Work cells can be placed close together in an area where a human might have to go. This placement can be safe without putting up physical barriers that uses valuable floor space."
While software and virtual barrier advancements now provide additional safeguarding options, we are not yet at a "fenceless" point in safeguarding robots. A barrier is still required whether it is "physical" or "virtual."
Software safety controls incorporated into newer, specially configured, collaborative robots and new applications with cells designed with specific requirements can enable people to walk up to a robot with its drive on and remove a part from the gripper. According to Hunt, "Five years ago, one would never do that with any real confidence that the robot would not move abruptly causing injury."
Both Cicco and Hunt see the day when software advancements will bring about genuine collaboration between people and robots. "Human interaction with robots is real now, due to advancements in safety control technology and redundant methods of monitoring the robot's position with multiple processors," says Hunt.
In a similar vein Cicco predicts more direct human interaction with robots based on recent advances in safety algorithms. "Safety systems are closer to the point where people and robots can directly interact with one another. In the past, people were situated behind light curtains and other safety devices far away from robots, fixtures and conveyors in the work cell. With advanced safety software, people can get much closer to the robot."
Cicco sees humans and smaller robots directly handing parts back and forth in a safe manner in the next few years.
Changing to Deltas
In conjunction with peripheral equipment and software, the robots themselves have advanced in speed and dexterity. "Delta robots are really increasing in the food packaging market. Use of deltas are growing because they can pick and place any type of food very quickly," declares Robert Pitera, Global Innovation Manager at DE-STA-CO Automation (Auburn Hills, Michigan). "Delta robots have taken over food processing production lines."
Pitera sees further inroads of delta robots. "The influx of delta robots was the biggest thing I saw at PACK EXPO 2010. Use of deltas has grown in the past three years and I see more because of their speed in picking, placing, and processing at the same time." Pitera sees the trend of more deltas and fewer SCARA (selectively compliant assembly robot arm) and six-axis robots in food processing food lines.
Clay Cooper, Corporate Development-Food and Packaging at Applied Robotics Inc. (Glenville, New York) also notices more delta robots in food applications. "Delta robots are packing a variety of foods, candies, and pastries. The high throughput in food processing lines warrants high-speed delta robots." The price of delta robots have come down in recent years so Cooper foresees more end-users investing in them.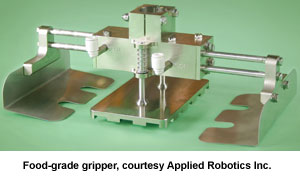 Automating in 2011
Automate 2011 will showcase products and services of 100 companies in robotics, vision, and motion control. Sponsored by the Automation Technologies Council (Ann Arbor, Michigan), Automate 2011 will be collocated with the International Symposium on Robotics and ProMat, North America's most comprehensive material handling trade show.
ABB, Adept, DE-STA-CO, FANUC, Motoman and others plan on exhibiting at Automate 2011.
Adept will display its mobile robot, designed for production, warehouse and hospital logistics as well as its delta robot for high throughput packaging applications. ABB will show its range of medium capacity robots to meet the needs in arc welding, machine tending, material handling and other processes.
"I hope to see a mix of robot vendors and integrators showing the latest and greatest robotic technology. The committee that formed Automate 2011 would like integrators to play an active role in the show," says Cicco. "By offering integrators free booth space, we look forward to customers visiting booths who have not gone to other shows such as IMTS and FABTECH."