Advances in Robotic Simulation Deliver More Bang for the Buck
POSTED 07/17/2000
 | By: James F. Manji, Contributing Editor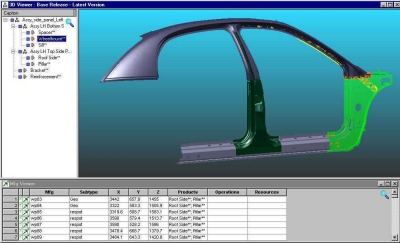 Tangible advances in the art and science of robotic simulation add up to the delivery of multiple benefits to those manufacturers who use robots in their plants. Most of the robot manufacturers are now providing Realistic Robot Simulation (RRS) modules or "black box", which provide a true and accurate model of the robot that is being simulated.
"The black box gives us a representation of all the schematics and robot paths that bring a robot to within 98% of accuracy from the perspectives of cycle times and motion planning," says Mark Bevins, president, Flow Software Technologies Inc. (Windsor, Ont., Canada). "While RRS has been around for some time, what is new is that robot-makers are providing them on a PC platform."
RRS technology is now being used at six General Motors Corp. (GMC) automotive plants, with each plant using as many as 400 to 500 robots for various tasks. "Everything we simulate is speced out on the RRS, so we're getting an accurate look at the programs being downloaded, along with accurate cycle times," explains Thomas Hoffman, senior project engineer. General Motors Truck Group (Pontiac, MI). "The major advantage of using the black box technology has been cost avoidance through the elimination of potential problems."
With the accuracy of the robot simulation through RRS, Hoffman says that the kind of problems that have been avoided could be as simple as faulty end-effector mounting to a robot position, or robot mounting that may have been 90 degrees off, or perhaps a flipping of the end-effector 180degrees. "By validating all these conditions on the simulation, we've avoided the fact that the robot build could be wrong," Hoffman continues. "As far as monetary value, we've not placed a figure on cost avoidance, but if we can get a plant up and running a day earlier, more vehicles are produced and that is profit for the company."
Accuracy of robot simulation also means advances in calibration, which allows users to measure the robot itself and to understand the differences between an ideal computer model and the real robot and the ability to then adjust the program that is created, according to Michael Rouman, manager of technical sales engineering for Tecnomatix Technologies Inc. (Novi, MI). "This, in turn, is tied to off-line programming,' says Rouman. 'We can now achieve much closer to 100% accuracy of a match between the program and the program that we run in the plant."
An advance connected with calibration is graphical programming, which is said to be more user-friendly than previous types of programming. "You can use a GANTT chart to create your sequence of operation instead of writing a lot of language code," says Bob Brown, president of DELMIA Corp. (formerly Deneb Robotics), (Troy, MI). "The advantage is that we can include multiple robots working in the same workcell, whereas before, you had to create the I/O to have the robots talk to one another."
Related to this advancement is the fact that robotic simulation can now be executed on PCs with NT rather than using UNIX workstations. "The ability to move simulation onto PCs means that this technology can keep pace with UNIX," says Michael Jacobs, president, Applied Manufacturing Technologies (AMT), (Auburn Hills, MI). "The big advantages here are cost of hardware, compatibility of operating systems and networks, and the use of laptops on the shop floor."
In addition to making simulation affordable, PCs are highly portable. "You can put your simulation programs on a PC, carry it down to the shop floor, download the program, and upload the program you've just created during simulation from your laptop," says Bob Brown of DELMIA. "Then, you can edit your program on your laptop and download it again." The major benefits here are affordability, accuracy, and portability of simulation programs.
"But the biggest bang for the buck for people who use simulation is the time savings," emphasizes Tecnomatix' Rouman. "Time is saved because you reduce programming time from a highly skilled programmer; and there are so many other opportunities to save time and, hence, money."
One example of time and money savings comes from AMT, which worked with a truck manufacturer in a changeover in a paint process. The changeover is rarely quick and cheap and the expense grows with the size of the number of robots.
AMT, a specialist in programming robotic controls for paint and spot weld processing, was called in to reprogram a complex robotic paint process to produce a faster and less expensive process to accommodate a more viscous clear coat compound. The paint line consisted of 30 FANUC Robotics' P155e robots with RJ controllers and 60 degree bell applicators for the end-of-arm tooling. Sixteen truck body styles (eight bodies with two-tone options for each) are sprayed in the line.
"To accommodate the heavier new clear coat, this process required re-calibrating approximately 200 paths per robot, each with up to 60 different robot locations," explains Jeffrey E. Loar, group leader, paint programs for AMT (Rochester Hills, MI) "More than 12,000 target locations had to be reprogrammed."
AMT estimated that the standard manual process-using teach pendants-would require up to four months, including four weeks of production downtime, an average of 20 scrap trucks, as well as thousands of gallons of paint. AMT's challenge was to reprogram this manual process efficiently and cheaply. AMT had been using Tecnomatix's ROBCAD Computer Aided Production Engineering (CAPE) software tools to create painting programs for automakers. The company again decided to use ROBCAD/Paint.
"We uploaded an existing path program from one of the robot controllers, then calibrated the clear module and cell to work with it," says Loar. "After incorporating the specific truck CAD data supplied by the manufacturer, we created and ran a program using ROBCAD/Paint and TDL Controller, a ROBCAD programming language."
Once the entire process was simulated and tested off-line, the new paint programs were downloaded to the 30 robots. The process was up and running in 1.5 months with only two weeks of production line downtime and minor manual tweaking.
AMT cut the programming process time in half compared to adjusting all the robots entirely by teach pendant. The company also saved more than 1,000 man hours and substantial expense in scrap trucks and clear coat compared to making the adjustments without the use of software.
Perhaps one of the biggest effects of robotic simulation has been the way in which manufacturers are purchasing and installing robots. "The end-use customer is now requiring the systems integrator to provide a simulation before actually cutting metal and manufacturing the workcell," says DELMIA's Bob Brown. "This is a much better precautionary process, because it offers exactly the right kind of solution that the manufacturer is looking for. The integrators also see the advantages of simulation because it takes risk awa