Advanced Functionality, World Events to Drive Machine Vision in 2021
POSTED 11/05/2020
 | By: Winn Hardin, Contributing Editor
In past years, AIA's forward-looking "what to expect" article summarized long-term trends — such as the growing adoption of Industry 4.0 and the burgeoning impact of deep learning — and how machine vision companies are incrementally advancing their products and system designs to fulfill manufacturing and process industry needs.
But 2020 wasn't a normal year. And 2021 is likely to be interesting too.
The coronavirus pandemic has reshaped every aspect of society. And as you would expect, the machine vision industry is doing its best to help the world adapt to changing conditions. COVID-19 has reshuffled the machine vision industry's hottest applications — with food inspection and surveillance/security joining the explosive logistics/materials handling markets, which were strong before COVID-19 but exploded thanks to the pandemic. This pivot has also created opportunities for machine vision component and system designers to re-evaluate how their technology is used to solve today's problems, resulting in as many interesting advances in system design as in component and pure technology development.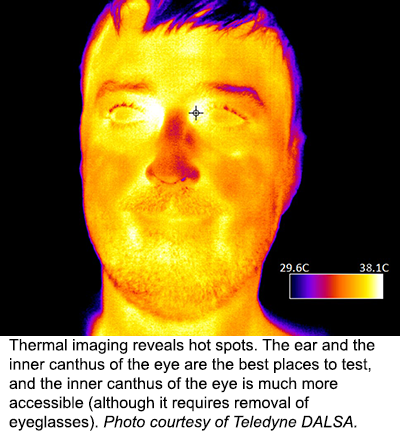 Food, Elevated Body Temps Drive Nonvisible Imaging
In recent years, machine vision sensor manufacturers have developed a number of unique, cost-effective ways to make nonvisible imaging, including multispectral imaging, a commercial reality for volume deployment. A few years ago, IMEC applied thin films to each row of an area array CMOS sensor, turning a single sensor into a sweep-mode linear hyperspectral sensor. More recently, Teledyne DALSA added multispectral filters atop its Linea ML line scan sensor pixels for multispectral imaging applications.
New sensor architectures are generating considerable interest in the SWIR spectral range. Sony's IMX990 and IMX991 image sensors are the first products to use the company's new SenSWIR technology, in which photodiodes form on an InGaAs compound semiconductor layer connected to the silicon (Si) readout layer via Cu-Cu bonding — a design that enables high sensitivity over a broad range of wavelengths. The SenSWIR design yields a SWIR image sensor that is compact yet capable of delivering seamless image capture over wavelengths ranging from 0.4 μm to 1.7 μm.
Additionally, SWIR Vision Systems has introduced a new class of cameras featuring 400-nm to 1,700-nm broadband image sensor technology based on colloidal quantum dot (CQD) thin film photodiodes fabricated monolithically on silicon readout wafers. Sensors like the SenSWIR line and CQD sensors are poised to reshape the machine vision industry through a new era of cost-effective multispectral sortation and inspection systems.
Machine vision lighting companies, such as Smart Vision Lights, offer an alternative multispectral vision system design that flips traditional multispectral imaging on its head by using the light source to select the image's spectral band. Instead of separating the spectral content at the camera, discrete wavelength band illumination sources are generated sequentially by the lighting system and subsequent images are collected using standard grayscale imaging. SWIR imaging systems are attracting considerable interest for food processing and packaging applications, where automation can provide needed social distancing for line workers.
"Long-wave infrared [LWIR], using microbolometer-based sensors, is also in high demand for security applications but particularly for elevated body temperature detection," explains Eric Fox, Director, Business Development at Teledyne DALSA. "It's gone through the roof." Unfortunately, Fox adds, pandemics generally increase security concerns for governments around the world. So LWIR demand is also being driven by increased needs for intelligence, surveillance, and reconnaissance (ISR).
A bump in demand for security and military systems has driven military and space camera specialists at Imperx to develop time-delay integration (TDI) and multitap readouts for super-high-resolution satellite imaging. "These cameras are still mainly leveraging GigE Vision communications, but we're seeing more demand for CXP for terrestrial applications thanks to longer cable runs and even SFP+ for maximum bandwidth, lightweight, electromagnetically resistant military systems," said Greg Pangburn, Chief Financial Officer at Imperx.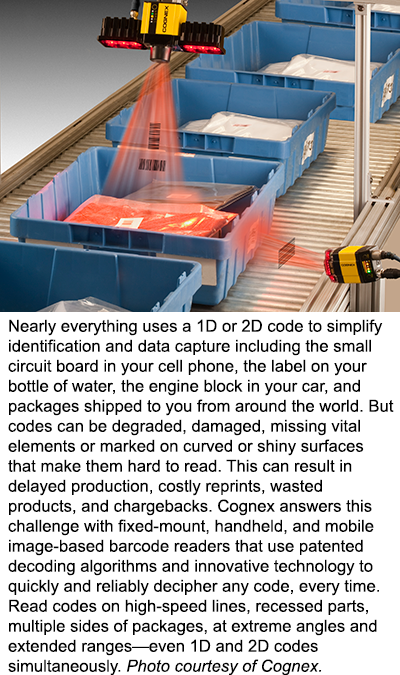 Logistics Goes Boom
E-commerce was already reshaping the global supply chain before the coronavirus hit, as customers rewarded companies that could deliver goods at a reasonable price within one or two days. This trend has accelerated sharply as the pandemic drives shoppers online and out of brick-and-mortar stores and malls, flushing e-commerce companies with cash and the desire to grab market share. According to Will O'Donnell, managing partner of Prologis Ventures, "As part of this major supply chain evolution, I expect to see companies continue to optimize the operations of their logistics facilities, as well as increase investment in robotic systems to enhance processes as they seek to create environments that prioritize the health, safety, and well-being of employees."
According to Shane LaChappelle, Cognex senior product marketing manager, "Most clothing retailers, for example, have migrated 75% of their business online. We expected that to happen over a 10-year period, but it's happened in less than a year in the time of COVID."
Ben Carey, senior manager of logistics vision products at Cognex, adds that virtually every major retailer that can afford it is investing in automation to keep up with market leaders like Amazon, Alibaba, H&M, and others. "It's about more than just separating workers in the warehouse to create social distancing," explains Carey. "In today's omnichannel retail environment, companies need to have accurate inventories from the retail outlet back to the warehouse and through to production. Retailers that do not have 100% accurate inventories or supply chain visibility underestimate their inventory levels so that customers won't be disappointed. It can be half of actual inventory, which keeps the company from selling all they can."
Cognex is focused on optimizing logistics solutions for today's needs. For example, the growth in e-commerce has led to increasing shipments of single items. This significantly increases volume demands on the supply chain, prompting companies to find new automated solutions, such as boxing and labeling individual products for shipment.
As a result, in addition to strong demand for its extensive line of DataMan code readers, Cognex is seeing a need for noncontact dimensioning systems using structured light. These allow sortation systems to separate items by size and convey those products to automated boxing stations, which then create boxes around the products for shipment. Until recently, most of these individual boxes were folded and labeled using manual labor.
"Amazon offers bonuses to customers that are willing to bundle multiple products into a single shipment if they're willing to wait an extra day or two, but few customers take them up on the offer," adds Cognex's Carey. "People want products delivered as fast as humanly possible."
Carey adds that volume growth and the prevalence of automated storage systems means that dimensioners are now used on incoming inventory too, verifying the shape of a received box before directing it to automated conveyor, racking, and storage systems. "If the box is crushed or won't fit in the allocated space, it causes a jam that has to be manually corrected. With today's volume, that downtime is unacceptable," says Carey.
"Companies are extending traceability to the shipping dock and beyond," explains Cognex's LaChappelle. "Presentation scanners help workers not to touch the same handheld scanners, while allowing pallets to be verified as they travel through the dock doors and into staging areas. This growth in volume and transactional speed means that warehousing operations have to connect all the way to point-of-sale systems for accurate inventory and competitive advantage. At Cognex, our DataMan code readers, 3D dimensioners, and other solutions are helping companies to adapt to today's changing business environment."