Acceptance, Convergence, Certification Drive Vision Guided Robotics (VGR)
POSTED 04/17/2012
 | By: Winn Hardin, Contributing Editor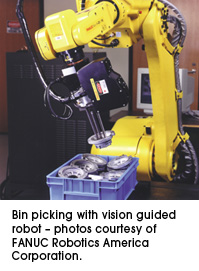 Once upon a time, industrial engineers preferred manufacturing with discrete automation over robotic manufacturing because they understood the ladder logic that controlled the PLCs that controlled the machines. After all, change is hard.
They also avoided machine vision because few could program well enough to develop complex image processing algorithms, lighting was still considered a black art, and CCDs brought to mind government agencies that protect the public from disease rather than a sensor that converts light to electricity.
In many ways, camera phones and consumer devices such as the Xbox's Kinect 3D vision sensor, which is based on decades of solid machine vision product development, have helped to "mainstream" machine vision technology. Add an industrial robot into the mix and voila: vision guided robotics (VGR) seminars aren't scarcely populated with a handful of robotic engineers, but with dozens of industrial engineers, each a willing student tasked with developing VGR solutions for their companies.
In short, the world finally "gets" VGR technology, but automation industries aren't sitting still. VGR developers and trade associations are making preparations for the next step in the industrial automation revolution by merging the vision and robotic technologies into a single solution, owned by a single vendor, and by developing certification programs that touch on both technologies, giving customers confidence in the suppliers when it comes to fielding their first VGR solution.
The Convergence of Vision and Robotics
What started with 2D vision guidance has progressed to 3D vision guidance for tracking moving, singulated parts on a conveyor and similar applications. And 3D vision is even more critical for new application areas, such as service robotics, which are even more challenging than industrial robotic applications because they tend to be outdoors in uncontrolled environments.
Traditionally, using machine vision to identify a product's location in 2D or 3D space and then guiding a robot to the object has been the domain of the system's integrator. However, as vision and robot technologies have become easier to use and more widely accepted, more robot companies are either taking machine vision technology in-house for easier integration or developing partnerships that will give integrators and customers a consistent design environment.
As a result, robot companies are adding 3D machine vision technology to their product lines. FANUC Robotics America Corporation, for example, offers iRvision, a custom in-house machine vision solution, while others, such as Comau and Yaskawa Motoman, use Baumer and Cognex Corporation's industrial cameras, respectively, with in-house image processing software that is often enhanced with specialty software tools, such as the CortexVision 3D machine vision algorithm.
"There are many times when we prefer to integrate a system from one supplier, like FANUC's iRVision," explains automation system designer and integrator Nick Tebeau, Manager Vision Solutions Business Unit Industrial Solutions at LEONI Engineering Products and Services, Inc. (Lake Orion, Michigan). "A customer may be familiar with the system, which makes training and support easier. Spare parts can get expensive, but hardware costs can be lower using an integrated solution. Of course, there are instances where iRVision won't work – if you have to strobe the light, for instance, or if the system won't work with a red laser. iRVision may not be the best solution. You have to be project centric as an integrator. Ask yourself: Can this machine vision product solve the problem? If yes, go for it. If no, then don't waste your time and the customer's money trying to make a square peg fit into a round hole."
3D Vision Expands VGR Market
In the early days of VGR applications, 3D vision didn't always have sufficient resolution or accuracy of location for robotic guidance applications because VGR workcells were large, necessitating equally large 3D data sets for precision guidance. But as the consumer market continues to drive up the resolution of cameras while driving prices down, coupled with new microprocessors that can handle large data sets in real time, 3D vision has become much more attractive for robotic applications.
High-bandwidth gigabit Ethernet (GigE) has also helped to bring vision and robotic technologies together while giving vendors the opportunity to select their 3D vision technology of choice. For instance, FANUC prefers structured light solutions – sometimes combined with single- or multi-camera stereoscopic triangulation techniques – because structured light works better on curved surfaces that may not offer enough obvious features to easily determine a project's 3D position and orientation through traditional stereoscopic methods.
"You could easily argue that one of the biggest developments in the machine vision market during the last three to five years has been in the communication," adds LEONI's Tebeau. "Getting away from analog. Getting away from FireWire. And going with Camera Link if it's point-to-point communication or GigE if it's a multi-camera solution. Control engineers understand GigE because of industrial networks like ProfiNet and Ethernet/IP. And if you can get on their wavelength, it makes the whole project go easier from the customer's point of view."
While 3D VGR applications are growing significantly, 2D robotic guidance to parts on flat conveyors is still a large and active application area. Within the 3D VGR applications, autoracking and similar applications where the parts are not overlapped far outnumber more complex applications like bin picking, where parts are jumbled together.
Programs like the RIA Certified Robot Integrator program, which includes vision expertise as part of its 25-part scorecard, will help continue the evolution of VGR applications. As both the technologies and integrator knowledge continue to grow, the marketplace will continue to adopt proven VGR applications such as bin picking, fueling the growth of both machine vision and robotic technologies in today's modern manufacturing, process, and service industries.
Education Promotes Vision-Robot Convergence
As digital imaging and robots become a common presence for mainstream consumers, vision guided robotic technology is gaining acceptance and followers, but education remains the key to opening new markets, according to Steven Prehn, Product Manager – Vision at FANUC Robotics America Corporation (Rochester Hills, Michigan) and instructor for an upcoming seminar on vision guided robotics at The Vision Show (May 8-10 in Boston, Massachusetts).

"Factory automation is playing a huge part in the modern workplace, and that includes robot automation, but at the same time, there is a shortage of people who can program robots and machine vision systems," he explains. "The current U.S. administration has recognized the problem and is promoting the employment opportunities for people trained to design and program automation equipment, including robot and vision systems. Robots aren't about displacing workers – they're about giving workers the tools to do a job smarter with less stress on their bodies. I see my seminar and programs like AIA and RIA's Certified Robot Integrator programs as ways that our industry is helping to meet those educational needs."

A quick look at Prehn's classroom audiences proves the point. Where a handful of robotic specialists used to take AIA/RIA classes on vision guided robotics, now there are dozens of industrial engineers that have no vision or robot programming experience but are not afraid to learn because imaging systems and robots are commonplace objects.

"Before, you had to start your classes explaining how CCDs work and the importance and techniques of lighting," adds Prehn. "Today, engineers come to the class understanding the basics of imaging and robotics. Robot and vision suppliers have used the 80/20 rule to address reoccurring issues and make system programming and set-up more intuitive. It's amazing how far engineers can go today on their own just by picking up the equipment and trying it out."