A Preview of the Automate 2011 Conference
POSTED 03/01/2011
 | By: Bennett Brumson, Contributing Editor
The

Automate 2011 Show and Conference promises to be an event where robot suppliers, integrators and potential end-users of robotics can gather to share solutions to manufacturing challenges. Slated for March 21-24 in Chicago's McCormick Place, Automate 2011 will bring together leaders in robotics, machine vision, and motion control to exhibit the latest and greatest in flexible industrial technology, showcasing their capabilities and products to potential end-users..

Automate is a newly updated, expanded and rebranded version of the Robotic Industries Association's (RIA, Ann Arbor, Michigan) flagship trade show (formerly the International Robots, Vision & Motion Control Show). Even the venue (McCormick Place) is new. And for the first time, integrators are strategically located at the show's entrance, accentuated in Automate 2011's Integrated Solutions Center, a pavilion showing real world answers to real world manufacturing challenges facing end-users. The Integrated Solutions Center is the place that attendees can visit to see how technologies on display can provide them with solutions, no matter what industry they work in or what their application needs are.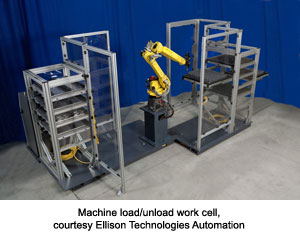 Automate 2011 will be held simultaneously with ProMat, the most comprehensive material handling trade show in North America, and with the International Symposium on Robotics (ISR). Service robots will have a more prominent place in Automate 2011 than at previous shows with several cutting-edge personal robots and related technology on display in the Emerging Robotics Pavilion.

"Automate 2011 is an opportunity to support the robotics industry and RIA." Ellison hopes to meet new customers because the show is collocated with ProMat," notes John Burg, President of Ellison Technologies Automation. (Council Bluffs, Iowa)

Manufacturers in the laboratory, medical device fabrication, alternative energy, food and beverage, consumer goods, pharmaceutical, aerospace and electronics industries, among others, can solve manufacturing problems by attending Automate 2011.

Automate attendees can witness the bestowing of the prestigious Joseph F. Engelberger Robotics Awards to industry innovators Åke Lindqvist of ABB Robotics (Auburn Hills, Michigan) and Dr. Henrik Christensen, Professor of Computing at the Georgia Institute of Technology's Center for Robotics and Intelligent Machines (Atlanta, Georgia). Lindqvist will receive the award for leadership while Christensen will get the education award during the Tuesday evening (March 22) Gala Dinner Awards Ceremony.

In one of the most comprehensive conference agendas, engineers and others in the robotics field will have the opportunity to attend dozens of diverse tutorials and other sessions to enhance existing skills or learn new ones. Leaders in the robotics, machine vision, and motion control industries will present these tutorials and sessions. Attendees can prepare for exams to become a Certified Vision Professional (CVP) through the Automated Imaging Association (AIA).

Other highlights include a keynote speech on the Development of Robonaut 2 (Tuesday morning, March 22), a joint project of General Motors (GM, Warren, Michigan) and the National Aeronautics and Space Administration, Johnson Space Center (NASA-JSC, Houston, Texas). GM and NASA share a vision of robots and humans working together in the same workspace. Dr. Myron Diftler, Robonaut Project Manager at NASA-JSC and Marty Linn, Principal Engineer of Robotics with GM, will talk about the development of Robonaut 2 and design strategies used to enable closer human-robot cooperation.

On earth, Robonaut 2 is designed to operate in an industrial setting, performing bin-picking chores. Robonaut 2 is integrated with more than 350 sensors.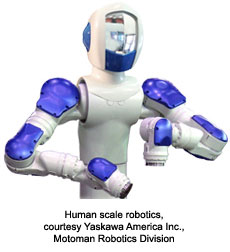 Also delivering a keynote is Thomas Ridge, former Secretary of Homeland Security, giving a speech titled "Fortune Favors the Brave: The Net Gain of Supply Chain Security in a Risk-Based World." Secretary Ridge's keynote address will be presented on Monday morning, March 21.

Another expanded feature of Automate 2011 is the New Product Presentation Theatre, where exhibiting companies can show off recently introduced products in 20-minute presentations right on the show floor.

In addition to the Engelberger awards ceremony, those attending Automate 2011 will have a chance to relax at Buddy Guy's Legends. The fabled Chicago blues club is the perfect venue for informal networking and a fine meal. The event takes place Wednesday night.

Automation Exhibits
Robot makers and integrators are planning a series of exhibits and demonstrations to show off their capabilities. Yaskawa America Inc.'s Motoman Robotics Division (West Carrollton, Ohio) will have a work cell that utilizes Rockwell Automation's software. "Motoman will demonstrate products and capabilities for automated material handling and advanced manufacturing. We will show a material handling robot programed entirely from Rockwell Automation's software. Motoman developed the robot gateway to enable integrators and end-users to program their robots directly within Rockwell's software language." states Tim DeRosett, Director of Marketing with Motoman.

Additionally, Motoman will show human scale automation in their exhibit. "Our dual-arm, 15-axis robot enables companies to automate multiple complex operations that previously could only be done manually. Motoman will also show our newest vision product along with precision gear deburring and finishing using computer-aided
design models to automatically program part profiles." On a lighter note, DeRosett adds that a dual-arm Motoman robot will deal blackjack.

Genesis Systems Group LLC (Davenport, Iowa) plans on bringing a work cell to Automate that demonstrates several processes, previews Whitney Moon, Market Development Manager. "Our demonstration will perform material handling processes using vision for palletizing and part handling. Genesis will demonstrate a tool changer from ATI Industrial Automation (Apex, North Carolina) enabling the robot to switch among processes automatically. Automate 2011 is hooked up with ProMat and we think demonstrating a robot tending a hybrid modular conveyor makes sense." Moon says that the conveyor is manufactured by New London Engineering of New London, Wisconsin.

The growing importance of the automated warehouse and food handling sectors leads Adept Technology Inc. (Pleasanton, California) to bring robots related to those applications to Automate, explains Rush LaSelle, Director, Global Sales and Marketing. "Adept's objective in showcasing these products is to demonstrate how the implementation of automation is more cost-effective than any time in history. Now is an exciting time as the adoption rate of robotics and autonomous guided vehicles (AVGs) are rapidly increasing in non-traditional application areas." The packaging platform Adept will bring to Automate 2011 is intended for handling raw foods such as meats and poultry.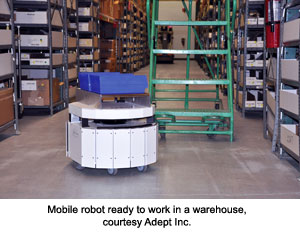 Also, in the Emerging Robotics Pavilion, Adept and Anybots (Mountain View, California) will each show off their telepresense robots, while Motoman will demonstrate its dual-arm, multi-axis robot. Other pavilion participants include CYCOGS' (Sauk City, Wisconsin) medium-sized service robot, Hydronalix's (Tucson, Arizona) "lifeguard" robot, E.M.I.L.Y. and SCHUNK Inc's (Morrisville, North Carolina) personal robot platform.

Other food applications will have a presence at Automate 2011. "Schneider Packaging Equipment Co. (Brewerton, New York) will demonstrate a cartoning application at the show," declares Schneider's Sales and Marketing Director Terry Zarnowski. "A vision-guided robot will pack single serving bags of candy into cartons at a rate of 120 cycles per minute."

ABB Inc. will focus on painting applications at Automate. Stephanie Stanton, ABB's Marketing Specialist and Trade Show Coordinator, says, "ABB will have a paint cell to demonstrate color changing capabilities and a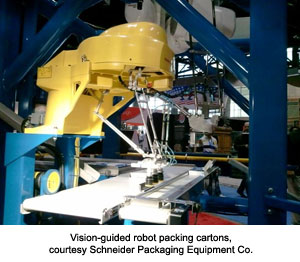 conveyor to show tracking while spraying multiple colors. A second work cell with two robots will showcase motion control capabilities." ABB will also display their smallest robot arm and compact controller along with videos showing other applications, Stanton concludes.

FANUC Robotics America Corporation (Rochester Hills, Michigan) will exhibit a variety of applications at Automate 2011. "FANUC will demonstrate picking, dispensing, and assembly applications. Additional demonstrations will showcase arc and spot welding, bin picking, as well as large and heavy part handling, and mixed-case palletizing," General Manager Michael Cicco remarks. "FANUC will bring a parallel-link robot designed for small part handling, high-speed picking, packing, and assembly applications to the show."

JR Automation Technologies LLC (Holland, Michigan) will also have a work cell performing diverse tasks. "JR will demonstrate three different machines using five robots. One demonstration will show dispensing and screw-driving applications using vision-guided robots," sketches out James Kramer, JR Automation's Director of Sales. JR will have three video monitors showing other applications.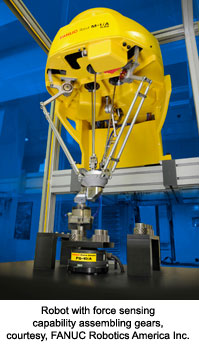 Ellison intends to bring a machine loading and unloading work cell for exhibit at Automate. "Ellison's demonstration will include a vision-guided robotic material delivery system that allows delivery of multiple parts. We call the system our 'lean machine,'" outlines John Burg. "The system is for use with lathes, machining centers, grinders, and several other types of machines." Ellison offers a press-break loading and unloading version of their 'lean machine.'

Peripheral equipment suppliers will also exhibit at Automate. "ATI will display a hollow wrist tool changer that allows routing of pneumatics, electrical signals, and other utilities to pass through its center," portrays Charles Haines, Marketing Supervisor at ATI. "The hollow wrist tool changer is for general robotic use, anywhere that having wires or hoses hanging off the robot is not desirable, especially in applications with concerns about cables and hoses getting snagged on other components in the environment."

Tutorials and Sessions
Attendees will have the opportunity to learn from their peers in the robotics, vision, and motion control industries through a series of informative tutorials and sessions at the Automate Conference. The 19 tutorials will help engineers build professional development and become a Certified Vision Professional by way of a basic or advanced level exam. The 22 regular sessions are supplemented with two others dedicated to robots in education.

Opening day of the conference, Monday, March 21, features tutorial three, "Fundamentals of Robotics," taught by Kawasaki Robotics (USA) Inc.'s (Wixom, Michigan) North America Sales Manager, Robert Rochelle. Kawasaki engineers plan on listening to the keynote address on the development of Robonaut 2, justifying robotics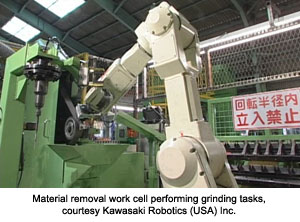 (session one), robots for picking, packaging and palletizing applications (session four) and three-dimensional vision system development (tutorial seven).

Burg is scheduled to present tutorial six, "Robotics System Integration," on Monday from 1:30 to 5:00 PM. This session looks at the merits and pitfalls of end-users integrating robotics themselves compared to hiring an outside integrator. Burg would like to check out other sessions but may not find the time during the conference. "I may attend other sessions and tutorials but I will be in Ellison's booth most of the time during the conference."

Drew Greenblatt, President of Marlin Steel Wire Products LLC (Baltimore, Maryland) will share his company's successes with robotics in session one, "Cost Justifying Automation" on Tuesday, March 22, 10:00 AM to 12:15 PM. This session explains how manufacturers can increase profitability through actual experiences of deploying robotics to increase the bottom line.

Also on Tuesday from 3:15 to 5:00 PM, Adil Shafi will present session six, "The Latest Developments in Service Robotics." Shafi will talk about 20 markets where service robots are growing in adoption and volume, including aerospace, land and water-based markets with defense, health, household and other diverse applications. "Service Robots will benefit humans in a profound and widespread manner," says Shafi.

Session 11, "Case Studies of Successful Robotic Solutions," (Wednesday morning) will examine case studies in robotic arc welding, high-throughput pharmaceutical screening, and how complex manual operations were automated, with tips manufacturers can follow to do likewise in their facilities. In addition to Wednesday's other tutorials and sessions, the Basic Level Exam for Certified Vision Professional will be administrated in the afternoon.

On the final day of the conference, Steven Prehn, FANUC's vision product manager will present the "Advanced Vision Guided Robotics" tutorial. This tutorial is part of the advanced certified vision professional track, culminating in the Advanced Certified Vision Professional Exam held at the end of the conference on Thursday, March 24. Prehn's colleague at FANUC, Packaging Product Manager Jay Strybis, will be among the speakers in session 20, "High-speed Robotic and Vision Solutions."

Two complimentary sessions, providing professional development for faculty and students, are being offered. Session E1 (Robots in Education) and E2 (Robots in Education Roundtable) will discuss how best to incorporate robotics and automation into classes and curriculum. Both sessions take place on Thursday, March 24.

Automate or Bust
Why attend the Automate 2011 Show and Conference? Motoman's DeRosett sees the advantage of collocating Automate, ISR and ProMat. "End-users will cross from ProMat to Automate to see how robotics can be used in warehouses and distribution centers. End-users are interested in solutions. Automate 2011 will enable end-users to see available solutions, not just discrete robots performing a function that may not apply to what they are looking for."

ABB also anticipates connecting with potential customers going to ProMat. "ABB hopes to increase awareness of our new products and showcase our capabilities in general industry while introducing our new look. ABB hopes to benefit from the additional traffic and leads as a result of Automate collocating with ProMat. Material handling is a key market for ABB," asserts Stanton.

Terry Zarnowski says, "Schneider wants to give face time to existing customers and inform potential customers of our capabilities. Our goal is to generate good, qualified leads to new business and to build relationships with customers. We need to understand how the robotics market is evolving and look at end-users' future needs." Automate 2011 is one way for robot suppliers and integrators to keep pace with an ever-changing manufacturing environment.

Genesis will attend Automate 2011 to strengthen relationships, explains Whitney Moon. "Being an integrator, Genesis must maintain relationships with our suppliers and customers. Supporting our suppliers as much as they support us is important. Many of our customers are both our supplier and our competitor."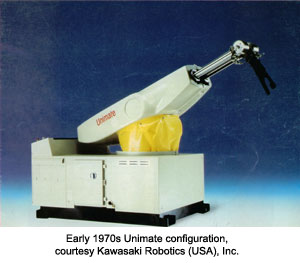 Celebrating 50 Years of Robotics
To put Automate 2011 in a historical perspective, Kawasaki plans on displaying one of the first industrial robots. "To help mark 50 years of robotics history since the issue of the first robot patent to industry pioneer George Duvol, attendees will have the opportunity to view an original Unimate 2005G," pronounced Yanik Van Coppenolle, Marketing Specialist at Kawasaki. The 2005G was a five-axis machine with 1,980 mm of reach and boasted a payload of 60 kg. "Those attending Automate 2011 can compare the Unimate's capabilities with that of current industrial robots," professes Van Coppenolle.

A display and timeline marking the 50th anniversary of the industrial robot will highlight the Past, Present and Future of Robotics on the Automate Show floor.