A Moment of Reflection: A Glimpse Ahead and Thanks
POSTED 11/11/2005
 | By: Åke Lindqvist, President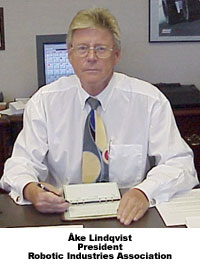 During the last two years in North America, we have witnessed tremendous growth and continued opportunities in the robotics industry. As an industry, last year we surpassed the $1 billion mark for orders and it appears that 2005 is well on its way to another record breaking year for the industry both in dollars and total robot volume.
Our long and valued customers in the automotive industry and automotive component manufacturers have led the way in their continued application of robots and robotic systems, and we are continuing to see growth in industries such as food and consumer goods, pharmaceuticals, beverages, plastics and metals as they extend the applications of robots in their plants.
Yet, most of these industries face similar challenges:
decreased life cycle cost
shorter lead times between design and production
increased uptime
market demands for more product customization (more flexibility)
reusability of capital equipment for future products
ease of maintainability
reliability
Robot based solutions have helped manufacturers meet these challenges and will continue to be a strategic element in their production and manufacturing plans as manufacturers continue to strive to be agile and lean.
Early in this 21st century, robotics have continued to evolve and some of the major developments and applications include increased or broader usage in industry.
Ten years ago, who would have thought that robots would be used to milk cows, put books away in a library, put icing on cookies for the holidays, not to mention the use and advancements of robots in the medical and surgical field such as grinding of hip replacements or the accurate positioning of humans for medical treatment and testing, let alone the filleting of fish, the cutting of meat and the future of nano-robotic technology.
The first decade of this century will be marked with transition, opportunities and technological changes for our industry.
As an example, recently, in the automotive body shop, we have seen the application of 'plug and produce' robotic modules which can be used to provide complete, standard manufacturing systems for the body shops. Previously, these types of standard cells were mostly limited to arc welding and palletizing applications. However, these robotic cells, stations and systems can produce parts for small sub-assemblies to larger systems for framing on the main assembly. Results from the installation of cells and systems such as these standard modules include:
Cost savings in operating and equipment costs
More reliable equipment
Shorter lead time
Reduction of production modification costs
Easier manufacturing/workshop organization
Shorter installation time
Variety of applications performed including spot welding, material handling and dispensing
Flexibility for a variety of products
These same results and principles can apply to cells for a job shop as well as to large manufacturing lines.
Another area where there has been increased acceptance across all manufacturers is the use of simulation or virtual robot programming on their personal computers. The capabilities of the modeling or the simulations of cells and systems have reduced programming time, served as verification of cycle times and reach analysis, generated programs concurrently to real systems being built which saves time, verifies the optimum orientation of each part or the optimum layout for reach and cycle time. Again, this software tool from robot manufacturers has provided our users cost savings, improved quality and consistency, and flexibility to plan for new parts or products while keeping their production running.
Today, multiple robots can now be controlled with one controller which leads to reduced floor space savings and increased throughput. These systems are now being used to handle multiple processes as well as more advanced assembly tasks. We are just beginning to apply and see the benefits that these types of robot systems can produce. Also, the age of the "two arm" robot is here – again, more advanced assembly and handling operations will be performed. We are slowly closing the gap between industrial and commercial robots which leads me to an area of which RIA has contributed globally and is leading-- the development of new robotic safety standards.
The first safety standards were developed in the mid-1980s by RIA and were revised in 1992 and 1999. Each time that these standards were released, a higher level of safety was achieved, but as the level has been raised, the amount of restrictions has increased. Basically, the direction has been to prevent close human interaction with robots whenever possible – higher fences, more E-Stops, more floor space required, more fencing, more complex and ultimately, more costly and inefficient.
Today, the association and industry is headed to 'lean, next generation' robot safety technology. Besides having control reliable, redundant stopping circuits, control reliable feedback for axis position and motion is used concurrently. Software logic can be used for decisions as long as it is protected from reprogramming, redundant and cross checked with monitoring – this type of system is used today in safety rated PLC technology. Failsafe designs and/or redundancy will be necessary in hardware and software. Multiple CPUs are used.
'Lean, next generation' robot safety technology will have the possibility to increase the level of safety, yet, has the potential to reduce cost, floor space and be much less restrictive to human intervention. New rules, guidelines and a new understanding of the technologies and concepts are needed. Safety standards and more importantly, new performance standards will be needed to address this 'lean, new generation' of industrial robots.
A final reflection: Our industry is just over thirty years' old-young, in most methods of measuring. In North America, we have had the assistance of Don Vincent and his capable staff for most of these years. During these last two years, it has been my great pleasure to work with Don and his staff, and my thanks to the board for their support and to the committees for their continued contribution to our Association.
Their continued support and contributions have opened the door to the next thirty years. Thank You!