2016 – The Year of Robot Democratization?
POSTED 01/26/2016
 | By: Tanya M. Anandan, Contributing Editor
Bold predictions for Collaboration, Connectivity and Convergence rang in 2015. One industry insider even called them prescient. Looking back a year later, we see the five-year forecast materializing faster than expected.
Industrial Internet of Things (IIOT) is more than a buzzword. With drones taking to the skies and autonomous robots navigating our warehouses, local eateries, hotels, hospitals, and stores, and soon our roadways – the differences between industrial, collaborative, and service robots continue to blur. No longer are robots reserved for multinational conglomerates or the rich eccentric with a sweet tooth for high-tech toys. SMEs and your average homeowner can now join the party. Sensors, software, and hardware are getting smarter and cheaper. We're democratizing robotics for the masses.
It's taken longer than some had hoped. But we're approaching the tipping point for many automation technologies. We're envisioning a world where robots will help the elderly and infirm with everyday tasks, so they can live independently longer. We're moving closer to Asimov's robots and to the "mobile, sensate robot" Engelberger anticipated. It's the paradigm shift foretold by visionaries past and present.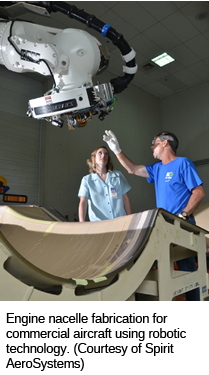 With a new appreciation for how far we have come since the Unimate robot first reached across the assembly line, we look forward to the future. We kick off the 2016 editorial lineup with a preview of this year's topics. From Mexico's burgeoning automotive industry to the world's commercial jetliners, to food packaging and breakthrough medical applications, to robots in logistics and warehousing, and working collaboratively side by side, hand in hand with their human coworkers – robots are reaching far and wide. We're just trying to keep up.
Robots in Aerospace
In February, we'll lower the jetway for a rarely seen view into the world of robotics in the aerospace industry. Aircraft manufacturers are recruiting robots to help them tackle the world's backlog of jetliner orders. They're borrowing automation lessons learned from the automotive sector and forging new strategies for the unique challenges of this industry.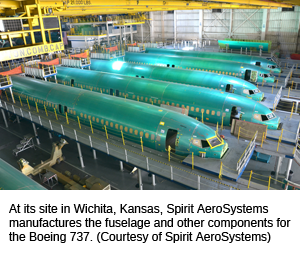 This video courtesy of Spirit AeroSystems shows how robots are increasingly used for painting, drilling, fastening, and inspection of metallic and composite aircraft fuselages and wings. We'll speak with robot manufacturers and users about the latest robotic technologies in this space.
Robotic Bin Picking
Leading up to The Vision Show, March's article will look at the progression of robotic bin picking. Once considered the Holy Grail, random bin picking is getting easier and more cost effective with advanced vision systems, software, and gripping technologies. Robot manufacturers and their trusted partners in vision and systems integration are leading the charge.
Watch this bin picking demo for high-speed order fulfillment in the warehousing industry.
Business of Automation
As the first spring blooms appear, we'll dive into the business of automation. A plethora of mergers and acquisitions, joint ventures and strategic alliances, VC investors, budding startups, and strategic robotics clusters are transforming the automation landscape. From Google gobbling up eight robotics startups in just six months, to Amazon buying KIVA Systems, Teradyne acquiring collaborative robot maker Universal Robots, and just this past fall, Japanese automation giant Omron buying the last-remaining legacy robot manufacturer in the U.S., Adept Technology – there's been no shortage of surprises. Meanwhile, Toyota invests $1 Billion in robotics and AI, and betting on the IIOT market, FANUC and Rockwell announce a strategic alliance.
It's not just companies that are on the move. People are on the move, too. Robotics, programming, and engineering talent have become hot tickets for career advancement and new startups. Everybody's looking for automation specialists. Just check out the job boards.
The business of automation is sweeping across the globe. Nowhere is that more evident than in China where the robotics race has ramped up. Interest is heightened in Australia's agricultural market, among Russia's plastics processors, and across Latin America where Mexico's automotive industry leads in automatización. Its close proximity to the U.S., some of the best free trade agreements in the world, and access to a lower-cost but highly skilled labor force make the Mexican countryside fertile ground for manufacturing and automation growth.
A3 Mexico Coming Soon
The Association for Advancing Automation will launch A3 Mexico this spring. A3 is the umbrella association for the Robotic Industries Association (RIA), AIA – Advancing Vision + Imaging, and the Motion Control & Motor Association (MCMA). Combined the three associations represent more than 900 automation manufacturers, component suppliers, systems integrators, end users, research groups, and consulting firms from around the world.
A3 Mexico will offer organizations and individuals based in Mexico, or doing business in Mexico, many of the same member benefits, including networking events, educational opportunities, and access to industry statistics and standards resources tailored to the local market. Members will have a company profile page on the A3 Mexico website (currently under development) and the ability to post product information, videos, news, and case studies, and also advertise on the site.
Robótica en México
Similar to its influence on the rest of North America, the automotive industry continues to be the main driver for robotics adoption in Mexico. In the era of disco and bell bottoms, automakers and top-tier suppliers were looking south of the border for places to set up shop. Automation integrators soon followed.
"Our very first welding controls were used to weld Pacers at the American Motors facility in Mexico City back in the '70s," says Thomas Patton, President of Genesis-ICESA Systems in Querétaro, Mexico. "The first assembly line we integrated was the Tempo/Topaz line which we developed along with Ford Mexico. This was Ford Mexico's very first PLC. It's been the automotive market that has driven robotics in Mexico."
Genesis-ICESA Systems is the result of a 2011 joint venture between Genesis Systems Group based in Davenport, Iowa, and family-owned integrator ICESA based in Mexico City. Genesis (U.S.) is one of the largest automated solutions providers in North America and specializes in robotic systems for welding, material handling, machine tending, waterjet cutting, and material finishing. Industries served include automotive, rail, agricultural, defense, and aerospace.
Established in 1976, ICESA was the first robot integrator in Mexico, according to the company. Ford Motor alumnus Harry Patton remains at the helm of the family business he started. He and one of his sons run the parent company in Mexico City, while sons Thomas and Sean Patton run the joint venture with Genesis about 100 miles away in Querétaro.
"Genesis was looking for a better way to serve their U.S.-based customers in Mexico," explains Thomas Patton. "They were seeing a lot of their customers come south, the tier one and tier two business. Combining the experience and expertise of the two companies provided a lower risk of entry to the marketplace."
Genesis-ICESA specializes in integrating automation for automotive body shop, stamping, transmission, engine, and final assembly. Robotics applications are primarily for MIG and spot welding, and robotic machine tending cells for automotive customers.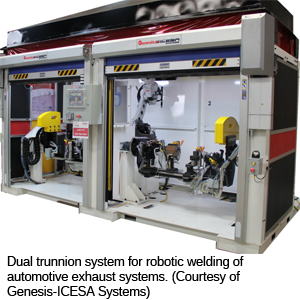 "Including the joint venture and our previous history in Mexico, we've integrated more than 500 robots over the years," says Thomas Patton. "We were the first to integrate a Motoman robot, the first to integrate an ABB robot. We worked on the Cincinnati Milacron robots, one of the first robots in Mexico."
Mexico's First Certified Integrator
Adding to its repertoire of firsts, Genesis-ICESA recently became the first RIA Certified Robot Integrator in Mexico. Since the program's inception in 2012, nearly 30 companies have achieved RIA certification. End users find the program useful in helping evaluate robot integrators. Systems integrators use it as a benchmark for best industry practices.
"Being the first certified integrator is a big deal for us," says Thomas Patton. "It is our desire and intention to promote the RIA and make the robotic world in Mexico a safer place."
"We quote full safety and sometimes we go up against companies that cut corners, so being part of the RIA and promoting those standards allows us a more level playing field," adds Sean Patton, Vice President of Resistance Welding and OEM Sales for Genesis-ICESA.
Mexico is in transition, according to the Pattons, noting the increasing percentage of homegrown companies on their customer roster.
"Many of our customers are based in the U.S., Europe or Japan," says Thomas Patton. "And primarily automotive, but Ag as well. We have a project with Caterpillar on the floor. John Deere, we do projects with them every year. Most are with robots, but not everything. These are the global companies we do business with."
"But Mexico has more homegrown companies that we have worked with for years and we continue to see more development," he continues. "They are in a position now where they are required to integrate robots. We work with our customers to leverage low-cost labor and find the right level of automation."
We will continue our discussion with the Patton brothers in April's article, and learn about the unique challenges and opportunities of doing business in Mexico from other companies and consultants in the region.
Robotics Clusters
As spring transitions to summer, we'll continue our multipart discussion on the business of automation with an article on robotics clusters in the U.S., namely the technology hubs with organized entities in Massachusetts, Pennsylvania, and northern California. We'll explore the latest developments in startups, research, and robotics investment with key contacts at each cluster.
Logistics
Summer will run hot with one of the fastest growing markets for robotics, the warehousing and logistics space. Amazon revolutionized the fulfillment center when it purchased KIVA Systems in 2012. Now the warehouse runners are expected to multiply in 2016 as consumer demand for the world's goods shipped anywhere, anytime only intensifies.
We'll explore autonomous mobile robots in the warehouse space and speak with integrators of automated logistics technology.
Collaborative Robots and Safety
One of the most hotly debated areas of robotics is the collaborative space, where advanced hardware and software allow humans and robots to work in close proximity, or in some instances, work hand in hand with each other for greater productivity. RIA got the conversation rolling in June 2013 with our first article on the subject, The End of Separation: Man and Robot as Collaborative Coworkers on the Factory Floor, followed by its sequel, The Realm of Collaborative Robots – Empowering Us in Many Forms.
Back then, the concept of collaborative robots was very new. There were only a handful of players, and many of the industry stalwarts were not taking them seriously. Collaborative robots were often dismissed as a fad. One that 5would soon pass.
Not anymore! Now everyone is jumping into the collaborative pool, including the traditional robotics establishment. Sales are mounting, with predicted stats expected to live up to the hype. The space is dominated by a new breed of power and force limiting robots – often called cobots or co-bots – many of which require little if any safety fencing. But human-robot collaborative operation is also obtainable with higher-payload robots equipped with advanced controllers, sensors, and software that limit their movement to designated safe zones and speeds.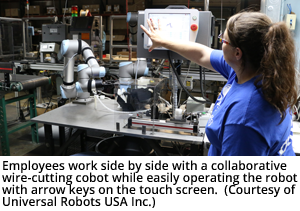 IEEE Spectrum recently published a rundown of collaborative robots on the market. Rethink Robotics' Baxter, with its animated face and dual arms, may be the most recognizable collaborative robot on the market, but Universal Robots' UR-series cobots have been the frontrunners in sales. Last year, Teradyne acquired the Danish cobot maker for a reported $285 million.
This video shows a UR robot fleet on the job at Scott Fetzer Electrical Group (SFEG), a manufacturer of electrical motors and components in Tennessee.
In one of the applications (pictured), two UR robots work alongside employees on the motor field line. One of the UR robots is placed at the end of the line right next to an employee that hands the robot a motor field part. The robot picks up the part, puts it in a holder, uses a wire cutter to trim the wires, and then positions the part for the other UR robot to pick up and place on a conveyor for final assembly. The two UR robots work in tandem and communicate their position to each other through Modbus socket connections.
"It's a potential carpal tunnel syndrome application cutting about 16,000 wires a day by hand," says Matthew Bush, Director of Operations at SFEG. "So we thought that was a great place to put robots – let them get carpal tunnel!"
Both UR robots on the motor field line are equipped with Robotiq adaptive grippers. No chance of carpal tunnel with these hands.
Equipped with a force torque sensor, the UR robot gains the sense of touch. Watch the new Robotiq Force Torque Sensor FT 300 in action.
Ideal for Low-Volume/High-Mix and SMEs
Power and force limiting robots like those from Rethink Robotics and Universal Robots are especially popular among low-volume, high-mix manufacturers that need to easily redeploy robots for different applications. Small and medium-sized enterprises (SMEs) find collaborative robots particularly attractive for their lower price tags and higher ROI rates.
Expected to give the frontrunner more competition, Rethink's Sawyer robot with its longer-reach single arm is smiling all the way to the bank after its latest round of VC funding raised a reported $26.6 million.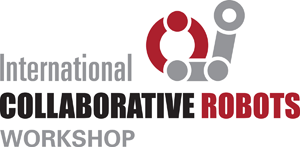 Watch Sawyer on the job at this pump manufacturer. Indeed, the future is here – now.
ISO/TS 15066 Set for Publication
For anyone watching the collaborative robot space, the release of one technical specification has the industry waiting with bated breath. After three years in development, ISO Technical Specification 15066, Robots and robotics devices – Collaborative Robots, has been released for final review to the International Organization for Standardization (ISO). Once approved, the target date for publication is mid-February 2016.
TS 15066 will provide guidance primarily to robot suppliers and systems integrators for the safe design and operation of collaborative robot systems. It provides supplemental and supporting information to the industrial robot safety standard ISO 10218-1 and ISO 10218-2, Robots and robotic devices – Safety requirements for industrial robots, Part 1: Robots, and Part 2: Robot systems and integration, both published in 2011.
RIA's new Director of Standards Development Carole Franklin attended the final meeting in December of the technical committee (TC 184/SC 2/WG 3) responsible for developing TS 15066. Thirty-five members of the Working Group WG 3, representing 30 companies and organizations from nine countries, met in Japan to approve the final version and propose its publication as an ISO standard.
According to Franklin, the TS 15066 will include the following key elements:
Important characteristics of the safety-related control system for collaborative operation;
Identification of factors to be taken into consideration in the design of a collaborative robot system;
Built-in safety-related systems that can be used effectively in a collaborative operation and requirements for their effective use;
Data to help determine threshold limit values for power and force limiting to avoid pain or discomfort on the part of the human operator.
For the first time publicly, TS 15066 will include important data from a study of pain thresholds, as Annex A. The annex includes a model of the human body and identifies the effects of different forces and stresses.
"On average, the amount of pressure required to elicit discomfort on the thigh muscle is much greater than the pressure that elicits discomfort on the sternum," explains Franklin. "Intuitively, this makes sense to us as humans. But now, in TS 15066 Annex A, we can go beyond intuition. Now we have the data to quantify those forces and pressures. A risk assessment of a given robotic system can quantify the power and force limiting needed to ensure the robotic equipment does not exceed this threshold. That helps reduce risk to human workers in a collaborative robot system, even in the event that he or she has incidental contact with the equipment."
By seeking avoidance of pain or discomfort, and providing the data to do so, TS 15066 expands considerations for keeping a human worker safe during interactions with robotic systems. Once ISO/TS 15066:2016(E) is officially published, it can be purchased at the ISO Store.
Effective January 1, 2016, the TC 184/SC 2 committee was spun off to a new committee, TC 299. Going forward, the group will continue to manage, monitor, and maintain standards for industrial safety, initiating updates and revisions to the standard as needed. Next up, says Franklin, a new study on transient force from the Fraunhofer Institute.
August's Collaborative Robot Safety article will preview the arrival of RIA's annual Robot Safety Conference on October 17-19, 2016, in Cincinnati, Ohio, followed by the fall International Collaborative Robots Workshop on October 20 at the same location.
Software in Robotics
As autumn beckons and the leaves prepare to fall, we'll cover the softer side of robotics. Most industry experts agree that robots are becoming a commodity. It's the sensors, software, and robot end-of-arm tooling that are the real disrupters. We covered end effectors and sensors in past articles. Now we'll tackle software, including open source platforms like ROS, simulation and off-line programming packages, and other software tools making robots smarter, faster, and more productive than ever.
Food and Healthcare
This fall, we'll also feature robotics for some of the most stringent hygienic applications, including food processing and primary packaging, and healthcare. Back by popular demand, RIA's healthcare article will build upon last November's edition and cover applications in robotic surgery, rehabilitation, eldercare, drug discovery, and bioresearch.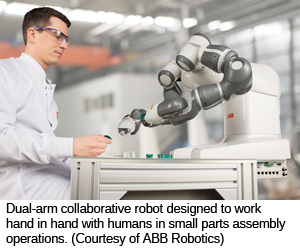 Potentially life-saving pharmaceutical research that used to take months, or even years, now takes only weeks with the help of laboratory automation. Modern drug discovery keeps pace with robots.
Advances in Robotic Assembly
We'll wrap up the year with the ever-popular subject of robotic assembly. Last year's article Small Assembly Robots with Big Gains and its predecessor the year before continue to be two of the most popular Industry Insights editions. With applications in the electronics sector continuing to grow, small assembly robots are on tap for more widespread use, especially among low-cost labor regions now turning to automation as wages rise.
In this assembly cell for a plumbing valve, an Adept SCARA robot teams up with other automated systems to keep production stateside. Watch it in action.
Two RIA Certified Robot Integrators, JR Automation and QComp Technologies, are in a select group of authorized integrators for ABB Robotics' new YuMi dual-arm collaborative robot (pictured). According to ABB, the company has 10 certified YuMi Value Providers in North America, with multiple robot technicians from each having successfully completed a comprehensive YuMi training program to help end users integrate the robot into their small parts assembly and material handling applications.
While specifically designed to meet the agile production needs of the consumer electronics industry, YuMi can be used in any small parts assembly environment and in close collaboration with humans thanks to its compact, inherently safe design, flexible arms and hands, camera-based part location, lead-through programming, and precise motion control.
We'll be watching to see what YuMi has up its sleeve. Stay tuned!
RIA Members featured in this article:
Spirit AeroSystems (User Member)